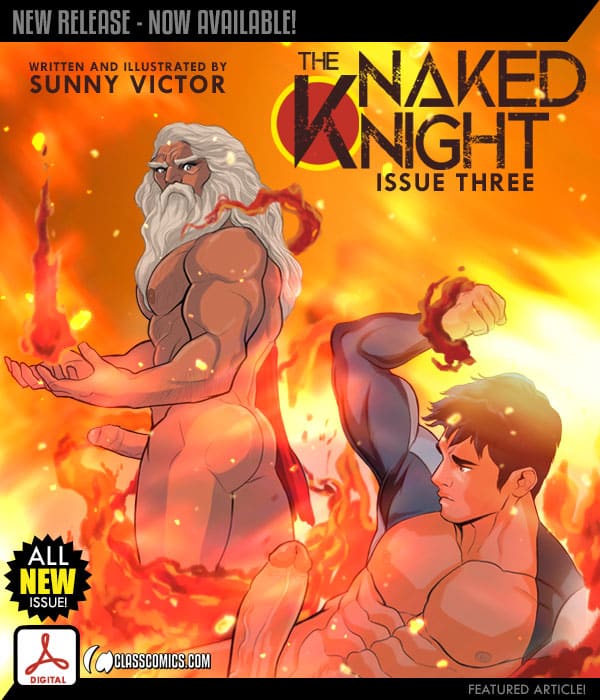 We're thrilled to announce the release of Naked Knight #3! Written and illustrated by Sunny Victor, it's a 38 page comic that picks up the story just moments after Naked Knight #2 concludes!

After being stunned by the incredible revelations in the very last pages of Naked Knight #2, Dylan absolutely needs to find the truth about the sexy senior with incredible powers that suddenly appeared before him!
Fortunately, this issue takes us back a lifetime ago, deep into the depths of outer space and beyond. We find out that as a young man, Professor Madsen was one horny astronaut who satisfied his urges with his colleague, Dimitar.
Unfortunately, through some strange happenstance, Dimitar is whisked away to a bizarre planet containing the territory of Gaia. There he frolics with four beautiful, winged male Guardians and even manages to become the appointed ruler of the land.
It's a fairytale story, until a disastrous event brings the beast-slaying battles and plentiful orgies to a sudden end. What happens next will affect Gaia for generations, and most importantly… Dylan, not to mention every other living soul on earth!
Now Dylan will have to make a terrible choice and face the consequences of his decision.
If you're new to the Naked Knight universe, then make sure you read Naked Knight #1, Naked Knight #2, and Tales of the Naked Knight #1 first!