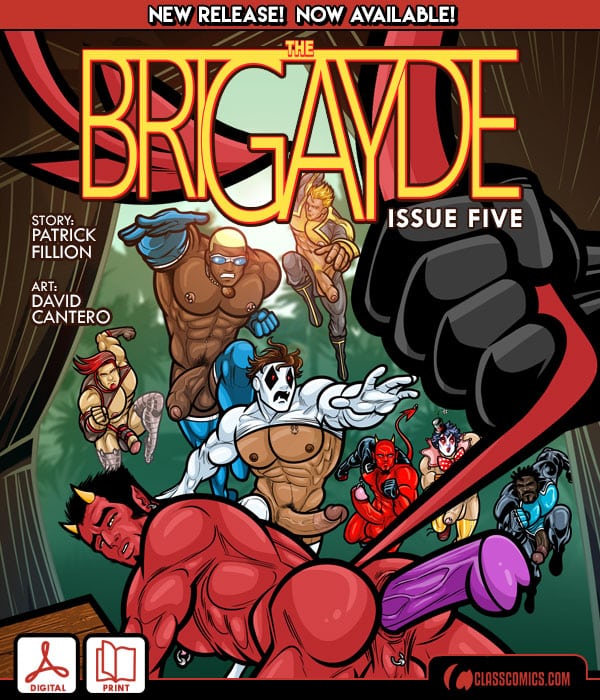 The fifth issue of the BRIGAYDE is here at last! It's available in Print, Digital and Deluxe Digital editions!
The boys of the BRIGAYDE are off to the Caribbean to celebrate the wedding of Class Comics Power Couple, GHOSTBOY and DIABLO! It's fun and frolic under the tropical sun as the boys plan to spend a few relaxing days at the exclusive COCONUT MILK resort.
Oiled up, and packed and stuffed into their tiny swimsuits, our heroes are ready for downtime, but a friendly game of beach volleyball reveals mounting tensions between members of the team. Of course, nothing helps to calm frayed nerves like busting a nut. Soon the grooms and their honored guests are naked and hard by the pool, enjoying one another, unaware that they are being watched by an uninvited guest, Hell-bent on revenge!
Back in Gateway City, DOC SOLANDO receives an uninvited guest of his own. DEIMOS, the TARO DEMON has found his way to the Armistice Estates and only the good Doctor can provide him with the treatment he needs. Meanwhile, JON DAZY is transferred to the Fraserview Hospital for the criminally insane where he is to undergo evaluation before his trial. It's a rough time for Jon, but an unlikely champion prepares to rush to his rescue.
This issue proves that you can run to the Caribbean, but you can't outrun your past, and by the end of our tale, the uninvited wedding guest will reveal himself, precipitating events that will devastate the betrothed and their closest friends.
Written by Patrick Fillion and beautifully illustrated by David Cantero, the BRIGAYDE #5 is available as a limited Print Edition, and digitally in STANDARD and SPECIAL editions.
The BRIGAYDE #5 Special Digital Edition contains an extra 58 pages of incredible special features, including an art gallery by Patrick Fillion, concept sketches by David Cantero, a silent edition of the comic and much more. The BRIGAYDE Print Edition is limited to 250 copies!