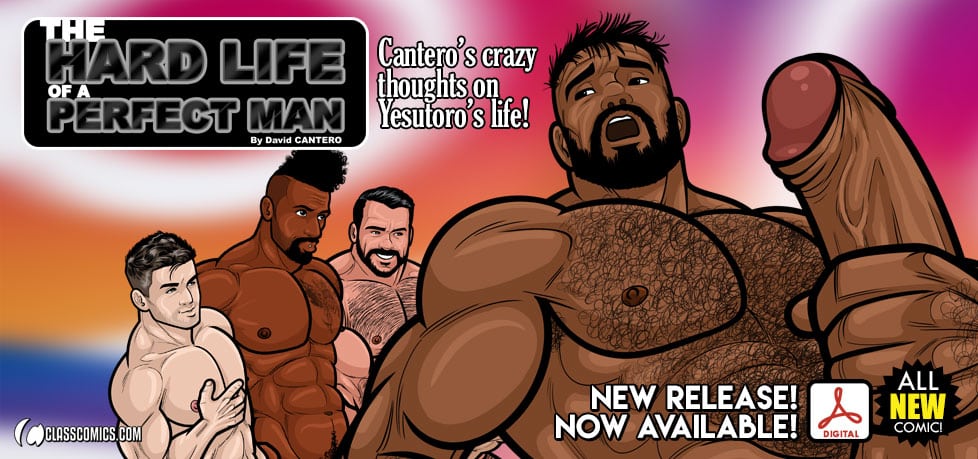 Class Comics is extremely proud to announce that David Cantero and Yesutoro have teamed up to make The Hard Life of a Perfect Man! It's now available as a DELUXE DIGITAL EDITION, a STANDARD DIGITAL EDITION and EN ESPAÑOL!
Jump into bed with YESUTORO, the stunning instagram star who seems to live a perfect life… but does he?
This hilarious authorized "biography" written and illustrated by David Cantero gives you an inside glimpse into the trials and tribulations that a perfect man has to endure every day of his life. It's a glimpse somewhere between reality, and stories shared between David and Yesutoro over many beers.
Yes, there are benefits to being the sexiest, and most famous man on earth, according to some of his followers, such as free meals, sex, sex, and more sex! But with that comes a few problems, actually much more than a few!
You'll enjoy finding out what they are in this wonderful comic that illustrates the double edged sword of instagram fame. "Make no mistake: I am not everything you see,and you don't see everything I am. – Yesutoro"
The Deluxe Digital Edition contains almost 50 pages of fantastic materials, including character studies, gorgeous pinup art, a silent edition, behind the scenes sketches, WIPS and loads of other awesome treats!
Salta a la cama con YESUTORO, la impresionante estrella de instagram que parece vivir una vida perfecta… ¿pero lo es?
Esta hilarante "biografía" autorizada escrita e ilustrada por David Cantero te da una idea de las pruebas y situaciones que un hombre perfecto tiene que soportar cada día de su vida. Es un vistazo en algún lugar entre la realidad y las historias compartidas entre David y Yesutoro a través de muchas cervezas.
Sí, tiene algunos beneficios ser el hombre más sexy y famoso del mundo, según algunos de sus seguidores, ¡como comidas gratis, sexo, sexo y más sexo! Pero esto viene con algunas complicaciones, ¡en realidad muchas complicaciones!
Disfrutarás descubriendo cuáles son en este maravilloso cómic que ilustra la espada a doble filo de la fama de Instagram. "No te equivoques: no soy todo lo que ves, y tú no ves todo lo que soy. – Yesutoro"