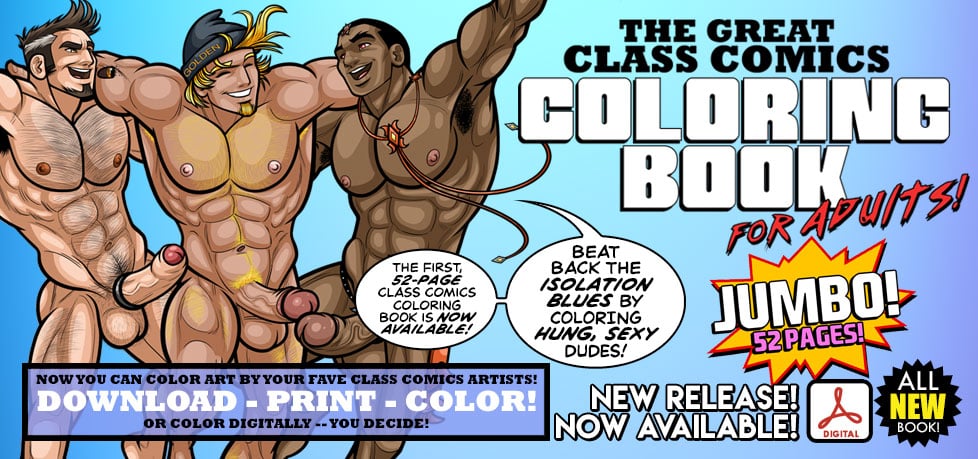 Are you finding it hard to survive Isolation? Is social distancing getting you down? Are you bored to tears staring at your own four walls? If so, we have the PERFECT SOLUTION for you! Let CLASS COMICS help you get through the solitude by channeling your inner creativity! DIVE INTO our first ever adult…erm… DIGITAL ADULT COLORING BOOK with The Great Class Comics Coloring Book for Adults!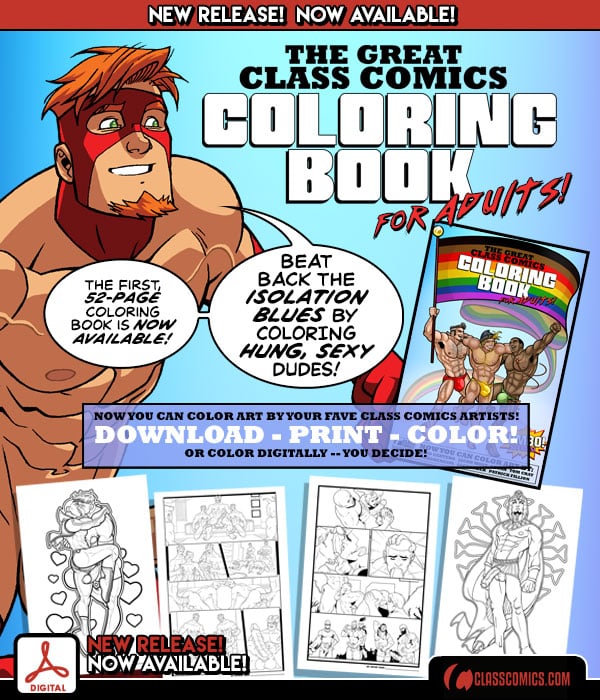 The JUMBO Great Class Comics Coloring Book for Adults is a MASSIVE 52 pages of mouth-watering art from some of your favorite Class Comics artists — in stark BLACK AND WHITE, just waiting for you to PRINT and COLOR! Print and color with pencil crayons, felt pens, pastels or wax crayons — OR — color digitally! You choose, you decide!
One thing is for sure, adding color to our smokin' hot heroic hunks will bring you immense joy (not to mention erections) AND help alleviate the monotony of solitude and isolation! Now you can color art by DAVID CANTERO, JACOB MOTT, LOGAN, TOM CRAY, ROKUDENASHI, ALEXANDER, and PATRICK FILLION. It has everything from fabulous character pinups to explosive comic pages and panels.
Get creative and get your endorphins flowin' to chase those Social Distancing blues the HELL AWAY! FULLY PRINTABLE, The Great Class Comics Coloring Book is the perfect way to get intimate with the men of Class Comics and the artists who bring them to life! If you're looking for a pre-printed copy, we'll be making them once the world returns to a more normal state.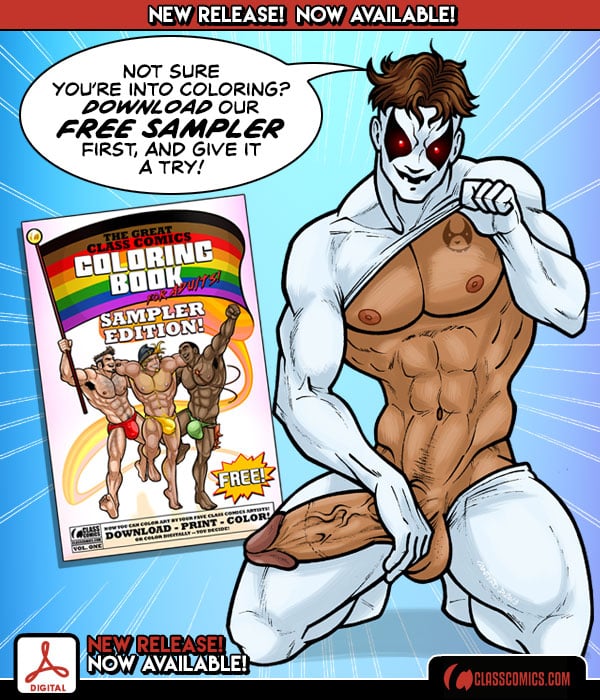 We've also made a FREE SAMPLER EDITION of The Great Class Comics Coloring Book to help introduce newbies to the craft! Feel free to DOWNLOAD and try your hand at Adult Coloring, before committing to the full 52-page extravaganza! Feel free to share the FREE SAMPLER EDITION with anyone who you think might need a bit of coloring therapy!