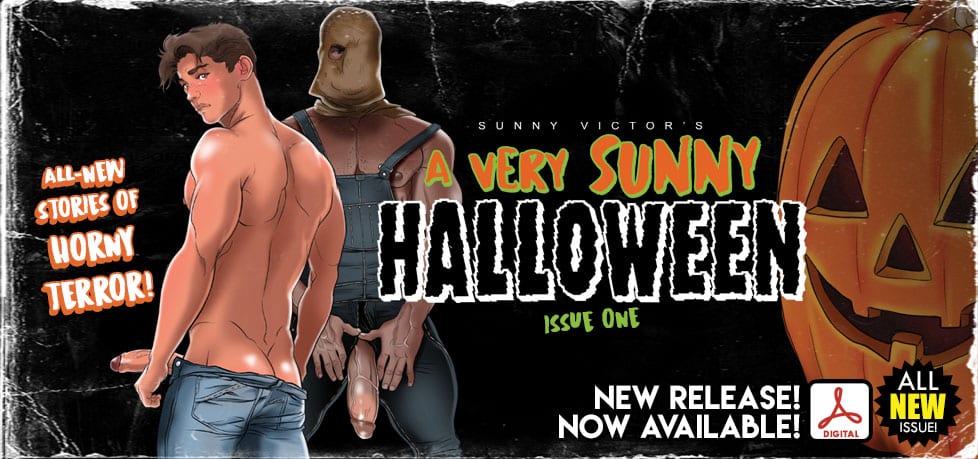 We hope that you're ready for a second Halloween Treat from us! We promise that it's not a trick! We present to you A Very Sunny Halloween #1! From the mind of Sunny Victor comes three primal tales to get your spook on and your rocks off! They're read to you by a sexy narrator who might get more than he had bargained for.
The evening begins with "Escape from the Kinky Killer" with Reggie and Max, two Zeta Mega Phallus pledges who might not finish the school year! These two hooligans ignore the first rule of all horror movies and trespass on private property while seeking a makeout spot. We all know what happens next… or do we?
We move to the skies in "The Alien Abduction (That I Secretly Enjoyed)" with Marck from Power Drive #2! It's true that long nights on lonely roads make for strange bedfellows. It's even more true that no one will believe the torture that befalls our young Canadian otter!
And finally travel to an alternate Class Comics dimension in "Zombie Apocalypse Death Race Booty Call" for a glimpse of what Gage and Hayden from the "Beautiful Dead" series might be like had they met under different circumstances… but still with Zombies!
To end the night, our raconteur has to deal with some unexpected Trick-or-Treaters! And as a special treat for you, on top of this 32-page comic, we'll drop an 18-page sexy gallery of studs into your Halloween sack to make it 50 pages!
For some extra Tricks and Treats, check out Jacko's Horny Halloween Tales #1 and Jacko's Horny Halloween Tales #2 or any of our other spooky Halloween titles!