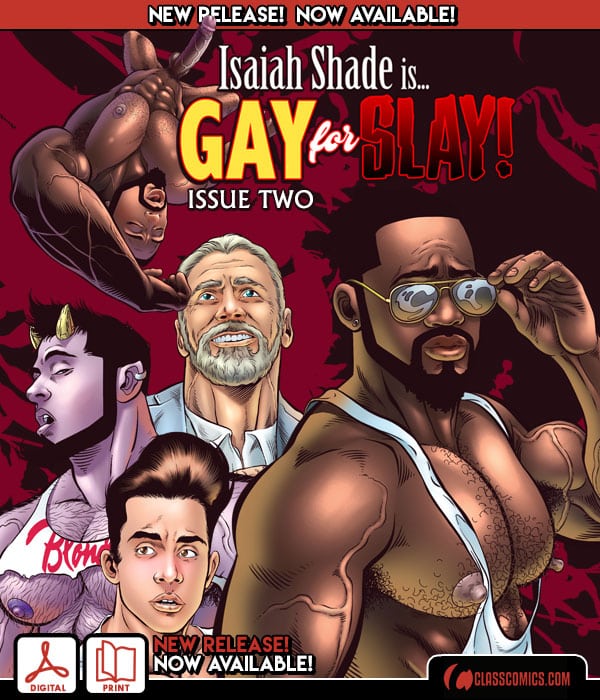 From the mind of PATRICK FILLION comes the highly-anticipated GAY FOR SLAY #2! It's now available as a Limited Print Edition, a Standard Digital Edition and a Deluxe Digital Edition! The first 100 copies of the Limited Print Edition of GAY FOR SLAY #2 will be AUTOGRAPHED BY PATRICK FILLION!
It's 1982 and ISAIAH SHADE, DEIMOS and JULIO FLORES have gone into the "Supernatural Real Estate" business together! It's all fun and games until someone loses a soul! Now in Possum, Louisiana, the guys attempt to exercise an ancestral home of the evil occupying it when they run into SINEW, an entity unlike any they've ever faced before!
What is Sinew's true nature and why is he immune to ISAIAH's mojo? If ISAIAH's considerable power is unable to best him, what hope do he and his friends have for survival?
Luckily, ISAIAH receives help from a mysterious stranger who extends an intriguing invitation that leads our hero deep into the bayou, where a surprise visitor awaits. Meanwhile, it seems that DEIMOS and FLORES have caught the attention of a new menace Hell-bent on capturing the young Taro Demon.
While DEIMOS and FLORES deal with this emerging threat (and fuck each other silly along the way), ISAIAH must confront his greatest enemy — HIMSELF! Deep in the swampy outback of beautiful Louisiana, ISAIAH will learn a vital truth about himself that could unlock endless power and possibilities… or signify his own demise.
The Limited Print Edition of GAY FOR SLAY #2 is now shipping and the first 100 copies of the printed edition sold will be AUTOGRAPHED BY PATRICK FILLION!
The MASSIVE 97-PAGE Deluxe Digital Edition features the complete story plus pinups, promotional art, a behind the scenes look at the book's artwork as well as a pinup gallery. The Standard Digital Edition contains the core story and six pinnups.