Everyone knows that the best part of Halloween is JACKO THE HALLOWEENER'S visit! Watch out… you never know when that over the top, friendly spirit might knock at your door! What you do know is that he'll have a TRICK or TREAT ready for you to enjoy!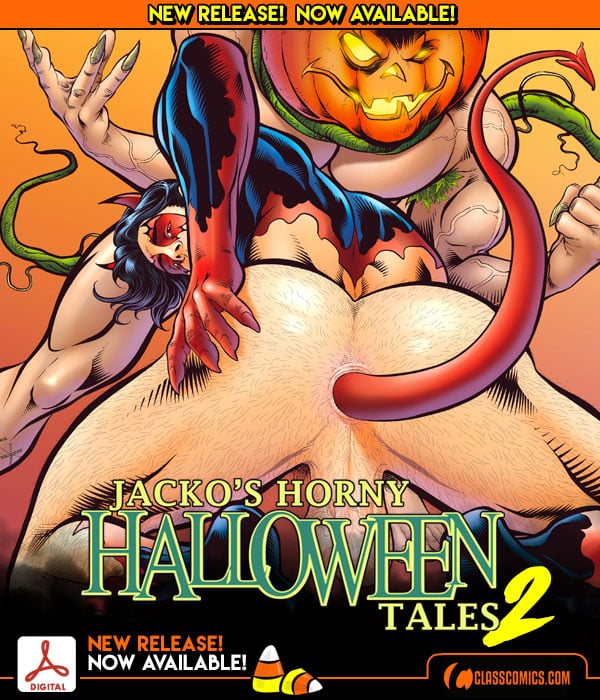 This All Hallow's Eve, Jacko comes to you with a SPOOKTACULAR TREAT! It's Jacko's Horny Halloween Tales #2, written by PATRICK FILLION (Gay For Slay, Love Lost) and illustrated by DAVID CANTERO (Brigayde, Exodus), ALEXANDER (Star Crossed, Super Hung), TOM CRAY (The Legacy, Jox: Treasure Hunter), PPMAQ (Epic Loads, Class Comics Hook-Ups #2), and finally Patrick himself.
In "Felix the Vampire Slayer", Felix Himner, the original NAKED JUSTICE, and his boyfriend Byron Durand, the heroic SPACE CADET are on their way to a Halloween party when they stumble upon a group of Vampires intent on sucking every guy in sight completely dry!
"Pricked by Prickles" is a GAY FOR SLAY short story in which young DEIMOS tries to prove to fellow demon slayers ISAIAH SHADE and JULIO FLORES that he can handle a case on his own. Well, PRICKLES the clown would argue otherwise!
Next is a Lovecraft-inspired tale of deep sea and cosmic terror called "The Deep Ones"! While examining a strange artifact pulled from beneath the waves, WARREN WESSEL hears a most dangerous call he cannot easily resist… though he soon wishes he could!
"Out of the Wild" is a sequel to "Into the Wild", which of course appeared in the first issue of Jacko's tales. Peter Goldman, a.k.a. GHOSTBOY and his boyfriend DIABLO are out in the forest enjoying a lovely hike when suddenly, they encounter a young man with a fantastic story of survival and courage!
And last but not least is a raunchy new Halloween Hook-Up featuring JACKO himself and Blaine Howard, the always sexy DEVILHOUND!
All of this and hilariously horny new intro pages to each tale, PLUS a "Silent Edition" which features all of the comic pages without words and bubbles makes JACKO'S HORNY HALLOWEEN TALES #2 nearly 100 PAGES! This MASSIVE BOOK is the perfect Halloween treat! Available exclusively as a CLASS ACCESS EASY PDF Digital Edition.
For an extra special treat, make sure you read JACKO'S HORNY HALLOWEEN TALES #1 as well!