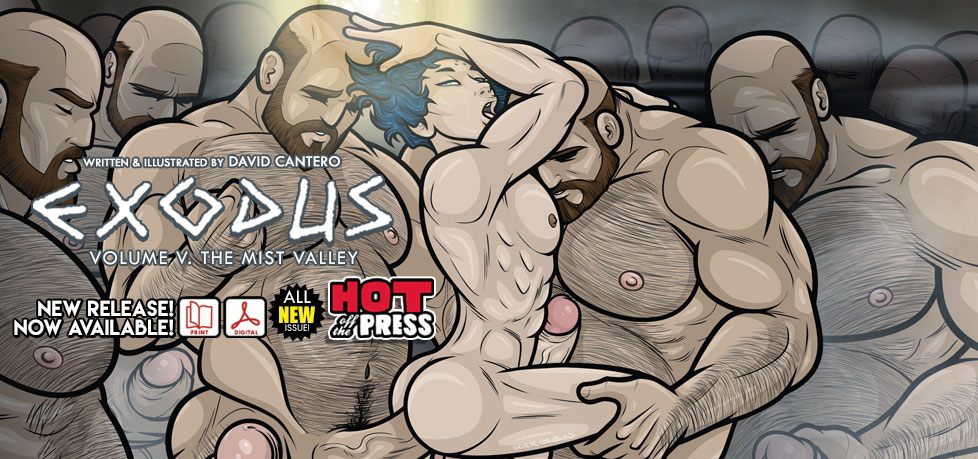 The highly-anticipated fifth issue of David Cantero's critically-acclaimed series "EXODUS" is now available as a Print Edition, as well as Deluxe Digital Edition and a Standard Digital Edition.
After a daring escape from the dreaded Arena of Tarkann, Euribatos and Alcyoneus help the survivors of the Animal-Men Resistance to establish a new camp and regroup.
Needing to travel to Alvania's Continent in order to visit with Euri's brother in the city of Tullum, our heroes climb atop Nebulla, a great, though somewhat loopy flying bird in order to rendez-vous with the Sphynx. Taking to the sky, both men embark upon the latest leg of their incredible journey.
Unbeknownst to them, a great conflict rages below, in the treacherous mountain range known as "the Mist Valley". There, Izbor, the North Gates are under siege from General Akta-Ar and the grand army of Falaminia. Defended by the feisty Kiero and an army of his own creation, Izbor erupts in battle, and Euri and Al are caught in the crossfire.
Our intrepid heroes are about to find themselves at the heart of an age-old conflict which will test their resolve, and in particular, Alcyoneus' ever-growing magical abilities.
As always, you'll wonder if they will get out of there alive and if they could possibly have more sex! For full enjoyment, you'll want to have read Exodus #1, Exodus #2, Exodus #3 and Exodus #4 before reading Exodus #5! Written and illustrated with immense love and attention, Cantero's brilliant series is at once completely captivating, arousing and lust-inducing. Don't miss this brilliant fifth issue!