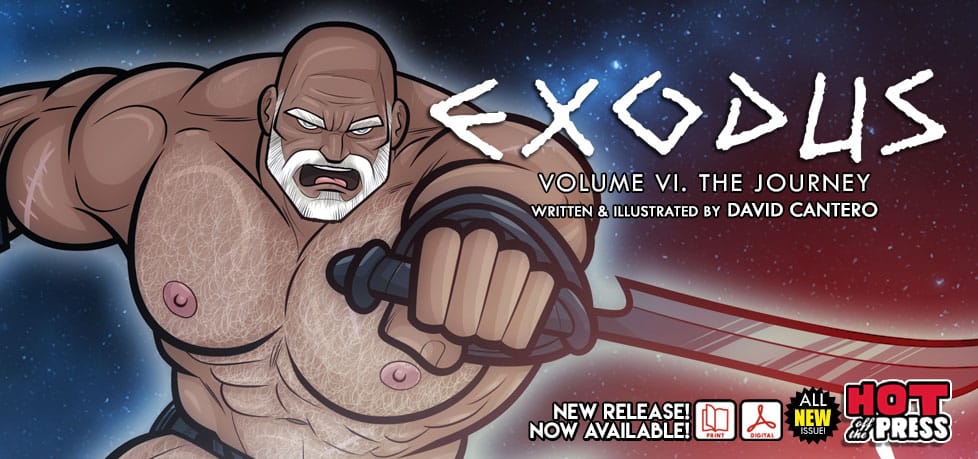 The highly-anticipated sixth issue of David Cantero's critically-acclaimed series "EXODUS" is now available as a Print Edition, as well as Deluxe Digital Edition and a Standard Digital Edition.
This is the issue you've been waiting for! The shocking ORIGIN STORY of EURIBATOS is officially revealed in this all-new installment of DAVID CANTERO's smash-hit series "EXODUS"!
After a brisk morning of physical exercise, Euribatos and Alcyoneus take a moment to unwind and enjoy the quietude of a peaceful and lush glade. It's at that moment that Euri decides to tell Al about his most shocking and heart-breaking past.
Enter Euri as a young man as he recounts the tragic tale of his village and his people, and reveals the fate of his father and twin brother… not to mention the first man he ever loved. As Al listens to Euri's past with bated breath, in the distant city of Drumm, King Dax resurrects an ancient evil that could spiral out of control and consume all living things!
Alcyoneuys has much to process as Euribatos completes his story. The young mystic is understandably shaken by what he's heard, and in a moment of carelessness, he wanders into the waiting arms of danger where he makes a shocking discovery about himself.
EXODUS #6 is an engrossing, deeply sexy installment of this magnificent series which continues to shock and astound and arouse. The men are hotter than ever and the sex is raunchier than ever as David Cantero weaves a tale so captivating, you'll be left gasping for air by the time you read the last page.
As always, you'll wonder how these guys get into these situations and if they could possibly have more sex! For full enjoyment, you'll want to have read Exodus #1, Exodus #2, Exodus #3, Exodus #4, and Exodus #5 before reading Exodus #6! Written and illustrated with immense love and attention, Cantero's brilliant series is at once completely captivating, arousing and lust-inducing. Don't miss this brilliant sixth issue!
EXODUS #6 is available as a Limited Edition Print Comic and also in digital format as a Class Access Easy PDF comic. You can choose between a Standard Edition which includes the complete comic or a Deluxe Edition, which includes the complete comic as well as a massive bonus section that features a behind-the-scenes look at David Cantero's beautiful art, a character gallery, a silent version of the comic without word bubbles, and so much more!