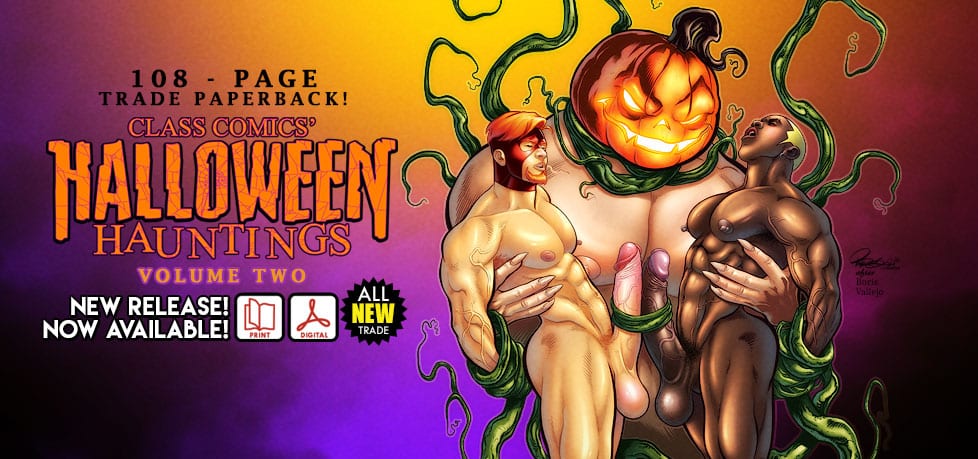 Are you brave enough for CLASS COMICS' HALLOWEEN HAUNTINGS Volume Two? It's available as both a Print Edition and as a Digital Edition and both spooky editions are over 100 pages long!
This stunning new volume comprises SIX SPOOKY STORIES that have never been printed before! The main treat of the collection is the BRAND-NEW, never before released mini-comic "THE IDEAL MAN" written by PATRICK FILLION and superbly illustrated by ALEXANDER. It's a wonderfully CREEPY ROMP, perfect for ALL HALLOW'S EVE!
SPACE CADET & NAKED JUSTICE love each other. They also love HALLOWEEN! This year they're ready to party it up with their superhero pals, but an unexpected call from OFFICER SPOT sends BYRON to the MORGUE!
As FELIX investigates the crime scene, the clues and the bodies pile up, and one thing becomes evident… BYRON and FELIX won't be making their party on this All Hallow's Eve! A twisted man with a diabolical plan has his sights set on BYRON… well, at least on a PART of BYRON, and he'll stop at nothing to obtain it, all in the name of SCIENCE!
The collection also contains the following four stories "Felix the Vampire Slayer", "Pricked by Prickles", "The Deep Ones", and "Out of the Wild" from the digital release of "JACKO'S HORNY HALLOWEEN TALES" #2! And as if that weren't enough, it also holds the complete issue of 2020's "A VERY SUNNY HALLOWEEN" #1!
Featuring artwork by Alexander, David Cantero, PPMAQ, Tom Cray, Michael Broderick, Sunny Victor, Bryce Peters, Hernan Cabrera and Patrick Fillion, HALLOWEEN HAUNTINGS Volume Two is literally the very best way to celebrate HALLOWEEN this year!
The Print Edition is absolutely magnificent, printed on high-quality gloss and a MUST for any collector. The Digital Edition contains some extra treats as well! All of these were previously unavailable in print until now!
PLEASE NOTE: If you have previously purchased the Digital Editions of JACKO'S HORNY HALLOWEEN TALES #2 and/or A VERY SUNNY HALLOWEEN #1 you can get THE IDEAL MAN as a stand – alone Digital Edition!
We also have a Deimos Eggplant Foil Sticker available! Show off your naughty side anywhere you want with a three – inch holographic image of Deimos slyly holding an enormous eggplant. Because we all know what the eggplant represents!
This holographic vinyl sticker has an eye-catching rainbow effect which changes with the lighting and your perspective. His pecs and eggplant are sure to get the attention you are looking for!
This high quality vinyl sticker is printed on premium, holographic vinyl with a permanent adhesive. They are coated with a protective laminate that makes them resistant to fading, scratching, tearing, and water. They will securely adhere to any smooth surface and provide years of enjoyment.