We're thrilled to announce one final release in 2021! The ninth issue of The BRIGAYDE is here at last! You'll be thrilled to know that it's available in a Print Edition, Standard Digital Edition and as a Deluxe Digital Edition!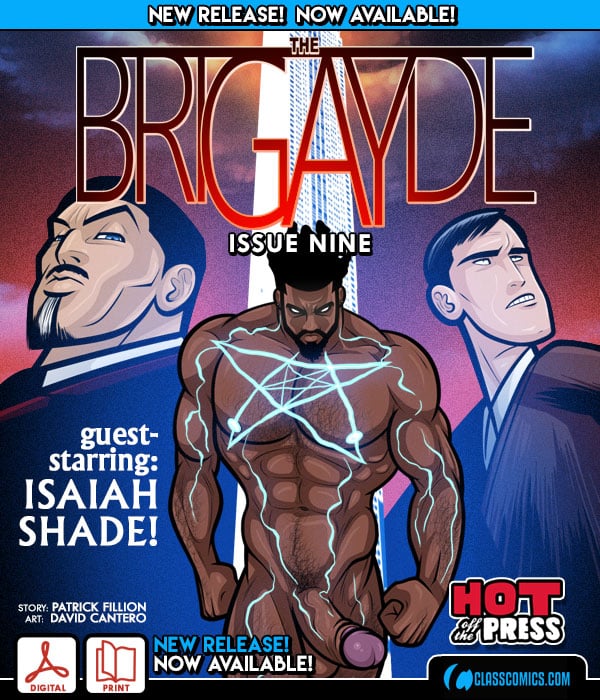 Our heroes have gotten wind of MAYOR FILIGREE's terrible plans! Now, the whole team is back together after being apart for several months! It's time to get organized and to take the fight directly to the baddies! And where better to hit Filigree than where it will hurt the most?
They formulate a plan to take down REVEREND FREELY, the Mayor's right-hand man, but in order to do this, they'll need some help of the MAGICAL variety! Enter the enigmatic ISAIAH SHADE, who guest-stars in this issue and lends his cousin BYRON a hand in going after the Reverend. But can even Isaiah's mystical might prove enough against such a foe?
Meanwhile, DEIMOS meets TYLER, the handsome GOLDEN BOY for the first time and he understandably mistakes him for someone he once knew and loved deeply! Why the confusion? Tyler is dying to find out, and soon he and BULLET implore Deimos to reveal all he knows.
As the original NAKED JUSTICE and the men of the BRIGAYDE formulate a strategy to undo the Mayor, DOC SOLANDO runs out of time as tormentors from his past return to press their own agenda, forcing the handsome dilf into an unpleasantly uncomfortable corner.
All of this, plus the fate of DEVILHOUND and the rise of a new hero that will leave you SPEECHLESS! The BRIGAYDE #9 is the beginning of the ultimate SHOWDOWN between our titular heroes and the vile MAYOR FILIGREE and REVEREND FREELY! Who'll be left standing once the smoke clears remains to be seen.
The BRIGAYDE #9 is written by PATRICK FILLION (GAY FOR SLAY, LOVE LOST) and beautifully illustrated by DAVID CANTERO (EXODUS, FIT AS FUCK).
It goes without saying that you should really read The Brigayde #1, The Brigayde #2, The Brigayde #3, The Brigayde #4, The Brigayde #5, and The Brigayde #6 and The Brigayde #7 and The Brigayde #8 before reading The Brigayde #9!
The Deluxe Digital Edition is a whopping 132 pages of stunning, arousing art and story. It includes the complete BRIGAYDE #9 comic, as well as a massive Bonus Materials section which feature sketches, unused art, pinups and studies by artist David Cantero. Also included in this volume is a "silent edition" of the BRIGAYDE #9 , which allows you to fully enjoy the art without any word bubbles or text.
The BRIGAYDE series deals with extreme story elements and situations, including depictions of violence. As such, this title is not suitable for all readers. Reader discretion is advised.