CLASS COMICS INC. is celebrating its 20th Anniversary this year. The festivities begin on March 16th and will last all the way through to March 16th of next year.
In 2002 Patrick Fillion and Robert Fraser teamed up to officially form Class Comics, which has since published nearly 150 Print Editions and over 350 Digital Editions. Over the years, Class Comics has worked with over 100 gay creators of homoerotic sequential and pinup art.
As part of Class Comics' 20th Anniversary celebration in 2022, dozens of new comics are planned for release, including several new titles, all bearing the official, commemorative Class Comics Anniversary logo.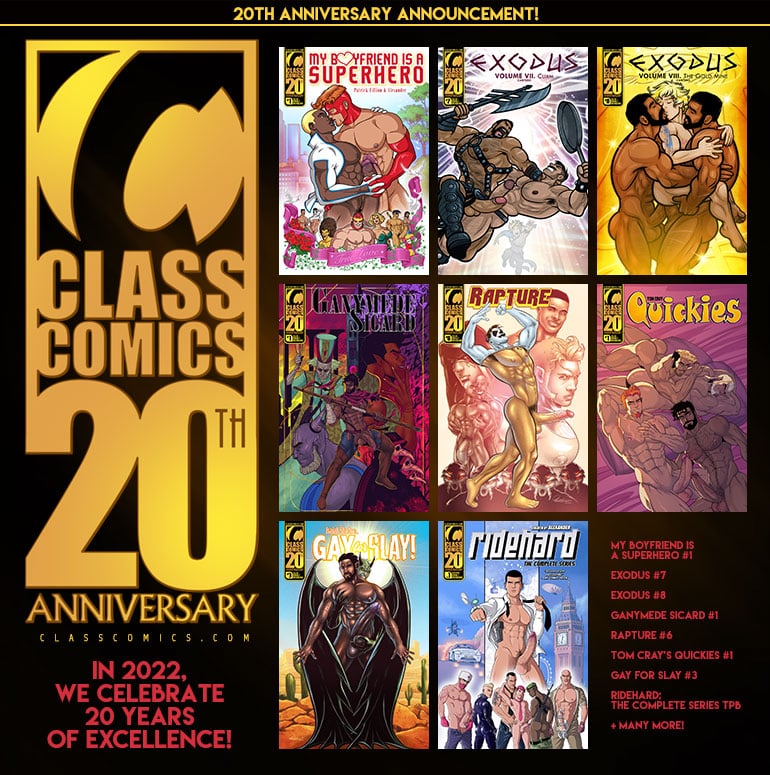 First up is the highly-anticipated MY BOYFRIEND IS A SUPERHERO issue #1, which features Class Comics icons, NAKED JUSTICE and SPACE CADET. Written by Patrick Fillion and illustrated by Alexander, MY BOYFRIEND IS A SUPERHERO takes us back to the earliest roots of the Class Comics Universe in two incredibly sexy, and surprisingly emotional adventures.
Additional new releases in 2022 include Tom Cray's "QUICKIES" and "GANYMEDE SICARD", new issues of EXODUS and THE BRIAGYDE, and the return of the classic RAPTURE series, with a brand new sixth issue.
Several trade paperbacks are also in the works for release in the later half of the year, and fans can expect to be able to get their hands on the RIDEHARD trade Paperback which collects the complete series by Alexander in one attractive volume.
Class Comics will also celebrate the classic Logan title "THE PORNOMICON" by issuing a Trade Paperback edition called THE PORNOMICON: LEGACY. This new edition will contain the long out of print original comic as well as dozens of new pinups and an all-new comic story by LOGAN himself.
Exciting new comics aside, a new, cutting edge website is in the works for the online home of Class Comics which will make it easier to keep track of all your favorite comics and Class heroes. Contests, collectables and a slew of other surprises are also in the works, and more celebrations will be announced as the year progresses.
For more information, please contact Robert Fraser at service (at) classcomics.com
About CLASS COMICS: Class Comics has created gay adult comics that arouse the mind and spirit as well as the loins for the past twenty years. With a focus on impressive, professional artwork, intricate and captivating narratives and the highest printing standards, Class Comics comic books easily compare to anything the mainstream stables have produced.
With a belief that community is everything, Class Comics has remained creatively active throughout the years by encouraging emerging creators to find their voices, and by remaining true to their original mission which is to create comic books that feature characters with depth and humanity, as well as a developed sex drive.
Valuing the beauty and honesty of sex, and depicting it unabashedly has led to this little company's lasting legacy and brought it deep respect from the community an industry at large.