We're thrilled to announce that the second issue of Payday, by Sunny Victor, is here! It's available exclusively as a Class Access Digital Exclusive!
Adrian, the world's highest-priced escort, has been hired by world-renowned writer, Julian Daniels, to spill the T! For the privacy that they will need, Julian has booked an entire private island in The Maldives for just the two of them!
In order to earn his keep, Adrian tells some wild tales, and also dives deeply into the carnal motivations behind them. Sex of course, is in the mind, as much as the body.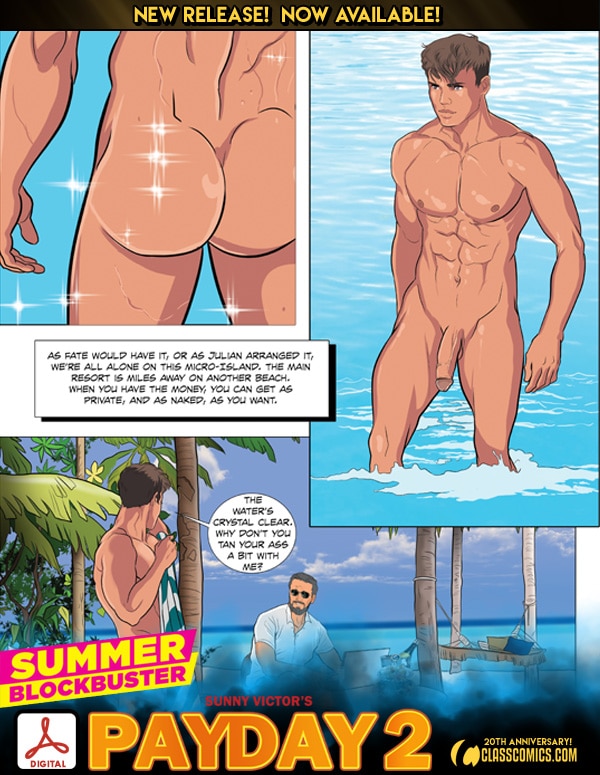 Julian will have no shortage of saucy stories to write about. From the mysterious Mr X, who we're not allowed to fully see, to a high class Night at the Opera, Dudes in Distress, a Careless Bellboy, an Arabian Prince, Little Red Riding Lad and more… There are too many to choose from!
But nothing compares to Adrian's most intense client ever. The client who wouldn't even dare physically touch him. The client who would send shivers of delight up Adrian's spine for a long while to come. The client whose presence would reverberate for a lifetime.
Written and illustrated by Sunny Victor, Payday #2 treats you to a glimpse into the life of the world's highest paid escort! This oversize Class Access Digital Exclusive contains a whopping 35 story pages!