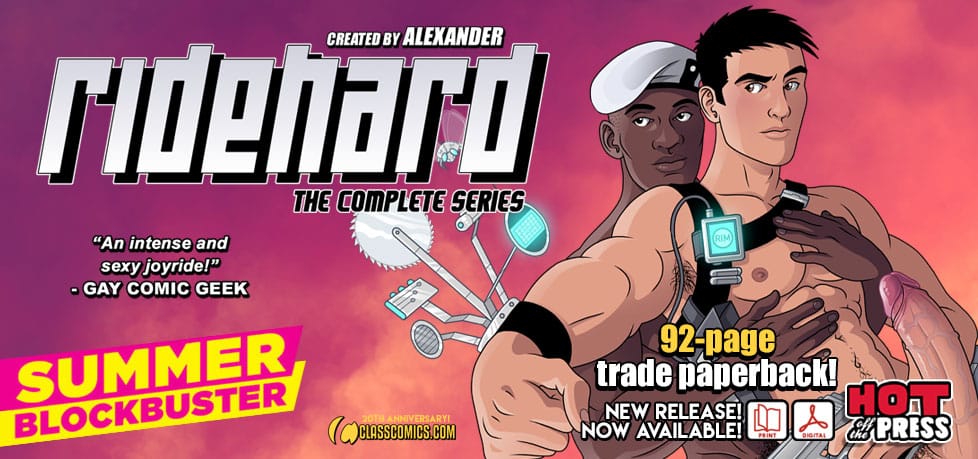 We're extremely excited to announce that sexy secret agent ALEX RIDEHARD is BACK in a new 92-page TRADE PAPERBACK collecting the entire RIDEHARD series PLUS a pinnup gallery in one gloriously sleek volume! You'll be thrilled to know that it's available as a Print Edition and as a Digital Edition!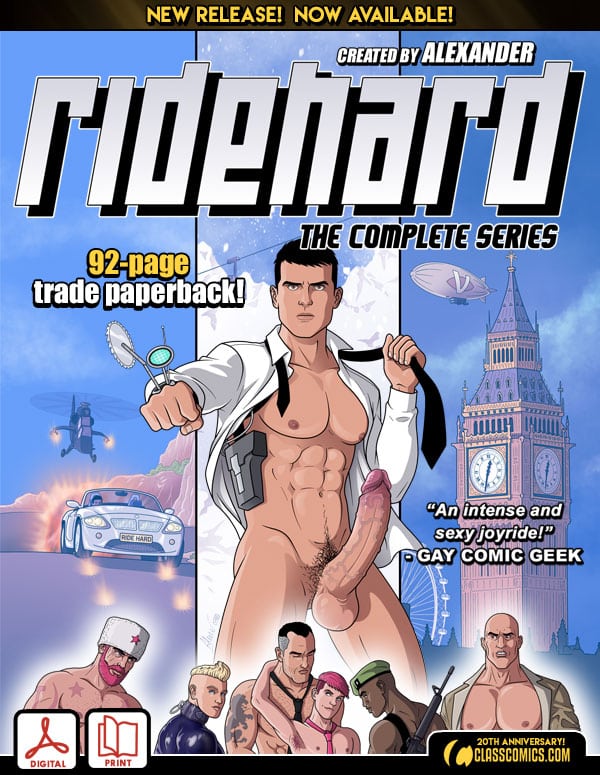 Working with the R.I.M. Agency to protect Great Britain – indeed, the world – from evil madmen with plans of global domination, RIDEHARD proved itself an exciting spy thriller! Filled with action, adventure, a healthy helping of dick, hungry bottoms and a copious amount of jizz in one brilliantly written and beautifully illustrated series, RIDEHARD was three issues of senses-shattering excitement!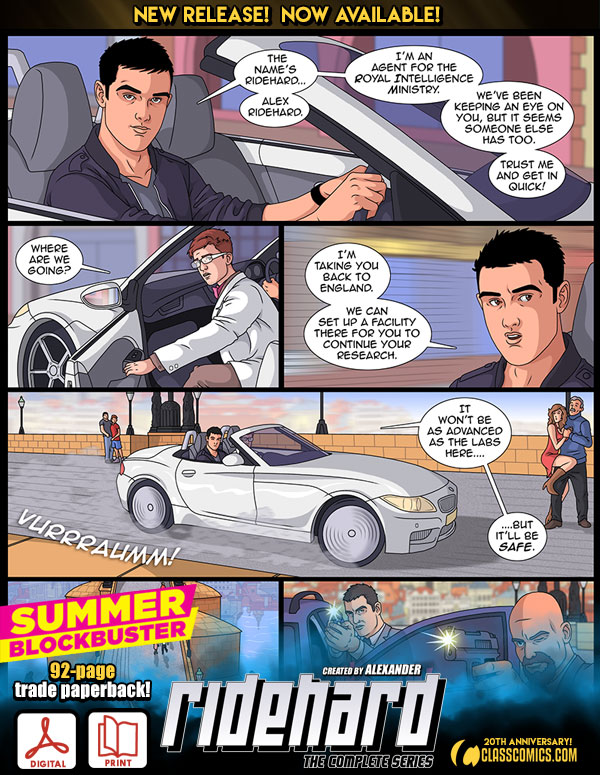 The villains are all back, and so is the drool-worthy agent Styles, and the stakes have never been higher! Relive the adventure, or discover it for the first time as ALEX RIDEHARD flies into high-octane action with his arsenal of gadgets, devices, AND his thick uncut erection, ready to fight for Queen and Country and to put his very life on the line for the fate of the world!
The Print Edition contains Issues #1, #2 and #3, making nearly 100 pages of full color fun! The Digital Edition also contains a new and improved re-release of Issue #1 with high quality scalable text for perfect reading on any device!
Written and illustrated by ALEXANDER (Super Hung!, My Boyfriend is a Superhero) and released ten years ago, the first issue of RIDEHARD introduced the world to super-spy extraordinaire ALEX RIDEHARD! It seems fitting to us that RIDEHARD would return as part of the Class Comics Twentieth Anniversary Celebration.
This gorgeous Trade Paperback includes all three issues of the original RIDEHARD series and presents them on gloriously glossy paper, to be enjoyed in one deliciously decadent gulp! This volume also includes an intro by series creator, ALEXANDER, himself, and features several scrumptious pinups to get your mouth watering.