Don't EVER let the Summer END! In an effort to prolong the warm weather and sunny days, we're excited to release the FILLION SWIMSUIT SPECIAL #1, a 49-page Class Access Digital Exclusive lovingly written and illustrated by Patrick Fillion.
You've been invited to join us here in the glorious Caribbean for a little fun in the sun with some of the hottest, most mouth-watering men the Class Comics Universe has to offer!
In the tradition of the classic Marvel Swimsuit Specials of the 1990s, the FILLION SWIMSUIT SPECIAL brings you pinups of beautiful heroes in a magnificent tropical setting. The muscles are bulging, and so are the baskets that have been stuffed to the brim with thick, veiny, hairy and sweaty meat-rockets.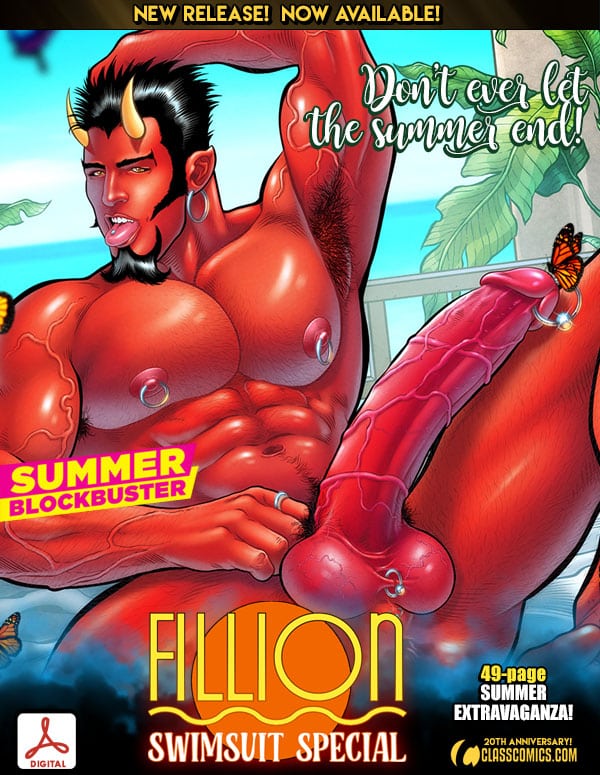 Unlike the Marvel Swimsuit Specials however, you get to see what's hiding beneath the fabric of the thongs and the swim trunks. These hunks happily whip off their banana hammocks to reveal the full glory of their masculine physique for us!
Strap yourselves in and prepare to salivate! Summer is forever here, and it's hotter than anywhere else on Earth when the exquisite men of Patrick Fillion are on duty! If you don't want to cool off, we have many hot summer titles to enjoy in addition to the FILLION SWIMSUIT SPECIAL!