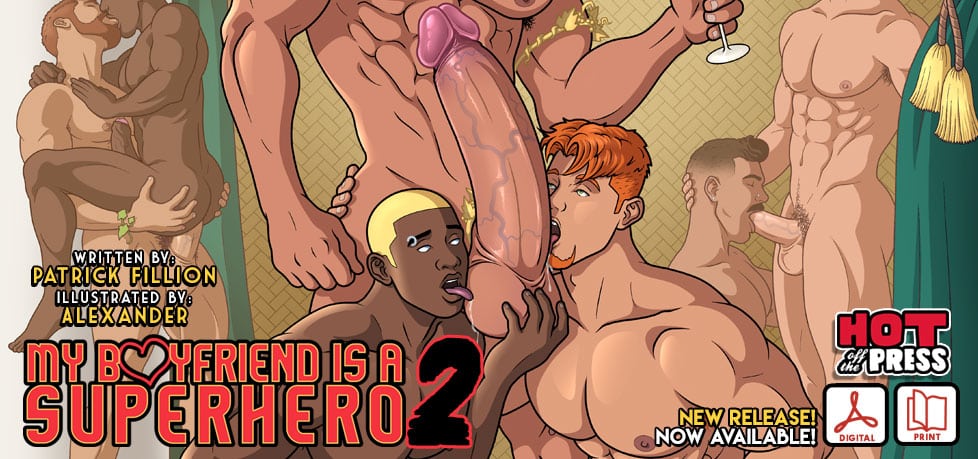 We're extremely excited to announce that MY BOYFRIEND IS A SUPERHERO #2 is here! You'll be thrilled to know that it's available in a Print Edition, Standard Digital Edition and as a Deluxe Digital Edition!
In this all-new, sensational second issue written by PATRICK FILLION (Gay for Slay, Love Lost) and exquisitely illustrated to perfection by ALEXANDER (Super Hung!, Ridehard), Byron and Felix are BACK to star in two incredible new adventures!
In "BLAME IT ON BACCHUS", Felix ends up working at the JUGGS RESTAURANT where he introduces Byron to two of his best pals, FENG and CODY. Feng and Cody swoon over Byron while Felix tends to the horny and hungry clientele, that is until BACCHUS, the Roman God of Drunkenness and Sexual Ecstasy, decides to stop by for something other than a burger and fries. What ensues next is possibly the most INSANE CLASS COMICS ORGY of male bodies we've published to date.
In "THE EX-FACTOR", Byron, Felix, and PETER GOLDMAN, aka GHOSTBOY enjoy a much-deserved day off from superheroing. It's sunny and warm in Gateway City Central Park and a perfect day for a leisurely picnic. Our hunky trio of young heroes settle down for a relaxing bite to eat when the temperature suddenly begins to drop. After years out of the public eye, the villainous ICECAP is back with an impossible choice that will send chills down Felix's spine!
Following the mega-success of the first issue, MY BOYFRIEND IS A SUPERHERO #2 brings you another wonderfully intimate and deliciously randy "slice of life" look at Felix and Byron out of costume. The action is scorching hot! The sex is off the charts raunchiness! The DANGER is white-hot and ice-cold!
The Deluxe Digital Edition contains a MASSIVE BONUS FEATURES section that is NEARLY 100 PAGES and includes sketches, pinups, and a fantastic "silent" edition of the entire comic, which is all art without text! It also includes exhaustive, in-depth "CLASS UNIVERSE" biographies of all the characters appearing in this issue's two stories.