We're extremely excited to announce that Tom Cray's GANYMEDE SICARD #1 is here! You'll be thrilled to know that it's available in a Print Edition, a Standard Digital Edition, and as a Deluxe Digital Edition!
From the pages of JOX: TREASURE HUNTER comes the sexy and brooding GANYMEDE SICARD in the SENSATIONAL FIRST ISSUE of his very own series!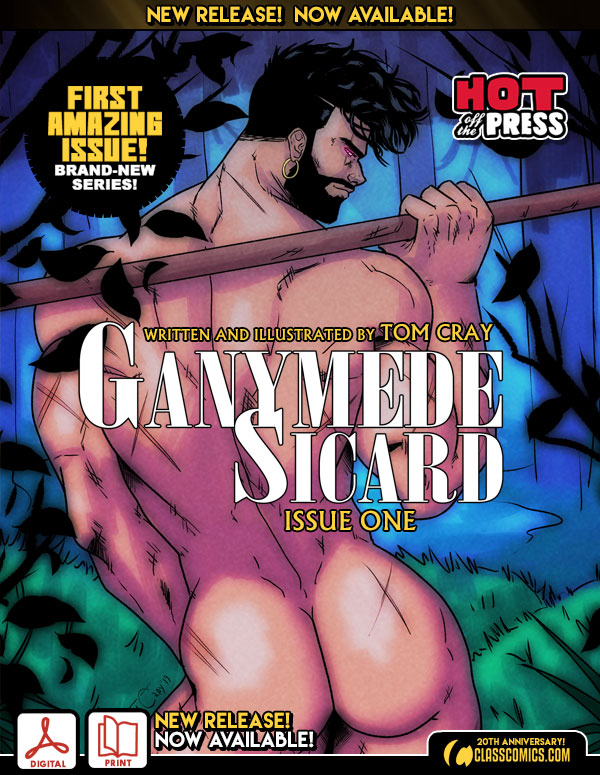 Ganymede's adventure begins in the city of Ravenhill, well known for it's backalley thievery and murder. He's followed a promising lead, desperately trying to find his missing lover, all the while trying to unravel a mystery that plagues the region.
Soon it becomes apparent that he's been set up. Gany discovers he's a wanted man with a sizable bounty on his head. After a nearly fatal skirmish with a group of masked marauders, he ends up at the Church of the Scorching Judgement, there to hopefully find answers to his many questions… and a way to make some quick coin!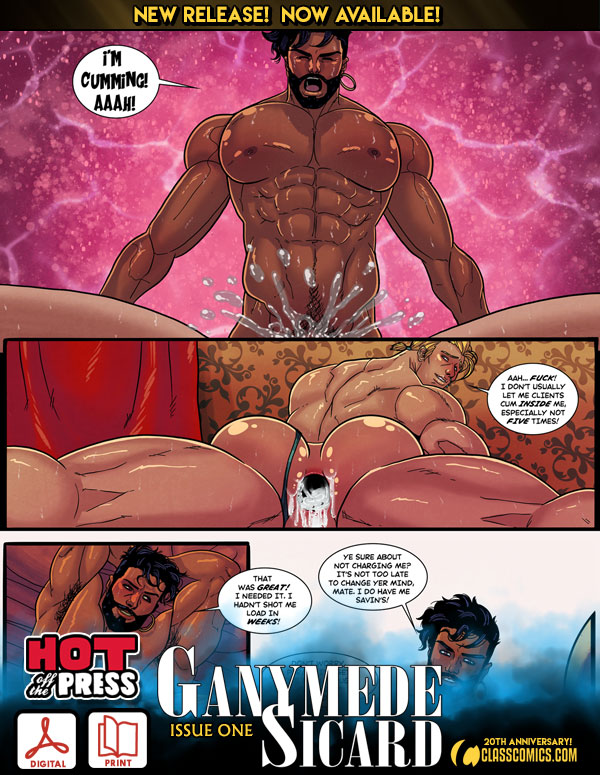 Our intrepid hero accepts a job from Novinus, a lascivious high priest who wants him to find out why so many of the church's special shipments of "mysterious goods" have been attacked by a strange creature. Could the CRIMSON BROTHERHOOD be behind these attacks?
It's up to Ganymede to find out, but as he heads out across the land, searching for answers, he encounters all manner of unholy monsters… each one of them hungry for his perfectly muscled flesh. And when it seems things couldn't get worse, Gany comes face to face with a foe even he may not be able to vanquish!
While it's not entirely necessary, you'll enjoy reading both JOX: TREASURE HUNTER and Quickies #1 before diving into GANYMEDE SICARD #1! The FIFTY PAGE DELUXE EDITION contains an expanded gallery, a bestiary, an alchemy manuscript and a silent edition of the entire comic to focus on the glorious art!
Beautifully illustrated by Tom Cray (JOX: TREASURE HUNTER), GANYMEDE SICARD #1 is a stunning oeuvre with an intriguing and mysterious tale filled with gorgeous male bodies. It simply gushes with hot, sticky cum, and fans of Tom Cray's breathtaking men and art will not want to miss this issue.