Hoe! Hoe! Hoe! We're thrilled to be releasing A Very Sunny Christmas #2 as a Class Access Digital Exclusive. It's a holiday treat just in time for Christmas once more!
It's that time of year again! The two Santas (Saint Nick, and his brother Not-so-Saintly Peter) are hard at work making sure that both the Good Children, and the Naughty Adults are getting everything that they want… and deserve!
But unbeknownst to them, there have been cock-ups aplenty… and we don't mean the fun kind! Mrs. Claus has realized that it's up to her to put a stop to the shenanigans and get Christmas back on track!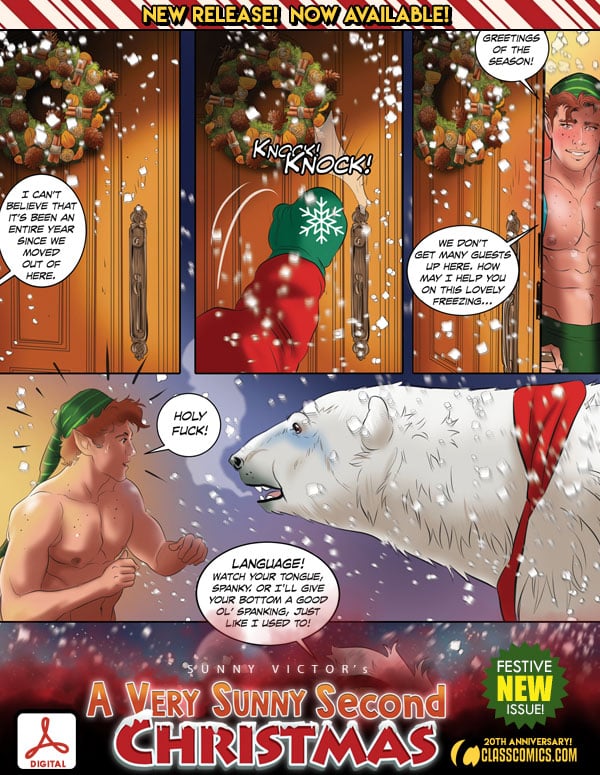 The poor woman had no idea of the depravity that she would be wading into the moment that she pointed her accusatory finger at the Naughty Elves at the North Pole. In addition to misbehaving minions, she's going to have to explain a visit from Camili-Cat & Icecap who were dropping off a truckload of sexy comic books at Santa's door!
This holiday treat from Sunny Victor has all the sexy seasonal sensations that you will ever crave! It's got Sexy Santas, Nymphomaniac Gnomes, Horny Humans, and even Class Comics cameos! What else could you possibly want for Christmas?
While it's not entirely needed to read A Very Sunny Christmas #1 to enjoy A Very Sunny Second Christmas, you'd be missing out on a sleigh load of fun if you didn't!