We've hit a really awesome milestone! We're extremely excited to announce that THE BRIGAYDE #10 is here! You'll be thrilled to know that it's available in a Print Edition, Standard Digital Edition, and as a Deluxe Digital Edition!
"Cataclysm" begins with heroic men of the BRIGAYDE making their assault on the evil Reverend Freely's conversion facility. All Hell literally breaks loose as the Reverend throws everything he's got at our heroes, desperate to keep them from putting a stop to his plans.
While ISAIAH SHADE battles dozens of the Reverend's Zealots, RED VELVET, WISTI and DEIMOS descend into the bowels of the building, looking to free the Reverend's prisoners and future "converts". What they encounter and ultimately come to learn in that sub-basement is something they may not have been prepared for.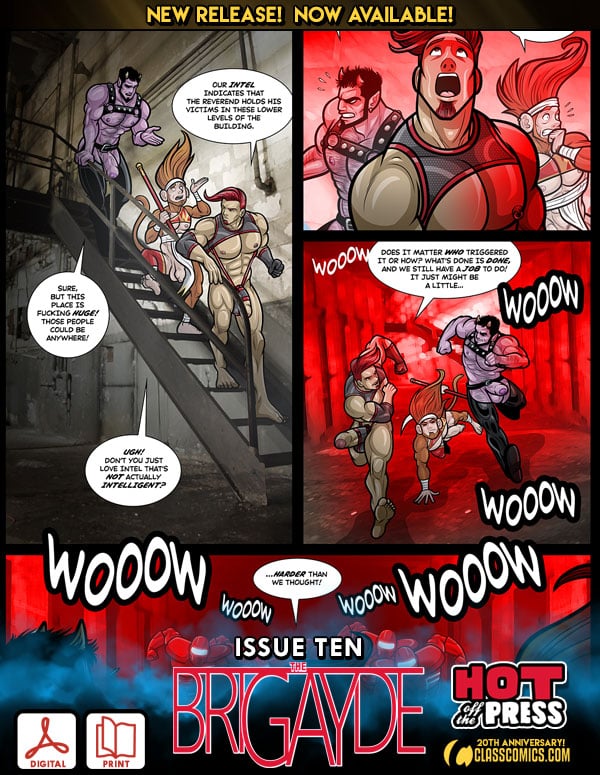 Elsewhere in the city, GOLDEN BOY and BULLET scout ahead, as BYRON and FELIX finally have it out! Tempers flare and feelings are exposed bare as our two young heroes attempt to mend the rift that has grown between them. This results in what is possibly artist DAVID CANTERO'S most beautiful, deeply erotic and hot A.F sex scene he has ever drawn!
As our brave adventurers' attentions are turned elsewhere, Mayor Filigree puts the final, desperate stage of his plan into effect, and one thing is for certain… things will never be the same again for the BRIGAYDE and the citizens of Gateway City. And by the end of this dramatic issue, one hero shall surely perish.
It goes without saying that you should really read The Brigayde #1, The Brigayde #2, The Brigayde #3, The Brigayde #4, The Brigayde #5, and The Brigayde #6 and The Brigayde #7 and The Brigayde #8 and The Brigayde #9 before reading The Brigayde #10!
You can check out the full collection of The Brigayde here, from The Brigayde #1 all the way to The Brigayde #10!
Written by PATRICK FILLION (Gay for Slay, Love Lost) and lovingly illustrated by DAVID CANTERO (Exodus, Dibearcity), the BRIGAYDE #10 is filled with twists and turns, shocking reveals and dramatic moments… not to mention some of the hottest gay sex ever put into a comic! You will not wanna miss this!
The Deluxe Digital Edition contains a MASSIVE BONUS FEATURES section that includes sketches, pinups, and a fantastic "silent" edition of the entire comic, which is all art without text!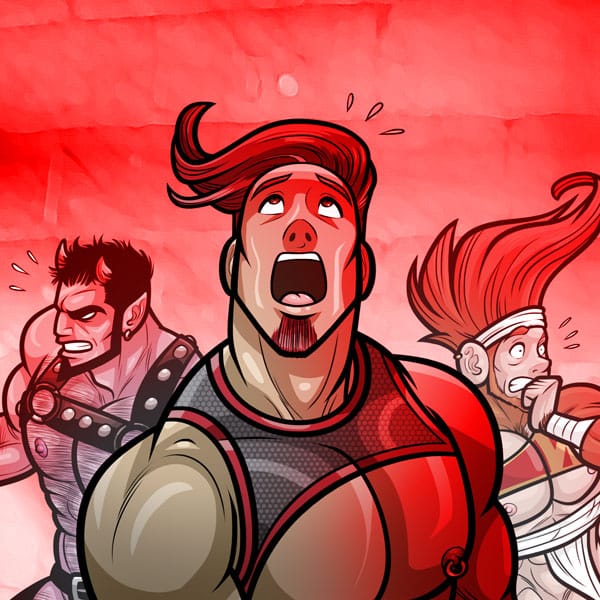 P.S. If you're a fan of everything Class Comics, then you'll want to check out our Commemorative Pin!