Class Comics is thrilled to make available the continually growing Danshoku Series by Vincent! We're launching it with Volume #1, Volume #2, Volume #3, Volume #4, Volume #5 and a discounted Series Bundle!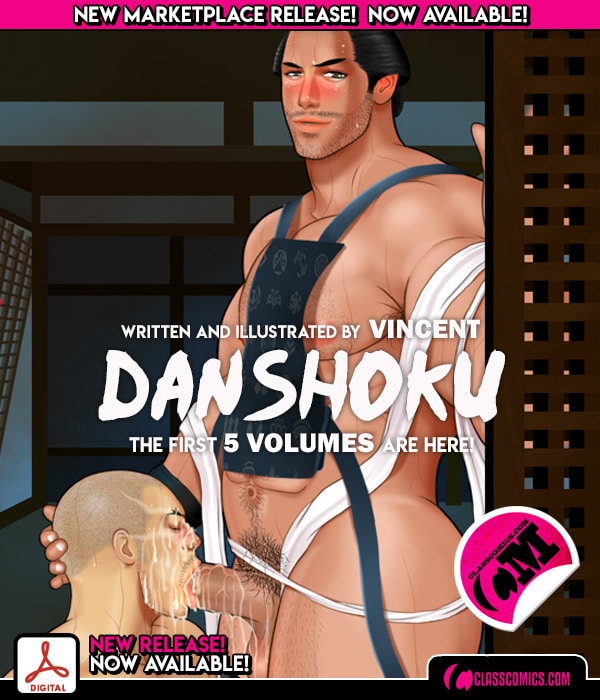 The Danshoku Series is an imaginary story based on the event in the inner palace of the Edo era in Japan. It revolves around General Ie-Hito and those who have to work exceptionally hard to please him!
In Danshoku #1 you'll find out about General Ie-Hito. A handsome man who caught the eye of many women in the palace, but he was not interested in them romantically. Almost every day & night, he invited beautiful men to spend some fun time with him. On the other hand, his mother and his servants were desperately hoping to see his heir as soon as possible.
In Danshoku #2 you'll find out that ever since he was born, Ie-Hito was well taken care of in Edo castle; however, he was getting bored with life in the protected walls. One day, he decided to travel to the fortress town in disguise with his first officer. He so enjoyed sightseeing in downtown on that marvelous trip. Since then, he has often travelled to the downtown to explore his sexuality.
In Danshoku #3 you'll hear the tale of Sekezaemon, who became Shogun's special caregiver. Although other servants did not know that he was indeed Shogun's sex slave, they got jealous of him and began to spread some rumors about his relationship with Shogun. Sukezaemon was frustrated about the secret love; however, he was not discouraged by it and waited for Shogun.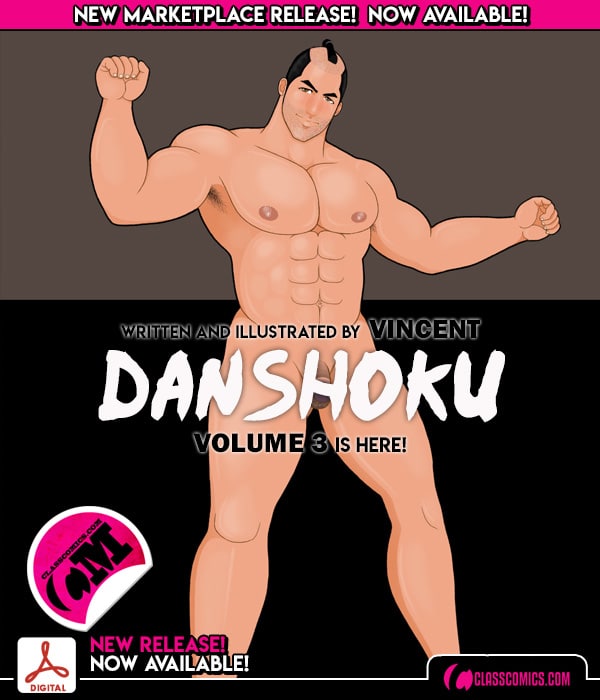 In Danshoku #4 you'll find out about a young man named Naosuke. He grew up in the downtown area, and he has delivered letters and packages for living as an express messenger. He was a father of one, but his earnings were not good enough to support his family comfortably. One day, he discovered that he could earn money as a Kagema, which meant a male prostitute. He quickly became very popular!
In Danshoku #5 you'll find out that Naosuke received a big sum of money so that he could make his wife and daughter happy and he decided to work at Edo castle in return. He started his new life as an assistant for Mr. Kojima at the castle. But Mr.Kojima was eager to make him Shogun's special servant for his own reasons…
The Danshoku series is written and illustrated by Vincent ( Studio V ). Vincent is a Japanese independent bara artist living in Canada who enjoys drawing macho men. He often shows his passion for ancient Japanese history and culture in his comics.