We're extremely excited to announce that MY BOYFRIEND IS A SUPERHERO #4 is here! You'll be thrilled to know that it's available in a Print Edition, Standard Digital Edition and as a Deluxe Digital Edition!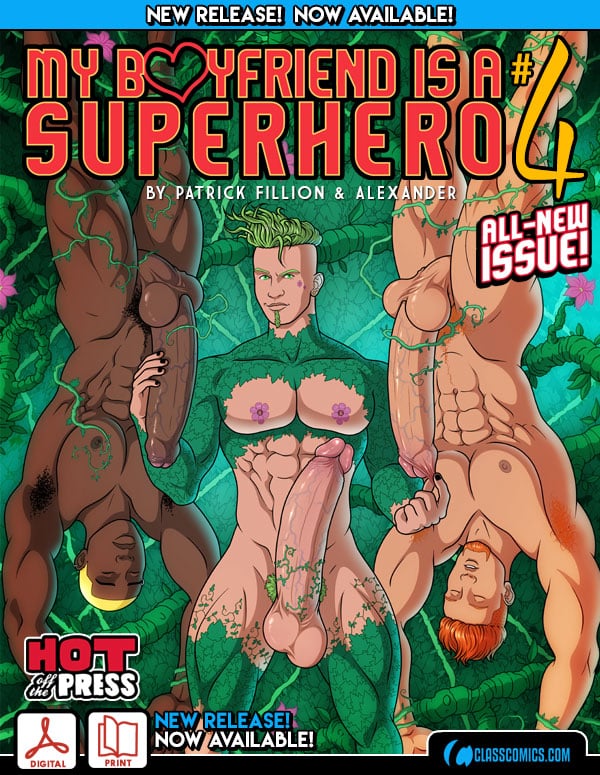 In this all-new, fantabulous fourth issue, Byron and Felix are BACK to star in two phenomenally heart-pounding (and butt-pounding) new adventures!
In "GO FIGURE", Byron realizes he done fucked up! He promised Felix he would buy him a rare and exclusive Alex Ridehard action figure from the local comic shop, but he forgot to do it. In a state of panic, Byron quickly goes to the mall, desperately hoping that he is not too late to get the figurine.
Unfortunately, he arrives too late and sees a very attractive Gay Geek grabbing the last one. If only Byron had something the Geek desired to exchange for the figurine! This episode is lusciously illustrated AND written by ALEXANDER!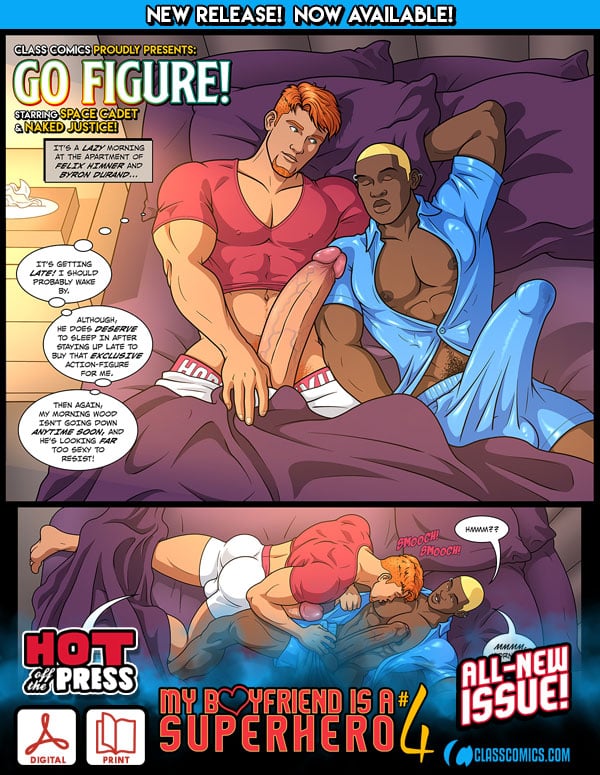 In "MY BROTHER'S KEEPER", Sheldon, Byron's younger brother, turns nineteen. Byron and Felix have organized an extravagant celebration at the renowned One Eyed Snake Nightclub to commemorate this momentous birthday. On his way to meet his brother and his friend, Sheldon meets a gorgeous young stud that is just too hot to pass up. The sparks and the jizz fly, and the two hit it off.
Fast-forward a week or so, and it's time for the family to meet Sheldon's new beau. Imagine their shock when they discover that Sheldon's been dating JON DAZY all along! Written by PATRICK FILLION, this second episode could also be titled "MY BOYFRIEND IS A SUPERVILLAIN"!
Following the mega-success of the first three issues, MY BOYFRIEND IS A SUPERHERO #4 brings you another wonderfully intimate and deliciously randy "slice of life" look at Felix and Byron out of costume. The action is scorching hot! The sex is off the charts raunchiness! The DANGER is white-hot, and the drama is too dee-lish for words!
The Deluxe Digital Edition contains a MASSIVE BONUS FEATURES section that includes sketches, pinups, and a fantastic "silent" edition of the entire comic, which is all art without text!