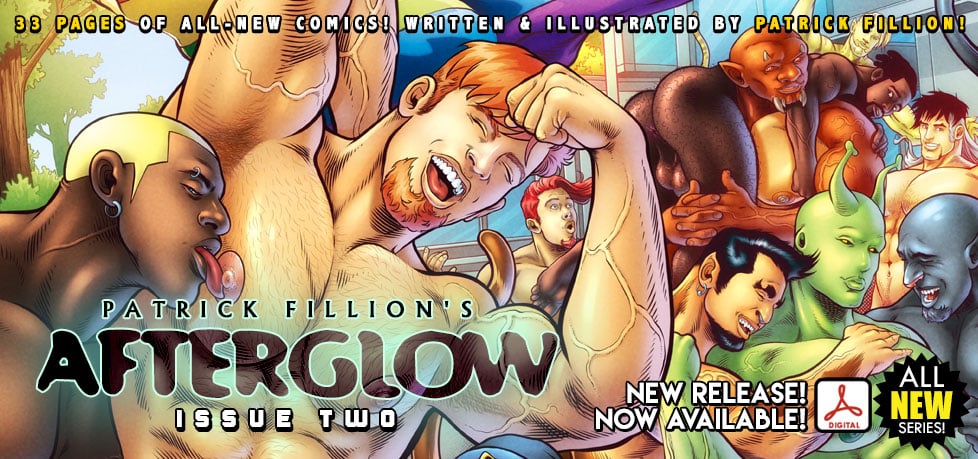 We're extremely excited to announce the release of Patrick Fillion's second issue in his new miniseries AFTERGLOW! While the first issue featured tons of heroes in peril, the second focuses more on joy, exuberance, lust and love! Join the heroes of the Class Comics Universe in a year-round adventure. It all begins with an incredible Pride Parade After Party!
Do you have a thong fetish? Doesn't everybody?!? You've come to the right comic as our heroes try to prove that thongs are an acceptable, if not necessarily practical wardrobe choice. Sure it looks hot as hello on these mega-hung hunks, but try heading into battle with one of them things on! It's not as easy as these boys make it look!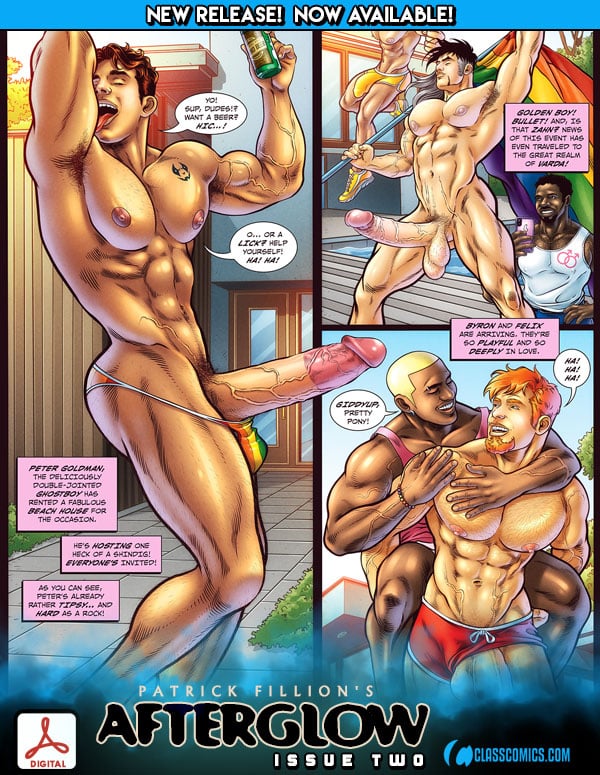 Everyone who's anyone's invited to the Pride Party, and the pairings are literally out of this world! But not everybody's at the shindig! While his pals party hardy and dirty, Deimos heads to the beach for a little bit of alone time. Little does he know that slimy little Cossak is on to him, and he's hungry for a creamy lunch!
As if Deimos' encounter with Coassak weren't enough, he soon finds himself in the horny and willing hands of Nicholas Lafoy, the nephew of Silas Lafoy.
Wanna get technical? The boys give us a great oral sex demonstration that is as gratuitous as it is informative. I mean, where else can you get off and get educated at the same time?
Finally, our adventure culminates with a visit from KRAMPUS, who wants to wish us all a Very Dirty Christmas. Let's just say that this is a festive fuck-fest you won't soon forget.
This superbly sensuous second issue of AFTERGLOW contains 37 CUM-SOAKED PAGES of glorious comics and art brimming with gloriously muscled men, WRITTEN and ILLUSTRATED by PATRICK. If you're a fan of Patrick's art and gorgeous characters you will NOT want to pass this one up.
This Class Access Digital Edition is now available for download right now. A print collection of Afterglow #1 and Afterglow #2 will be available at some time in the future!