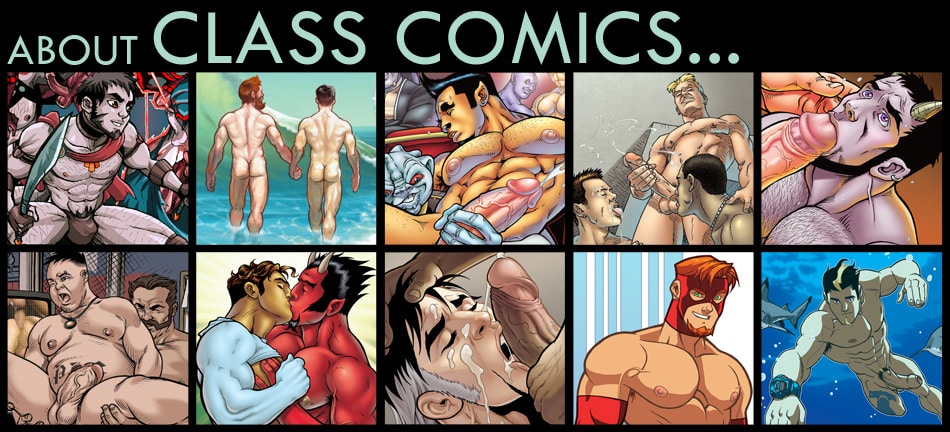 Welcome to CLASS COMICS, home to HEROES WITH HARDONS! Our mission is to create and publish Gay Erotic comic books of the highest quality which feature intelligent, exciting stories, ultra-HOT, explicitly beautiful art, and captivating characters that always turn you on.
Class Comics is owned and operated by Patrick Fillion and Robert Fraser, and has been publishing some of the hottest Gay Erotic-themed comic books on the market since the year 2000.
2006 marked the beginning of Class Comics' expansion and further growth as an important publisher in the world of gay comics. For the past few years, Class Comics built its foundation upon the works of artist Patrick Fillion. Now, Class has branched out further by publishing and promoting the comics and works of some of today's best artists of gay erotic comics.
As a company, Class Comics has managed to capture the attention of thousands of readers who have hungered for quality gay erotic comics since they first fantasized about the contents of Spider-Man's tights. In addition to publishing plenty of titles on their own, they have introduced their comics and art book collections to the German and French audiences through European Publishers Bruno Gmunder and H&O Editions.
The CLASS UNIVERSE is populated by characters and titles created by Patrick Fillion. From the incredibly hung superhero Naked Justice, to Zahn the barbarian Son of Winter, to the sci-fi adventures of Camili-Cat the Felinoid, the Class Universe is brimming with a wide variety of characters that appeal to a large variety of readers. With a genre for everyone, every reader is sure to find a title (and often more) to their liking.
Patrick also frequently teams up with a number of artists to bring the adventures of his sexy characters to life. Artists such as David Cantero, Jacob Mott, Logan and Leon de Leon have all collaborated with Patrick in creating some of the hottest gay erotic comics available today. While Patrick writes and directs, Jacob Mott illustrates the hit series Naked Justice: Beginnings and Mako Finn. Logan illustrates the Deimos series… and the list goes on…
In recent times, Robert Fraser has begun writing his own series entitled The Initiation. The series deals with the sexual adventures of a bunch of horny college guys from the Zeta Mega Phallus Fraternity, and is illustrated by Joseph Hawk. In 2010, the Initiation book two was awarded a TLA GAYBIE AWARD for "Best Erotic Comic of the year".
Now Robert Fraser has written a brand new series entitled Beautiful Dead, the story of two young men who fall in love in a world besieged by Zombies. Their sex-capades (GUARANTEED to ALWAYS be with the LIVING!) and struggle for survival are illustrated by Butch McLogic, the writer and artist of the acclaimed Tug Harder series.
For a complete listing of the titles and comics that make up the official Class Comics Universe, please refer to the "Comic Titles" tab situated in the navigation bar.
World-renowned artists and writers such as Logan, Jacob Mott, Alexander, Javi Cuho, Benoit Prévot, Max', Ismael Alvarez, François Peneaud, Carlos García, David Cantero, Nicolas Brunet, HvH, C.J. Evans, Silvano and Butch McLogic to name but just a talented few, have found a home for their works in Class Comics. These creator's impressive body of works serves to create what is referred to as the Class Comics EXPANDED UNIVERSE. For a complete listing of the titles and comics that make up the Expanded Universe, please refer to the "comic titles" tab situated in the navigation bar.

FOR MORE INFORMATION PLEASE CONTACT:
Contact us directly here –> CLASS COMICS

Our mailing address is:
Class Comics Inc.
PO BOX 51363, Cameron PO,
Burnaby, BC,
V3J 0C9,
Canada
CLASS COMICS and all related characters are © and trademarks of Patrick Fillion/Class Comics, Inc.
Copyright © 2013 Class Comics, Inc. All rights reserved.