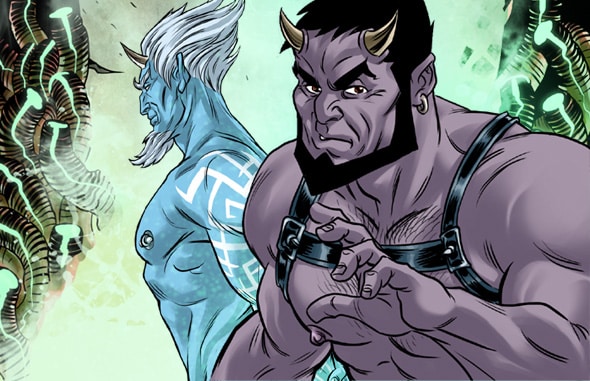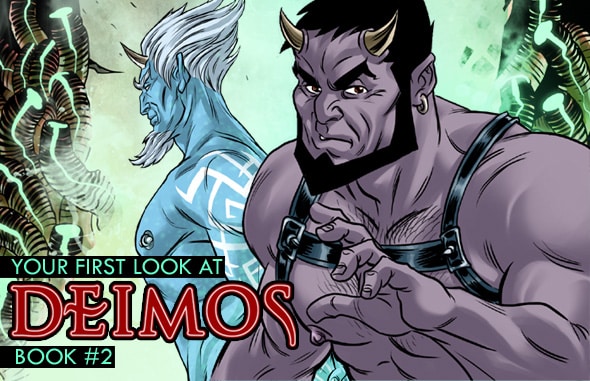 Fans rejoice! The Taro Demon is on his way!  Production on Deimos #2 is complete and it is going to be a fantastic issue.
Patrick Fillion and Logan have teamed up again for this second issue to deliver a powerhouse story with incredibly hot art.  Deimos #2 picks up right where Deimos #1 left off.  If you recall at the end of issue #1, Azagoth chomped Rusty's head right off.  This was of course intended as a message for Deimos.  Well, as issue #2 opens up, Deimos gets the message, and he's not too happy about it.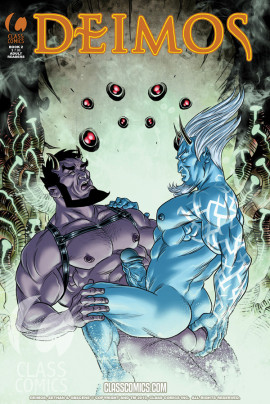 One thing leads to another, and eventually Deimos follows a trail of clues right to Sethan's bedpost.  Sethan apparently wants to betray Bob and all of Hell.  Believe it or not, he wants to follow in Deimos' footsteps and try for Heavenly forgiveness.  Well, Heaven may forgive him, but can Deimos?  Can Deimos even trust Sethan?
Sethan swears up and down that he's telling the truth and that his desire for absolution is genuine.  He also confesses that he's missed Deimos a great deal and that he still loves him and wants to be with him.
Touching, huh?
But Deimos is no patsy.  Sethan is on probation until he can prove to Deimos that he's not full of shit.  Sethan tries to give Deimos the proof he wants, but before he can, they're attacked by Obscene.  One of Hell's most fearsome minions, Obscene allegedly makes Bob look like a kitten.
Whether Deimos and Sethan can get away with their lives, remains to be seen!
It's a crazy ride for these two ex-lovers… and as if all of this wasn't already enough, would you believe that Bob has an actual SEX SCENE in this issue?!?! You can thank the wonderfully twisted minds of Patrick and Logan for that!
Deimos #2 is packed with twists and turns, and scorching hot sex.  You'll be treated to some familiar faces in this issue, and you'll meet loathsome new characters such as Obscene.
Logan's art for this series just keeps getting better and better with each issue.  Book #2 is a spectacularly moody and lush tour de force, with beautiful artistic direction.  It's a perfect match to Patrick Fillion's dark and erotic vision that is Deimos' world.
Due to slight printing delays, this book has been pushed back to the end of Summer 2010, but we promise your wait is almost up.  As soon as we have a release date, we'll be sure to update you.
In the meantime, we hope you enjoy this cool first look at this highly anticipated book.  And for more information on the Deimos series, be sure to check out our newly re-designed DEIMOS title page.