Patrick Fillion has been trying out a new illustrative style.  Inspired by his affection for the Star Wars Clone Wars comics art style, as well as Bara and Manga comics, Patrick has evolved a very hip and cool new way of drawing his characters.  Enter Boytoon Adventures #1.
This is a first for Class Comics in many ways, a full color, 70+ page Digest that will feature Patrick's art, but under the public pen name of Bryce Peters.  The pen name is to help people better identify and differentiate between Patrick's 2 illustrative styles.
For Boytoon Adventures #1, Patrick has written 4 fresh new stories featuring many of his most recognized creations; Zahn, Locus, Flamer, Captain Jung, Disco, Diablo, Ghostboy and Camili-Cat are all set to make an appearance.  Each story is set in the proper Class Comics continuity, and respects the events and plots established in other publications to date. Though the art is cartoony in nature, the stories are still seriously sexy, and there is plenty of sex to boot.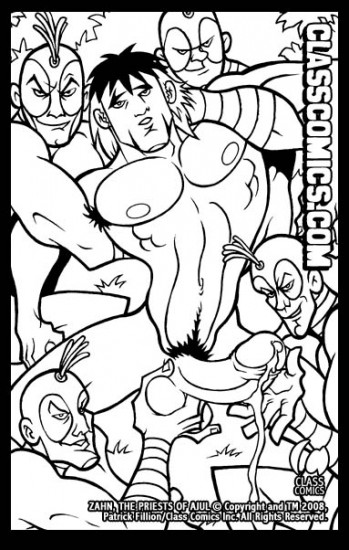 As a special treat, Robert Fraser will also be contributing a fresh new story featuring characters from his über-hot series, the Initiation.  Pledge master Zack will get fleshed out and felt up for your viewing pleasure.
Never fear, this doesn't mean that Patrick has dropped his classic drawing style at all, quite the contrary.  "I am an artist that enjoys working on lots of different things at once.  Right now I have Felinoids #3, Deimos #2, Rapture #3, A new Cube book and a few other projects on the go… but Boytoon Adventures has been a really great way to keep creative while doing so in a very different way from what I am used to.  It's been a fun change of pace, and that rocks!"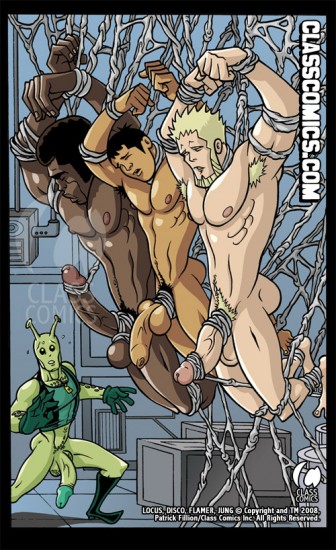 Patrick hopes to complete Boytoon Adventures #1 in time for late 2008 release.  We will keep you to date on the official release date as the information becomes available.