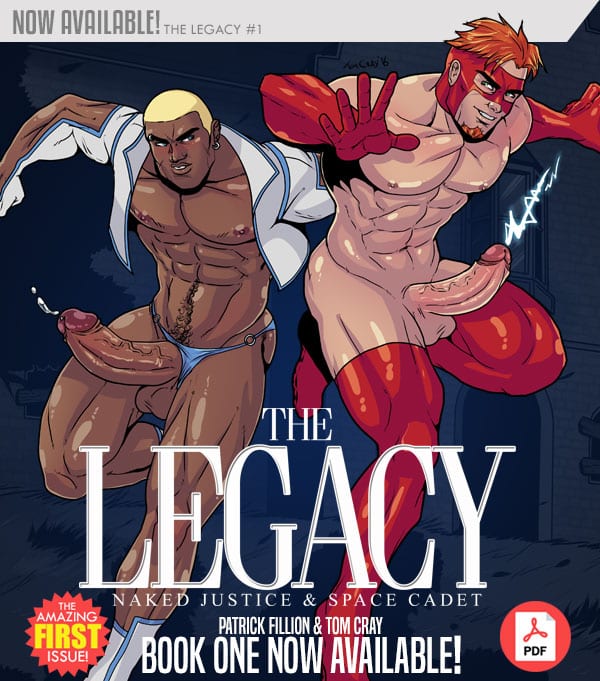 There's something very strange in the woods just outside of Gateway City in THE LEGACY #1!
Back in the 1950's, Felix Himner, a.k.a. the incredibly hung NAKED JUSTICE, along with the help of British super team the UNRIVALED ALLIANCE, defeated the twisted DOCTOR SILVERFISH within his abandoned psychiatric hospital lair. Now, nearly a lifetime later, Naked Justice finds that very same hospital, inexplicably, at the heart of of woodland clearing, a continent away from where it was originally destroyed. WTF? A mystery is definitely afoot.
Naked Justice calls upon his best friend, Byron Durand, Gateway City's heroic SPACE CADET for help. Perhaps together, these two hung heroes can get to the root of this strange situation.
Our adventurers step within the displaced halls of the building, and just as their investigation commences, Space Cadet spots his defenseless father, EMIL DURAND, being dragged away by a trio of muscle-bound orderlies. How is it possible Emil is even here? Without waiting to find out, Byron rushes after his father to help… leaving Naked Justice very much alone and face to face with a ghost from his past.
Written by Patrick Fillion, and beautifully illustrated by Tom Cray (JOX: Treasure Hunter), THE LEGACY #1 sets in motion events that will forever change what you think you know about the classic Naked Justice, Space Cadet, The Unrivaled Alliance and the demise of Doctor Silverfish.
Mystery and mayhem, strapping hunks and jizz-spewing, hero on hero sex, THE LEGACY #1 is now available exclusively as a Class Access Easy PDF Digital Mini Comic. This issue includes the complete 10-page first chapter of this new series, and also contains a massive bonus section, filled with more gorgeous art by Cray, concept sketches by Cray and Patrick Fillion, behind the scenes art and much more. Get your copy today and start unraveling the mystery.