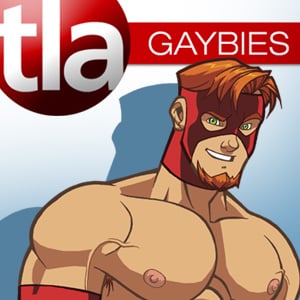 Hello my friends…
The folks at TLA video have just announced the 2010 TLA Gaybies – their very own awards meant to honor the best work of gay writers, filmmakers and performers in their respective fields.
I am SO PLEASED to let you guys know that a bunch of my own projects as well as several other books released by Class Comics last year have been nominated and YOU can vote for your favorites.
In the BEST GAY COMIC category, these Class Comics titles were nominated:
–    Striptease
–    Rapture #3
–    Naked Justice: Beginnings #1
–    The Initiation #2
–    Porky #3
In the BEST GAY EROTICA category, this Class Comics title was nominated:
–    Boytoon Adventures #1
All you have to do to cast you ballot is to click on the cover of the title you want to vote for, then scroll down to the bottom of the page and click on the big red "VOTE" button.  And remember – you can vote AS OFTEN AS YOU WANT!
So check out the official GAYBIES section over at the TLA website, and please vote as often as you can.  Help yours truly and the rest of the Class Comics gang win a Gaybie! How awesome would that be! LOL! :)
The winners of the 2010 TLA Gaybies  will be announced on April 15.  Be sure to vote and to check out all the other categories and vote there too. There are a lot of really talented entertainers that deserve recognition.
More from me shortly, boys and girls!
Hugz + kisses,
Patrick XOXO