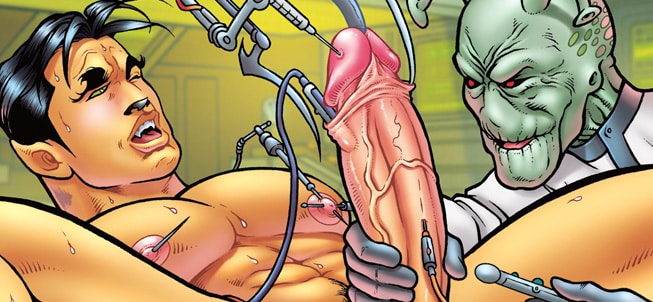 [kml_flashembed movie="https://www.classcomics.com/ccn/wp-content/stockpics/vids/cam_dr.swf" height="600″ width="700″ /]
Here's a great way to start 2013 — check out this AWESOME animation of Cam VS Dr. Pupae, right out of the pages of CAMILI-CAT: LOVE LOST #1!  The art is by yours truly (Patrick Fillion) and the animation is by the amazing BLODIAX!!  I love this — and I love that we hear Cam moaning while Pupae probes and prods him — SO HAWT!
This is the first animation we've done in quite a while, but it's a really sexy one. BlodiaX and I wanna do more together, so stay tooned — you never know which Class Comics Hunk you'll see brought to life next! Enjoy!
Illustration by Patrick Fillion.
Animation by BlodiaX.