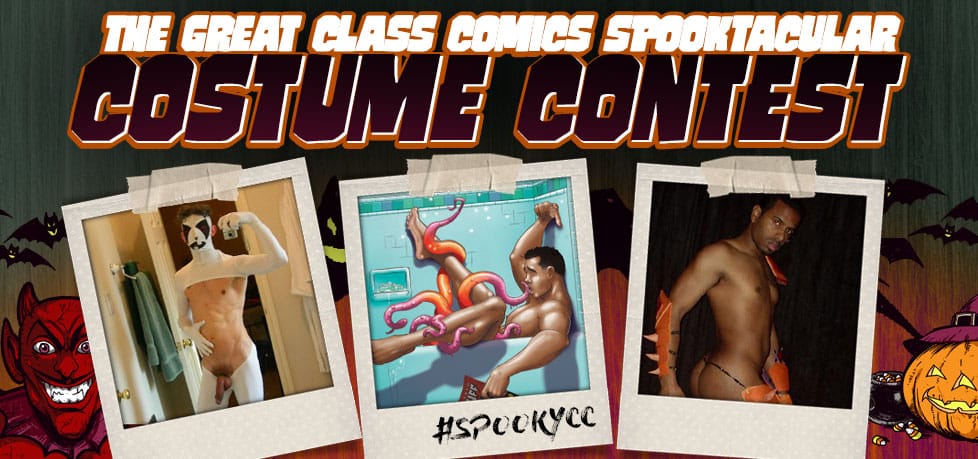 Halloween is almost here! We love the spooky season so much that we're throwing a costume contest to celebrate the release of our two latest comics!
We want you to show your devilish delight of your favorite Class Comics character! Your job is to snap a photo of yourself wearing a costume or cosplay outfit based on our comics! It can be anyone from our core universe or our extended universe… so basically any character in any comic that is on our website!
It doesn't need to be naughty! It can be fun and playful, coy and erotic, naughty… or nice! Whatever suits your style. It also does not need to be insanely complicated! Be creative and have fun! The photo HAS to have #SPOOKYCC somewhere within it to be part of the contest. It does not have to show your face or naughty bits! It's Halloween… so there are plenty of masks around!
To enter the competition, you can Tweet, Instagram, post to our Facebook page tagged with the hashtag #SPOOKYCC. If your entry is too naughty for social media, or you don't want to post it from your any of your accounts, you can upload it here: www.classcomics.wetransfer.com.
What are the prizes? Every submission will be entered into a draw for $150, $100 or $50 in Class Cash!
SPECIAL BONUS ENTRIES! If your entry is based on a character from either Scared Stiff #1 or Jacko's Horny Halloween Tales #1 then you will get DOUBLE ENTRIES into the draws.
All entries must be submitted by the end of October 31st!
CONTEST RULES:
1. Costume entry must incorporate an element from a Class Comics character and have #SPOOKYCC in the photo somewhere.
2. By sending a submission you agree to have it posted in public locations such as our website, Facebook and other social media platforms. We reserve the right to decline or not display any entry at any time.
3. Only one prize will be awarded per person regardless of the number of entries.
4. Contest entries must be received by the end of October 31st 2016 to be eligible. The winner will be announced by November 10th.
5. By sending in your entry, you warrant that you are 18 years of age or older as of October 21, 2016 and have read "The Fine Print" of the contest details.
THE FINE PRINT:
By submitting your images(s) to Class Comics Inc, you agree that such images(s) and the accompanying information will become the property of Class Comics Inc and you grant Class Comics Inc royalty-free permission to publicly display, reproduce and use the images in any form or media for any and all purposes.
You also warrant that (i) the image(s) is(are) your original work, are of your own self, and does not violate the copyright or any other personal or property right of any third party. Your submission also allows Class Comics Inc to edit, crop or adjust the colors of the image(s) on an as needed basis.
The Contest Hosts are not responsible for any lost or miss-delivered contest entries. The Contest Hosts reserve the right to decline or remove any entry at any time at their discretion.
By sending in your entry, you warrant that you are 18 years of age or older as of October 21, 2016.