Angelface is a series set in the early 1920s and tells the story of two hunky friends, Alan and Red.
In Angelface #1, Alan and Red rob a jewelry store in London and lay their hands on a small fortune. After a wild night of lustful celebrations, Red wakes up to find that Alan (also called Angelface) has taken off with all the loot! Not one to let his fortunes vanish, Red follows a steamy trail of clues to a ship headed to the United States!
Meanwhile Alan screws his way across the ocean, stealing form every person he possibly can. His good fortune comes to an end when he ends up getting blackmailed by a gangster known as the Black Rook. Alan either agrees to work for the Black Rook, or he will be turned over to the authorities. Reluctantly, Alan agrees and the Black Rook transforms him into a suave aristocrat. When they arrive in Manhattan, Alan looks like a million bucks… but with a dangerous game ahead of him.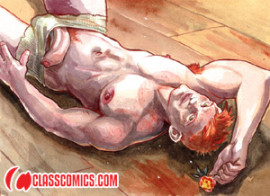 In Angelface #2, Prohibition reigns over the United States. Red finally arrives in New York in search of his former accomplice and partner in crime, Alan. Red wants his share of the loot and an explanation for Alan's betrayal. He will stop at nothing to get those things.
By chance Red meets Joshua, a sexy bellhop who would do anything for Red's love… even risk his own life to help him track down the man who betrayed him.
Meanwhile, Angelface has become a burglar in the employ of the dastardly Black Rook. His is a gilded cage, and the Black Rook's grip is tight. Angelface's every move is monitored by the Black Rook's henchman, the sadistic Romeo. The handsome thief is truly a prisoner with little hope of escape…
…Until he crosses paths with Red anew. Angelface devises a plan to achieve his freedom. The trouble is that he may have to sacrifice poor Red in order to escape the clutches of the Black Rook.
Beautifully written and illustrated by French artist Benoît Prévot, Angelface is a series set in an era of prohibition, swing, speak-easies and loose morals! A fantastic journey that intertwines elegance with erotica no fan of Class Comics will want to be without.



Benoît Prévot was born in France in the Ardennes in 1968. He currently lives in Paris.
A graduate of EMSAT, he has worked at various design and advertising studios, then received formal training at the CFT Gobelins to work on several animated television series.
Throughout his career, he has created artwork for comic books and fanzines. He has also illustrated book covers and promotional posters. Now Benoît focuses most of his creative energy on his erotic illustration and projects, such as the Angelface comic book series.
His art can be seen regularly on exhibit at the Tom Of Finland Erotic Artfair. You can learn more about Benoît by checking out his profile in our Contributors section.
For more of Benoît Prévot's fantastic works, visit his website and his Blog.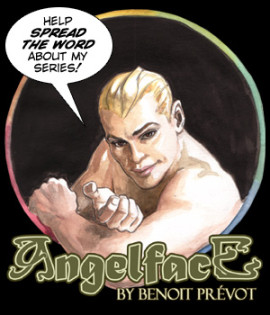 Are you passionate about Class Comics? Do you own and operate a Blog or website? Do you write for a cool publication? Would you like to spread the word about this and other Class Comics titles?
For TONS of cool web ready and print ready artwork and information on this and all of our other titles, check out our Press Section. You'll find a HUGE collection of sexy artwork you can use with your posts or articles.
And hey, if you don't have a Blog, Website or magazine to write for, that's okay. We appreciate you spreading the word about us in any way you can. Tell your friends about us. Share your love of our comics. We have a vast selection of titles and we pride ourselves on having something for everyone.
We invite you, the fan to check out our Press Section as well and to help yourself to all the wicked artwork stored there. Thanks for helping Class Comics to continue to bring you the very best adult gay comics in the world!