What if the end of the world wasn't the worst thing that ever happened to you? Beautiful Dead is a brand new series about love and lust in the coming zombie apocalypse! It's the story of Gage and Hayden, two unlikely survivors who find each other as the world crumbles around them…
What if high school sucked, the few dates you've had never worked out, and you worked for minimum wage at a crummy gas station… And then the world went insane because the dead rose?
Gage is a classic introvert, comfortable snuggling up with the internet, lost without technology, screening the few calls he gets, and living life within the confines of his carefully guarded world. He's always cheered for the zombies in the movies, and never imagined that he'd ever come face to face with a real one.  However when the dead started to pay more attention to him than the living, Gage realized that he was going to need a real live companion to keep him from becoming Zombie fodder.
What if high school rocked your world, after graduation you scored an awesome job bartending at a hot club, you got laid any night you wanted…. And then the world went insane because the dead rose?
Hayden lives life as large as possible. If there's a way to be the center of attention, he'll find it. In high school he was the all star quarterback and life of the party. After graduation he achieved his grand ambition of becoming a flashy bartender!
Between working until three in the morning, bringing home a different trick each night, and sleeping till four in the afternoon, it was hard to notice that the world had gone to shit until it was too late for a celebration party. Hayden had always thought that zombies would make great practice tackling dummies. He finds out that they are much more durable than he ever thought.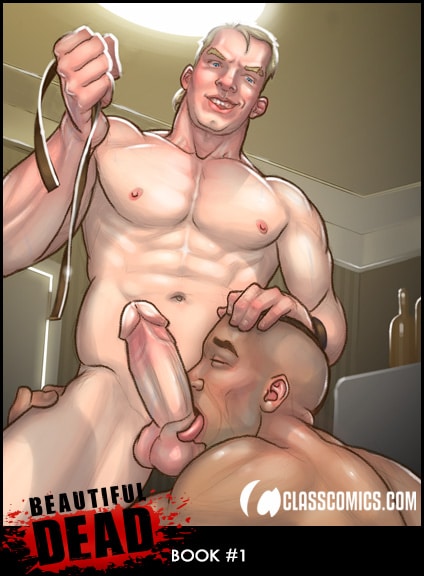 Neither Gage nor Hayden would have been each other's first choice as traveling companions, but each of them see the benefit of having someone along for the ride. Even if it's not for the most noble of reasons. They'll both be surprised by what this undead world brings out of each other… and themselves.
Beautiful Dead #1  chronicles their insane first 48 hours together, which will define the rest of their existence… however long, or short, that is. Written by Robert Fraser, creator of The Initiation, and illustrated by Butch McLogic, creator of Tug Harder, the comic has been six years in the making! It was released in both a Printed Edition and Digital Edition on October 31st 2013!
While preparing yourself to read Beautiful Dead, or after you've read it and you feel the need to relive it, get your scissors out and create your own Beautiful Dead montage!  Just CLICK HERE or the banner below to download a fantastic set of Beautiful Dead Standies! Go ahead and Print, Cut, Assemble, Display, Destroy, and Enjoy!  Who knows will happen next… with a little bit of creativity!

Written by ROBERT FRASER and illustrated by BUTCH McLOGIC – NOW AVAILABLE!
It's been three years in the making since you just can't serve up fresh zombie. You have to let them rot!  We promise that it's been worth every moment that you've been waiting! In addition to the fantastic standard comic, we've exhumed a variant cover by Jacob Mott! The Jacob Mott variant cover edition also contains three additional Mott pin-ups!
Gage and Hayden continue their perilous journey together through the zombie filled infected zone in order to get far enough away to bang each other in relative safely.
The lads receive mysterious assistance from an unknown collaborator that might be helping them along, or might be sending them to certain death. Unfortunately in times like this, there's only one way to find out.Their designated detour brings them to the source of the outbreak, but at the same time lands them in a mad man's lecherous hands.
Sadly only one of our sexy travelers makes it to a local airstrip and discovers the bigger picture of the undead epidemic. But that doesn't mean he's reached a place of safety quite yet! By the end of this comic both Gage and Hayden might have joined the undead!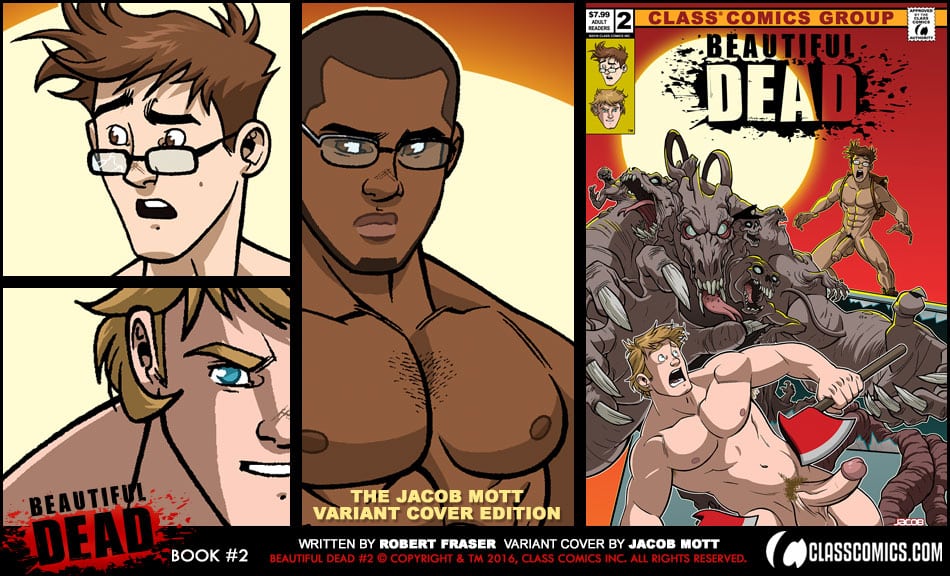 ROBERT FRASER (writer)
Many Class Comics fans know Robert Fraser from his first comic creation, the award-winning "The Initiation" series about the Zeta Mega Phallus fraternity. For "The Initiation", Fraser teamed up with artist Joseph Hawk, and he set out to voice many of our personal fantasies involving hot College guys. He did so with absolute abandon, making the series a huge smash-hit with fans world-wide.
With "Beautiful Dead", Fraser has spun a completely different and yet supremely hot tale which introduces us to Gage and Hayden. These two sexy young guys who couldn't be more different from one another, but who desperately need each other if they hope to survive the Zombie apocalypse.  For "Beautiful Dead", Fraser has teamed up with artist Butch McLogic, creator of the "Tug Harder" series, to bring this tale of love in a very fucked up world to life.
Robert Fraser wears many hats at Class Comics, and when he's not working writing a new comic project or series, he's busy running the company with his partner Patrick Fillion, which is to say that he helps to ensure that Class always brings you the hottest and most exciting gay erotic comics we possibly can.
Currently, Fraser is working on two new titles. The first is entitled "The Pack", a story that centers around hunky men and Werewolves, and the second is called "The Bromance" which is a series of short stories about guys doing what they do best… other guys! For more information on Robert Fraser and to learn more about his up-coming projects, you can check him out on his official Facebook Page or visit his official website.
Butch McLogic is the creative mastermind behind Tug Harder. Tug is a comic series about a photographer working for a Gay pin-up magazine, who goes undercover as a farmhand, hoping to snap some candid "real men" shots of his fellow farmers!  Now he and writer Robert Fraser have teamed up for "Beautiful Dead", a tale of love in the face of a zombie apocalypse. Since his debut on the gay erotic comics scene, Butch has made quite the impression. His work is highly respected by his fans and peers alike, and his work on "Tug Harder" has helped to establish him as a powerful story-teller.
Butch is no stranger to the "strange" and "unusual"  in his comics and art. With "Tug Harder", he tackled subjects such as aliens and cavemen, and with "Beautiful Dead", he takes on the apocalypse and zombies.
For more info on Butch and his male erotic art, please visit the official Butch McLogic website. And join Butch on his FACEBOOK page where he regularly updates his fans and readers on his current projects and works.

Are you passionate about Class Comics? Do you own and operate a Blog or website? Do you write for a cool publication? Would you like to spread the word about this and other Class Comics titles?
For TONS of cool web ready and print ready artwork and information on this and all of our other titles, check out our Press Section. You'll find a HUGE collection of sexy artwork you can use with your posts or articles.
And hey, if you don't have a Blog, Website or magazine to write for, that's okay. We appreciate you spreading the word about us in any way you can. Tell your friends about us. Share your love of our comics. We have a vast selection of titles and we pride ourselves on having something for everyone.
We invite you, the fan to check out our Press Section as well and to help yourself to all the wicked artwork stored there. Thanks for helping Class Comics to continue to bring you the very best adult gay comics in the world!