92 PAGES – TRADE PAPERBACK – FULL COLOUR
Prepare yourself for the Boytoons of Class Comics to be unleashed in an all new bold illustration style that is all the rage in print and on television!
Under the pen name of Bryce Peters, Patrick Fillion serves up six hot new stories featuring our most popular heroes as they've never been seen before. You can snap up a copy of the printed version of Boytoon Adventures or download a copy of Boytoon Adventures #1 Part 1 with Zahn, Cam, Zack, Topher and Mako and Boytoon Adventures #1 Part 2 with Diablo, Ghost Boy, Locus, Captain Jung, Disco, Flamer and the Bryce Peters Sketchbook!
Knocked out of the sky, Zahn unexpectedly has to fight for his life against a tribe of Varda natives. As if that were not enough, they summon their enormous god intent on swallowing up Zahn as a human sacrifice in "The Ambush"!
After failing to seduce his way out of a pickle, Cam has to engage in hand to tentacle combat with a band of not so merry thieves. It's worth the desperate attempt to regain an item of incredible value in "The Ruse"!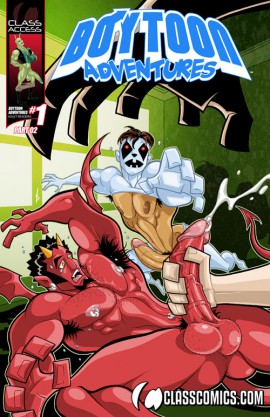 Back on earth, find out how Zack nearly got himself thrown out of Zeta Mega Phallus! But with the help of his hot friend Topher, and a few well placed pills, Zack may end up becoming the Pledgemaster of his fraternity in "The Match"!
 Ghostboy and Diablo team up to face an aroused spirit who was not sexually sated in his natural life. It's bad enough when the spirits want a piece of you, but Diablo is more traumatized by an over zealous Granny in "The Haunted"!
Unexpected company aboard the Huntress very nearly brings about the end ofCaptain Jung, Flamer and Disco! It's up to Locus to defeat the eight leggedTarantulo and save his friends from a desiccated death in "The Stowaway"!
Lastly get a personal introduction to our newest Boytoon… Mako Finn. It's your opportunity to swim with sharks and discover the secret behind on of the most interesting cocks around in "The Facts"!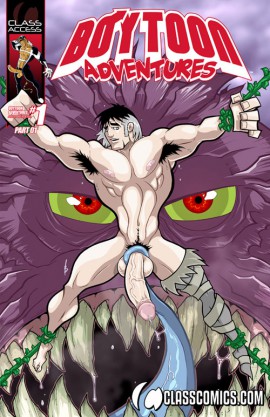 This high quality trade paperback has been designed to be a showpiece in your collection! Its vibrant images and rich colors have been laminated in a durable matt finish. They are also individually sealed for extra protection both before and after purchase.
While Boytoon Adventures #1 is on sale in our catalog section, you can probably pick up a copy at your favorite local GLBT book and comic shops. If they don't have it in stock, then ask for it by name!
Check out the webisodes, preview pages, wallpapers and other goodies!
Boytoon Adventures Mini #1: Locus and the Law marks the return of Patrick Fillion to his hugely popular Bryce Peters art style in a story that is set in a time
where Locus, Camili-Cat and Felicia still roamed the galaxy together aboard their starship in search of grand adventures!
While shopping for supplies on the Intergalactic space station Sli Gos-Ahr, Locus is framed for a crime he didn't commit. Wrongly accused of theft, the lean green sex machine desperately tries to convince the local law enforcement force of his innocence, but they'll hear nothing of it.
Strip searched in public, Locus is arrested and taken to the station's police precinct for questioning. There he is greeted by Doctor Gravv who is a huge fan of Earth's Bara comics. Inspired by the comics he has read, Gravv is more than happy to test out his new interrogation techniques on the buff and sexy Sektan.
The police and Doctor Gravv may be convinced that Locus is guilty, but our hero refuses to confess to a crime he didn't perpetrate. Now it's a question of who will give in first, and it doesn't look good for poor Locus who is forced to endure a myriad of bizarre sexual devices and torments, all in the search for the supposed truth and in accordance with "The Law".
Boytoon Adventures Mini #1: Locus and the Law includes 12 comic pages and 12 pages of wicked bonus materials featuring a sketches, concept art and an afterword by Patrick Fillion! WARNING: This comic contains EXTREMELY GRAPHIC SEXUAL CONTENT and may not be suitable for everyone. It contains scenes of S&M and Domination that some readers may find too intense.
Boytoon Adventures Mini #1: Locus and the Law is the first of many new Boytoon Adventures Mini's to come!  Future Boytoon Adventure Mini's will feature the whole range of Class Comics core characters.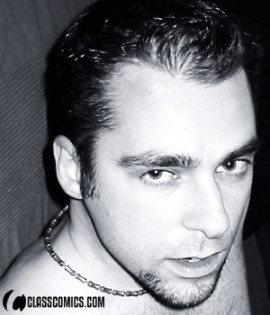 PATRICK FILLION
Many years ago, Patrick Fillion decided he wanted to own a comic book company when he grew up. His dream eventually came true, and today Patrick and his life and business partner, Fraz have formed Class Comics Inc.
The Class Comics universe is populated by characters that Patrick has created over the years. Some of these characters, such as Camili-Cat, were created as long ago as 20 years back.
Patrick's work is highly regarded, and he himself is considered one of the finest artists of Gay erotica of our time. His creations have been deemed as hot as those of Tom of Finland's and his characters, rich and endearing while sensual and arousing, have become a part of Gay pop culture.
In 2008, Patrick decided to experiment with a new art style, one inspired by his love of the animation styles of the original Star Wars CLONE WARS cartoons, as well as by comic great Bruce Timm and masters of Asian Erotic Comics Shunpei Nakata and Hibakichi.  The result was a wild and dynamic style of drawing, for which Patrick assumed the pen name of Bryce Peters. Drawing as Bryce Peters permits Patrick to make a distinctly different impression from his classic art style and flex his creative muscles in a distinctly different direction, with incredibly erotic results.
For more of Patrick's fantastic works, visit his website and his Blog.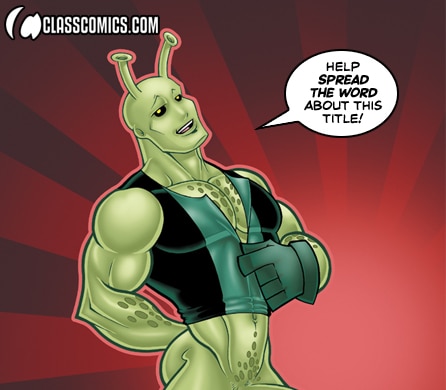 Are you passionate about Class Comics? Do you own and operate a Blog or website? Do you write for a cool publication? Would you like to spread the word about this and other Class Comics titles?
For TONS of cool web ready and print ready artwork and information on this and all of our other titles, check out our Press Section. You'll find a HUGE collection of sexy artwork you can use with your posts or articles.
And hey, if you don't have a Blog, Website or magazine to write for, that's okay. We appreciate you spreading the word about us in any way you can. Tell your friends about us. Share your love of our comics. We have a vast selection of titles and we pride ourselves on having something for everyone.
We invite you, the fan to check out our Press Section as well and to help yourself to all the wicked artwork stored there. Thanks for helping Class Comics to continue to bring you the very best adult gay comics in the world!