Brother to Dragons is a fantasy series created by the talented team of writer François Peneaud and artist Carlos García.
This wonderfully rich comic placed in the middle ages brings Class Comics to a land it has never been before. In this place, Dragons are worshipped as Sacred Beings, and sex between men takes on a divine aspect. It's a journey into a world of sexual and magical fantasy unlike anything you've ever seen before.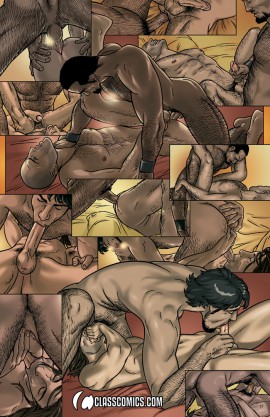 In Brother to Dragons #1, farm boy Alaï meets the bearish coachman Jiki, he doesn't imagine there'll be more to their time together than just good, hot sex — perhaps even hotter than times spent with his lithe cousin Rano.
But in this Middle Ages world, everybody seems to have an agenda, including a mysterious Mage with sinister intent. Clearly Alaï is destined for great things, and his comings… and goings are carefully scrutinized by the forces of both good and evil.
The freshly released Brother to Dragons #2 finds Alaï settling nicely into his Uncle's home and enjoying his life in the city. He and Jiki often get together for rugged, manly sex and Alaï seems blissfully oblivious to the dark shroud of evil that looms over him. Nor is he aware of his importance in the grand scheme of things.
His tie to the Dragonkins continues to grow, and he begins to learn more about his role in life when he rescues the young son of the handsome Elion. Elion reveals much to Alaï about the Brothers to Dragons, but the more Alaï learns, the more he gets closer to certain danger.
Beautiful art accompanies a lavish, addictive narrative that is filled with lush settings, incredibly handsome and sexy men, mystery, fantasy and danger. If you have ever wondered what life might have been like for the rest of us in the Middle Ages, look no further than Brother to Dragons. This series is for you!


François Peneaud (Writer) is a teacher, comics critic (both for his site The Gay Comics List and various French sites and publications) and occasional translator (Alan Moore's Jack B. Quick and The Mirror of Love, a boatload of Simpsons comics, among others).
He has written 3 short scripts for the online gay romance comics anthology Young Bottoms in Love, the third one is included in the book version published by Tim Fish, the editor. A short prose story of his is also included in Best Date Ever, a true stories anthology published by Alyson Books.
He lives in the South West of France with his partner.
Carlos Garcia (Artist) is a Graphic Artist and Journalist from Venezuela. Since the beginning of his Graphic Design studies, back in the 90's, he knew drawing was his strongest ability. This is why he has managed to work for a number of clients, including newspapers, magazines, advertising agencies and children books.Working full time as an Illustrator in a daily newspaper, he earned a Mass Communications License, so his career soon turned from Illustrator to information media Graphics Designer.
In 2006 he moved to Barcelona, Spain, where he resumed his work in illustration, working as a freelance artist for an economics magazine, children books and encyclopedias, and in comics, a world unknown to him until then.
He has developed and created all the designs and art for Brother to Dragons, from concept design for characters and locations, to inks, layout design and digital coloring, taking advantage of his experience in children´s illustration.
Patrick Fillion (Front and back Cover Artist for Brother to Dragons #2) was proud to create a superbly sexy cover for the highly anticipated Brother to Dragons #2 . With brilliant colors by Hernán Cabrera, the cover to Brother to Dragons #2 is as sexy as it is foretelling of the dangers contained within the issue.

Are you passionate about Class Comics? Do you own and operate a Blog or website? Do you write for a cool publication? Would you like to spread the word about this and other Class Comics titles?
For TONS of cool web ready and print ready artwork and information on all of our other titles, check out our Press Section. You'll find a HUGE collection of sexy artwork you can use with your posts or articles.
And hey, if you don't have a Blog, Website or magazine to write for, that's okay. We appreciate you spreading the word about us in any way you can. Tell your friends about us. Share your love of our comics. We have a vast selection of titles and we pride ourselves on having something for everyone.
We invite you, the fan to check out our Press Section as well and to help yourself to all the wicked artwork stored there. Thanks for helping Class Comics to continue to bring you the very best adult gay comics in the world!