The latest Camili-Cat adventure is written and illustrated by Patrick Fillion. Entitled Camili-Cat: Love Lost #1, this scorching-HOT new comic continues Cam's quest to be reunited with his long-time lover, Locus.
The evil Dr. Pupae has done quite a number on Camili-Cat and our hero's been drastically altered. He's been "physically enhanced" on a molecular level, so now he's almost invulnerable. He's got sexy new body hair, a shorter haircut, a goatee and … his cock's been circumcised!
But beyond all of that, Pupae has told Cam that he's killed Locus. No matter what physical tortures Cam's endured at the hands of Pupae, this revelation wounds him most of all. Filled with an almost unbearable sense of loss, Cam vows to clone Locus, thereby bringing him back to life.
Like many of Cam's adventures, it all starts in an unearthly nightclub full of naked alien flesh and perverted patrons. But Cam's not there for fun or entertainment! He's after a secret access card that just might make his life more bearable.
He plans to steal cloning equipment from Nelvo Plour. Known as a particularly sadistic creep, Nelvo won't just give up his property, and Cam soon lands square in the gangsters' twisted clutches along with Ducky and Aza, two entertainers from the club who unwittingly get ensnared in his plans.
Can our hero escape Nelvo and see Locus live again? Perhaps… but he can't do this alone. He'll need to turn to Felicia and Imanno for help. And beyond bringing Locus back to life, Cam hopes that Felicia can turn her scientific knowledge toward the task of restoring him to his former self and undoing the damage Pupae has caused.
Will Cam manage to escape Nelvo? Will he ever again find himself in Locus' loving arms? Will he get his foreskin back? Camili-Cat: Love Lost #1 seeks to answer these questions in a raunchy new adventure that sets our favorite Felinoid on a bold and dangerous new path.
For cool Camili-Cat: Love Lost #1 behind the scenes insights, check out this in-depth interview with Patrick Fillion!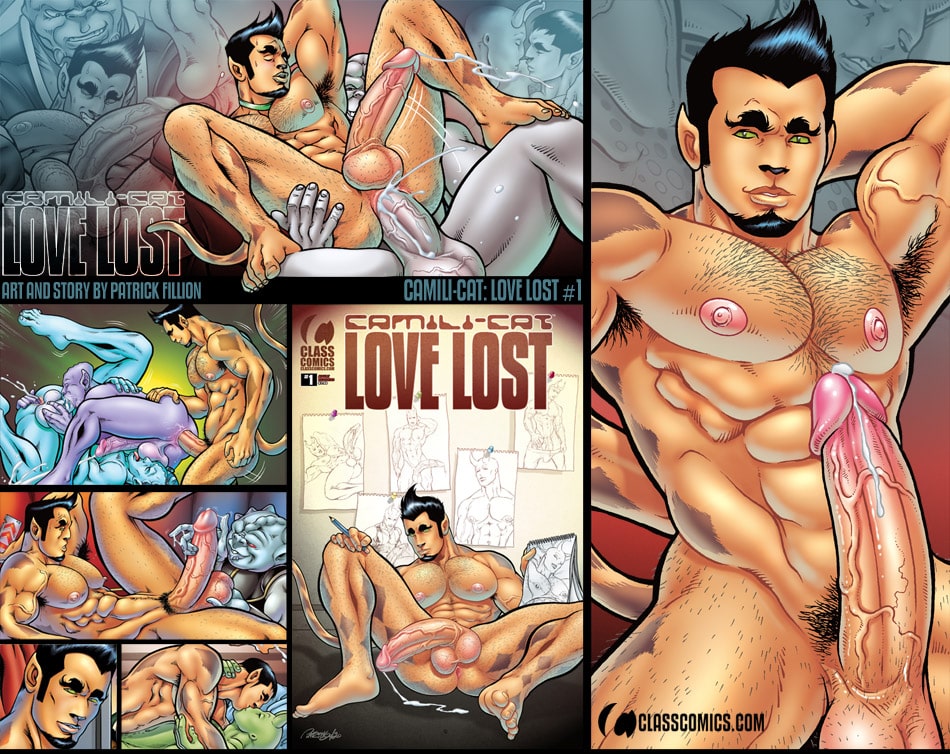 Patrick Fillion has been writing and illustrating the incredibly sexy Camili-Cat since he was 12. Granted, Cam has changed a great deal over the years, becoming progressively more "adult" in nature. A purr-fect mix of hot party boy and sexy feline alien, Cam is in many ways the ultimate sexual fantasy. Always ready to please, and MORE than able to, Cam's dick is constantly landing him into out of this world situations.
Cam's homeworld was destroyed when he was just a child. For the longest time he roamed the galaxy in the hopes of  finding other survivors of his species. In Camili-Cat: Felinoids #1, available in Print, and as a CLASS ACCESS Easy PDF, Cam is reunited with a long-lost friend named Lanor. Cam and Lanor knew each other in the war that destroyed their beloved homeworld, and through that shared experience, their bond has become incredibly strong.
Our two studs discover that their quest to find other Felinoids is not without peril, and soon it is up to Cam to save the day in Camili-Cat: Felinoids #2 (Available both in Print and as a CLASS ACCESS Easy PDF). Cam and Lanor journey to an ancient city on the bizarre world of Pillahr, there to be reunited with several dozen surviving Felinoids. Upon their arrival at the city however, Cam and Lanor discover that the city has been taken and their Felinoid brothers enslaved by a band of intergalactic pirates.
The stunning conclusion to the Felinoids series sees Cam reunited with his kinsmen, as well as his long-lost sister, Mina in Camili-Cat: Felinoids #3! (Available both in Print and as a CLASS ACCESS Easy PDF.) Cam's sister is a few sandwhiches short of a picnic, and she blames her big brother for all that's gone wrong in her life. While Cam suffers at her hands, Locus and Felicia, Cam's best buds plan a daring rescue that will ultimately lead to death and destruction.
Camili-Cat has appeared in a number of Class Comics publications and in 2005 Class Comics celebrated Camili-Cat's 20+ years in print by releasing a sexy commemorative comic, entitled Camili-Cat: 20th Anniversary Special. The printed comic edition of this title is long out of print, but is available as a CLASS ACCESS Easy PDF.  The title is an all-out celebration that features art by Patrick as well as other fantastic artists like Ismael Alvarez, Nörm, Jotto, Phoebus and MisterTwisted. In this edition, Cam encounters a planet full of strange aliens called the Iadeians who think his cock is their God returned to them.
Later on in the issue, Cam has a run-in with an Elomite, a bizarre alien made of pure energy, who possess other beings to try and experience emotions and new sensations. When the Elomite enters Cam, it decides that it wants to know what having orgasms is like. What follows is possibly the most cum-drenched tale Patrick has ever depicted on paper.
Also available in the Camili-Cat series is Camili-Cat: Diplomatic Immunity. (Available both in Print and as a CLASS ACCESS Easy PDF.) Created for Class Comics by Studio Plug N Play, this Camili-Cat tale depicts Cam and Lanor with a Manga-esque twist. Fans of Yaoi and Japanese Manga comics will love this issue.
In recent times Camili-Cat has appeared in a the critically acclaimed BOYTOON ADVENTURES trade paperback.  Drawing in his edgy Bryce Peters art style, Patrick Fillion brings Cam to brilliant life in a touching short story called "The Ruse".  For this project Patrick called upon Asian and animation influences to give Cam a cool, modern and angular look — one that has become exceptionally popular with fans around the globe. BOYTOON ADVENTURES #1, available in Print, and as a PART 1 and PART 2 are also available as CLASS ACCESS Easy PDFs.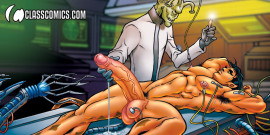 But perhaps the most controversial Camili-Cat story is the recent "Changes", which was first released as a digital mini comic/Easy PDF, and later published in Rapture #4 (available as a CLASS ACCESS Easy PDF). In "Changes", Camili-Cat is trying to track down his lover, Locus, who has recently gone missing. Cam's search leads him to Sekta Prime, home planet of the Sektan race.  There he is ambushed by the twisted Doctor Pupae.  Pupae has some nasty plans in store for Cam.  He proceeds to alter Cam's DNA, making him almost impervious to any physical harm.  He stimulates his body hair follicles and lastly, circumcises his penis.
Cam's escape is narrow indeed, and is only possible thanks to the intervention of his ally Ajax… but in the process, Pupae tells Cam that locus is dead — untrue of course — but Pupae believes it to be gospel, and so does Cam.  Now Cam is obsessed with cloning his lover and being reunited with Locus once again.
In a special pair of STRIPSHOW episodes, available only in the STRIPSHOW Collection Volume 1, Cam puts his cloning of Locus plan into motion. A daring ploy lands him in the "Space Jock", an intergalactic male strip joint where he must pose as a stripper to get his hands on a special card key that will unlock his ability to bring Locus back to life. The plan isn't without peril however… but Cam is used to peril — he eats it for breakfast — and once again our Felinoid hero uses his beautiful cock as the ultimate tool to get what he wants.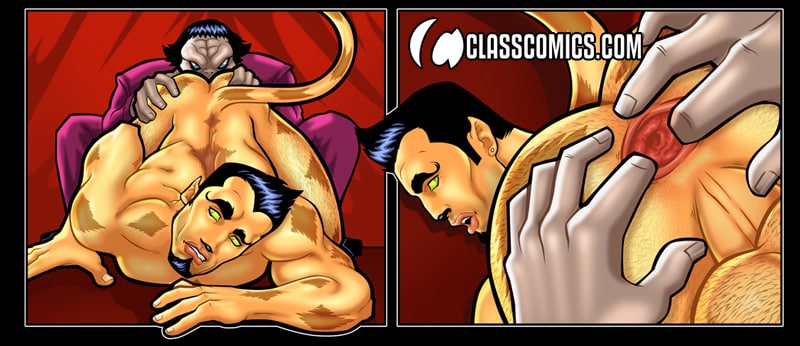 Written and illustrated by ICEMAN BLUE, CAMILI-CAT: MOUNTED is the first Camili-Cat tale entirely created by a writer/artist that is not Patrick Fillion. This story fits seamlessly into Camili-Cat's story arc and further deepens the mysteries of his past. Beautifully illustrated and raunchily written with humor and style, CAMILI-CAT : MOUNTED is an essential part of Cam's life that no true fan will want to miss out on.
Taking place before Cam had his infamous life and body altering encounter with the vile Dr. Pupae, CAMILI-CAT: MOUNTED finds Cam trying to escape his old foe, Gammu.
Gammu hates Camili-Cat and now he has revenge on the brain which involves trapping Cam's limbs in cement and mounting him on the wall like a well hung art plaque. Gammu plans to not only put Cam through theringer sexually, but also emotionally. To this end, the villain digs up avery special someone from Cam's past and uses this individual to further torment our favorite Felinoid: Cam's own father, Cal.
Cam is naturally blind-sided by the revelation that his thought to be deceased father is still very much alive. Gammu's creativity soars as bothFelinoid father and son are helplessly mounted up to the wall, their junk vulnerable and exposed for the villain to toy with. Let the Felinoid family gravy fly!
When it comes to revenge, Gammu goes all out and even if Cam manages to escape his cement trap, he'll be dealing with the repercussions of this encounter for the rest of his life.
Written and illustrated by ICEMAN BLUE, CAMILI-CAT: MOUNTED is the firstCamili-Cat tale entirely created by a writer/artist that is not Patrick Fillion. This story fits seamlessly into Camili-Cat's story arc and further deepens themysteries of his past. Beautifully illustrated and raunchily written with humor and style, CAMILI-CAT: MOUNTED is an essential part of Cam's life that no true fan will want to miss out on.
This mini comic includes 12 comic pages and 8 pages of wicked bonus materials featuring a sketches, concept art and an afterword by Patrick Fillion!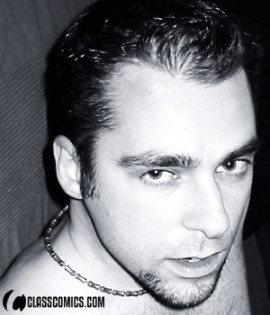 PATRICK FILLION
Many years ago, Patrick Fillion decided he wanted to own a comic book company when he grew up. His dream eventually came true, and today Patrick and his life and business partner, Fraz have formed Class Comics Inc.
The Class Comics universe is populated by characters that Patrick has created over the years. Some of these characters, such as Camili-Cat, were created as long ago as 20 years back.
Patrick's work is highly regarded, and he himself is considered one of the finest artists of Gay erotica of our time. His creations have been deemed as hot as those of Tom of Finland's and his characters, rich and endearing while sensual and arousing, have become a part of Gay pop culture.
Camili-Cat remains one of Patrick's all-time favorite creations, and while the artist has changed his creation drastically over the years, every alteration is made with the purest love.  The goal is always to better Cam as a character and to further endear him to the hearts of his devoted fans.
For more of Patrick's fantastic works, visit his website and his Blog.

Are you passionate about Class Comics? Do you own and operate a Blog or website? Do you write for a cool publication? Would you like to spread the word about this and other Class Comics titles?
For TONS of cool web ready and print ready artwork and information on this and all of our other titles, check out our Press Section. You'll find a HUGE collection of sexy artwork you can use with your posts or articles.
And hey, if you don't have a Blog, Website or magazine to write for, that's okay. We appreciate you spreading the word about us in any way you can. Tell your friends about us. Share your love of our comics. We have a vast selection of titles and we pride ourselves on having something for everyone.
We invite you, the fan to check out our Press Section as well and to help yourself to all the wicked artwork stored there. Thanks for helping Class Comics to continue to bring you the very best adult gay comics in the world!