In addition to all the great printed comics that we have offered digitally, we also have some fantastic titles that are only available as Class Access Digital Comics! Some were made specifically to be digital comics, some are no longer in print, and others have their own special reasons for being presented as Digital Exclusives! Every one of them is a DRM-FREE PDF which can be viewed on any PC, MAC, iPad, Android Tablet or any device that can display PDF's!
FRESHMEN TAILZ was created by the artist Kent and published from 2001 to 2002 in the pages of Freshmen Magazine! Now for the first time since their original publication in the classic magazine, the entire 24-episode comic strip run of Kent's sexy FRESHMEN TAILZ is available, assembled into one comprehensive collection under the Class Comics label.
It's an incredible honor for us to have the opportunity to bring you the complete adventures of Billy, Zack and their myriad of horny College Dorm buddies in this cool Class Access Exclusive. Kent is a master in the world of Male Erotic Art, and it's with tremendous pleasure that we welcome him and his randy to the Class Comics Expanded Universe.
FRESHMEN TAILZ contains the entire 24 strip collection, and also over 15 pages of cool Bonus Materials, from original episode scripts, thumbnails and concept sketches, to a cool gallery of rarely seen artwork.
Drake Power Play by Hotcha. Drake is an arrogant, unbelievably sexy and hung like a freakin' God! A young, undisciplined Demon who's always looking for action, and will take it any which way he can get it. In Power Play we find a very horny Drake looking to prove that he's the toughest Demon in the realm. He's itchin' to pick a fight, and then to fuck the tar out of the loser.
He sets his sights on a self-proclaimed demon King that is not only ruthless to his subjects, but also happens to be buff, handsome and hung. Drake's just dying to test his might against the studly King and to stuff his royal ass with massive, dripping cock… but can he beat him in a fair fight?
Straight To… #1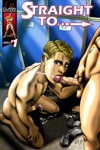 and Straight To… #2
Who doesn't fantasize about getting a hot straight guy to go gay? It's the primary goal of everyone in this comic!
A mysterious and rich industrialist who goes by the name of Mr Pornovitch uses all his wealth, power, and harem of hot men to achieve the highest goal in life. To find, seduce, and convert from Straight to Gay!
The only problem is once you belong to him, your actions are no longer your own. Richy finds this out when he makes the mistake of picking someone up for fun and the Dark Twins must teach him a lesson in the dungeon! Darius has to cross some lines he may not like!
On the other hand if you are good, then many rewards will be handed to you, bound and ready for the taking!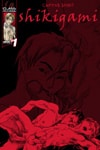 Shikagami: Captive Spirit If you love YAOI, or are not sure what the buzz is about but want to find out, then this is the comic for you! It's a cross between Harry Potter, ancient and modern Japanese lore, and an all male porn video wrapped up into one package.
Imagine that magic were real and you could capture a sexy spirit who would be happy pleasure you any way you want! What if he could also get others to open their beds to you… even if it's against the mystical rules. Would you do it?
In Shikigami: Captive Spirit #1, our hero does just that… and more! But it looks like there will be repercussions for his actions. Magic, like sex, sometimes has far reaching consequences that one should be prepared for!
Written by Black Muse and illustrated by Kagema-Onna.
Cube Decompiled Cube Decompiled is an essential events that transpire in the "Guardians of the Cube" series. This volume contains the key elements that have shaped the world of Naked Justice, Ghostboy and Diablo for the past several years.
Dripping with hot man-sex, these stories have shaped the destiny of almost all our lusty Boytoons. Cube Decompiled contains pages from Guardians of the Cube #1 to #5, some in color for the very first time ever.
Also included in this exciting volume is a whopping 15 of Bonus Features, featuring character bios, and never before seen artwork. Not to be missed by any fan of Class Comics, or Fillion's work!
The Patrick Filllion Portfolio This superb edition is full of some of Patrick Fillion's most popular illustrations, and contains brand new images as well as some very rare pieces. Featuring his creations Camili-Cat, Naked Justice, Zahn, Deimos and a huge assortment of other Class Comics boys, Patrick's portfolio is a beautifully explicit journey through this artist's incredible work.
This edition contains images that were deemed TOO EXPLICIT for inclusion in Patrick's "Illustrations" art book by publisher Bruno Gmunder. Get your digital copy today!
The Patrick Fillion Sketchbook The very first CLASS ACCESS EXCLUSIVE is a must have for all Patrick Fillion and Class Comics fans. This 52-page volume is a fantastic collection of some of Patrick's most amazing and sexy sketches.
From concept art, to convention sketches, to comic book page breakdowns to rare and never before seen illustrations ? this book is an exquisite look into Patrick's creative process and artistic disposition. Plus it's a stunning assemblage of some truly beautiful male erotic art. Not one to be missed!