Deimos is not for the feint of heart.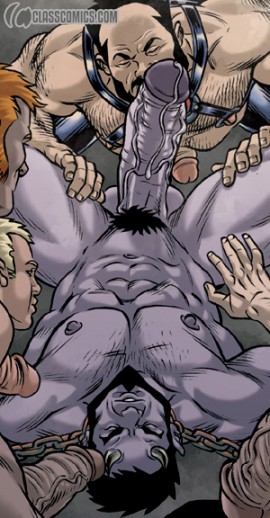 Set in Gateway City's not too distant future, this series recounts the story of Deimos, a fallen angel who now seeks absolution for his past sins. In order to achieve this, he becomes a warrior for good in the war between Heaven and Hell – a war that has spilled over on to Earth.
It's not an easy road for Deimos as it seems all the forces of Hell will stop at nothing to keep him from achieving his goal! He has a long, hard journey ahead of him!
Deimos is not alone in trying to achieve his heavenly pardon! There are those sent from Heaven to see to it that he realizes his desire. The mystic known as Billy, a shaman of immeasurable power guides his demonic friend in the right direction, while a guardian angel called Cardinal serves as liaison between Deimos and Heaven.
In Deimos #0 we meet Deimos the Taro Demon for the first time and discover that a battle rages within him. He is torn between his ultimate wish for forgiveness and his dark nature. This prequel issue introduces you to the major key players such as Bob the demonic ruler of Hell and Azagoth, his first lieutenant. The issue sets the mood for this Gothic, sexy series.
Enter Sethan, Deimos' demon ex-lover. Desperate to cross over to Earth permanently, Sethan finds himself a human sacrifice that holds the key to his permanent residency on our plane of existence. But no amount of love they once shared will make Deimos permit Sethan to kill a human.
Later, Deimos must find and annihilate Sunim, the leader or a ring of demons who specialize in human sacrifices. And as Deimos battles for our survival, his guardian angel, Cardinal arrives on earth, only to be kidnapped by a group of evil cultists.
Written and illustrated by Patrick Fillion, Deimos #0 is the ultimate prequel to the Deimos series, and also features in depth character bios.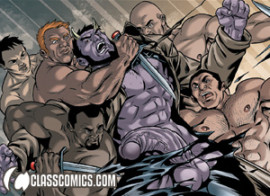 For Deimos #1, the first official issue of the on-going series, Deimos creator Patrick Fillion teams up with artist Logan (Porky, the Pornomicon) to bring us a veritable tour de force. In this beautifully crafted issue, the plot thickens as Fillion and Logan pull out all the stops, resulting in a brilliantly dark and sexy tale of epic battles and complete carnality.
Cardinal, the guardian angel has been charged with guiding Deimos in his missions to banish evil from the Earth. But now he's has been captured by an evil cult who once worshiped Deimos in his heyday as a demon of Hell.
The cult plans to sacrifice Cardinal and will stop at nothing to return Deimos to his old, wicked ways. Will Deimos be able to rescue Cardinal, or will he ultimately cause the angel's death?
While Deimos struggles with the cultists, a sinister new evil reveals itself. It seems that there are advantages to playing both sides of the fence for this mysterious new foe, and the first casualty of its arrival on Earth is one of Deimos' friends.
Fillion and Logan team up once again to bring us Deimos #2. This incredible issue is jam packed with amazing twists and revelations. Shortly after discovering the body of a fallen friend, Deimos learns that Sethan is back in town. Our hero follows a trail of clues which lead him to a seedy Hotel. There he finds Sethan is waiting for him.
Allegedly, Sethan wants to achieve forgiveness for his sins and become a warrior of Heaven, the way Deimos has. He begs Deimos to help him do this, but the Taro Demon is naturally skeptical. Is Sethan being genuine, or is this some elaborate trap? One thing leads to another and Deimos and Sethan have raw, passionate sex, seemingly rekindling their old flame.
But while Deimos and Sethan blow their loads all over one another, the forces of Hell toil. Azagoth has learned of Sethan's betrayal and has reported the news to Bob, who is naturally enraged! He orders Azagoth to find Sethan and kill him, and dispatches her to raise the foul demon called Obscene from his resting pit. Older than time itself, Obscene is one of Hell's most feared minions. If anyone can find Deimos and Sethan and put an end to them, it will be him.
Back in Gateway City, Sethan leads Deimos to the most horrific scene Deimos has ever witnessed – possible proof that he is indeed telling the truth about his intentions. Before Deimos can decide either way, he and Sethan are ambushed by Obscene, who is out for their blood. Can the pair escape with their lives? The odds look pretty grim as things go from bad to worse!
For more information on Deimos and Sethan, check out their official Class Comics Character Biographies.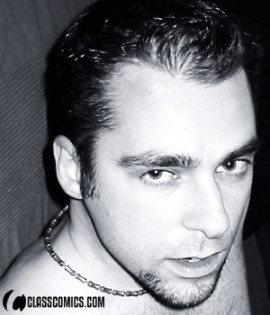 PATRICK FILLION
Many years ago, Patrick Fillion decided he wanted to own a comic book company when he grew up. His dream eventually came true, and today Patrick and his life and business partner, Fraz have formed Class Comics Inc.
The Class Comics universe is populated by characters that Patrick has created over the years. Some of these characters, such as Camili-Cat, were created as long ago as 20 years back.
Patrick's work is highly regarded, and he himself is considered one of the finest artists of Gay erotica of our time. His creations have been deemed as hot as those of Tom of Finland's and his characters, rich and endearing while sensual and arousing, have become a part of Gay pop culture.
Patrick created Deimos in 2003, loosely inspired by Dante's Inferno "the Divine Comedy", his own upbringing as a catholic and his love of Go Nagai's Devilman. The characters soon took on a life of their own, and Patrick decided to focus primarily on writing Deimos' adventures while teaming up with Logan who now illustrates the series. Patrick felt that Logan's skills and aesthetic qualities were better suited to bringing his vision of Deimos' world to life.
Patrick wrote and drew Deimos #0, and he wrote Deimos #1 and Deimos #2. He will undoubtedly return as the writer for Deimos #3.
For more of Patrick's fantastic works, visit his website and his Blog.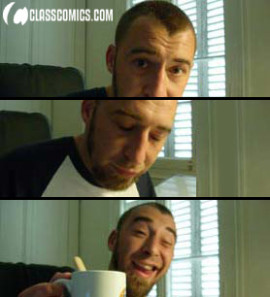 LOGAN
It is very rare that an artist will come along and put his pencil to a gay sex comic and actually pay it the respect and attention he would if it were an issue of Hellboy or Batman. Logan is such an artist. Rare is talent like his.
Logan is a consummate professional in all he does and his work speaks volumes. His men are burly, muscular sex pigs always happy to get down to business. He describes his illustrated men as "broad-shouldered, with heavy jaws, bulky and wrestler-like. They are built for action, and not the kind of glamorous porn actors you could have seen on the eighties. In fact, what matter most in the man is… the Wicked Sex Maniac Beast Within!"
Logan describes his work on the Deimos series as some of his proudest comic work to date. And readers agree! The Deimos series is one of the most popular titles Class Comics publishes.
Logan drew Deimos #1 and Deimos #2, and will undoubtedly return as the artist for Deimos #3.
For more information on Logan and his body of work, check out his official Class Comics contributors profile, or visit his website and Blog.

Are you passionate about Class Comics? Do you own and operate a Blog or website? Do you write for a cool publication? Would you like to spread the word about this and other Class Comics titles?
For TONS of cool web ready and print ready artwork and information on this and all of our other titles, check out our Press Section. You'll find a HUGE collection of sexy artwork you can use with your posts or articles.
And hey, if you don't have a Blog, Website or magazine to write for, that's okay. We appreciate you spreading the word about us in any way you can. Tell your friends about us. Share your love of our comics. We have a vast selection of titles and we pride ourselves on having something for everyone.
We invite you, the fan to check out our Press Section as well and to help yourself to all the wicked artwork stored there. Thanks for helping Class Comics to continue to bring you the very best adult gay comics in the world!