GHOSTBOY and DIABLO #1, the long-awaited adventures of two of the Class Comics Universes' sexiest Boytoons, is here at last! Written byPatrick Fillion and illustrated by Jacob Mott, this new mini series finally gives fan favorites Ghostboy and Diablo their long-deserved time in the spotlight.
The first issue picks up almost immediately after the startling events in BOYTOON ADVENTURES #1– the shocking developments that stunned and delighted fans across the globe. Yes. Ghostboy and Diablo are now a couple, very much in love, and now the time has come to out their relationship. But it's not all roses for our brave boys. Not only will they face intense personal demons and obstacles, but now Toro, a new villain closely related to Ghostboy reveals his intentions.
For Peter Goldman AKA Ghostboy, it's time to come out to his mother Sylvia. Since making his Class Comics debut in 1995, GB has resisted telling his overbearing mother that he's gay. But now, his new relationship with Diablo motivates him to finally leap out of his closet. Naturally, his talk with dear ol' mom doesn't go quite as planned, and all Hell breaks loose in the most unimaginable way possible.
Diablo's got a wife and a new baby son, but he now knows beyond any doubt that he's gay. How is he ever going to deal with this affirmation? How is he supposed to live his life without destroying the hearts of those he loves most in the world? No matter how Diablo handles it, he fears that his wife Pascale's heart will be crushed in the process and that is a worry that threatens to tear him apart.
As if these personal demons weren't enough, the School Girl pops in for a bout of furious revenge! She feels that Ghostboy is responsible for the death of her beloved Daddy Longlegs (these events unfold in Rapture #3), and the rubenesque villainess plans to put the hurt on our hero and his devilishly handsome new beau!
Patrick Fillion and Jacob Mott (the creative force behind the hugely successful Naked Justice: Beginnings series), team up again to bring us this fantastic first issue that will leave you stunned! With an ultra raunchy/romantic flare,Ghostboy and Diablo #1 is intensely hot. Jacob Mott delivers some of the most incredibly sensual and lusty sex scenes of his career, while Patrick Fillion spins a twisted tale of love, sex and diabolical villainy with two of the Class Comics Universe's most adored heroes smack-dab in the middle of it all.
The  action-packed second issue is filled with mystery, sex and passion, and features gorgeous art by DAVID CANTERO, marking his debut as the series' new official artist. GHOSTBOY and DIABLO #2 is written by PATRICK FILLION and continues the incredible adventure of Class Comics' most beloved power couple.
After being reunited with his father, hunted down and captured by his crazy uncle Toro, and being torn away from his mother, how can events go from bad to much worse for Ghostboy & his boyfriend Diablo? The answer lies in the pages of the all new GHOSTBOY and DIABLO #2. In this issue, our hunky heroes have been separated while en route to a mysterious island destination that requires days of travel in a filthy barge!
Diablo has been securely bound to a table with artfully tied ropes and an enormous dildo up his can, locking him in place while Toro vigorously interrogates him. Ghostboy hasn't seen his beloved Diablo in days and is shamefully bound dick to dick with his own rejuvenated father, Omar; their balls, shafts and glans perversely rubbing against each other, all for the twisted pleasure of their demented captor!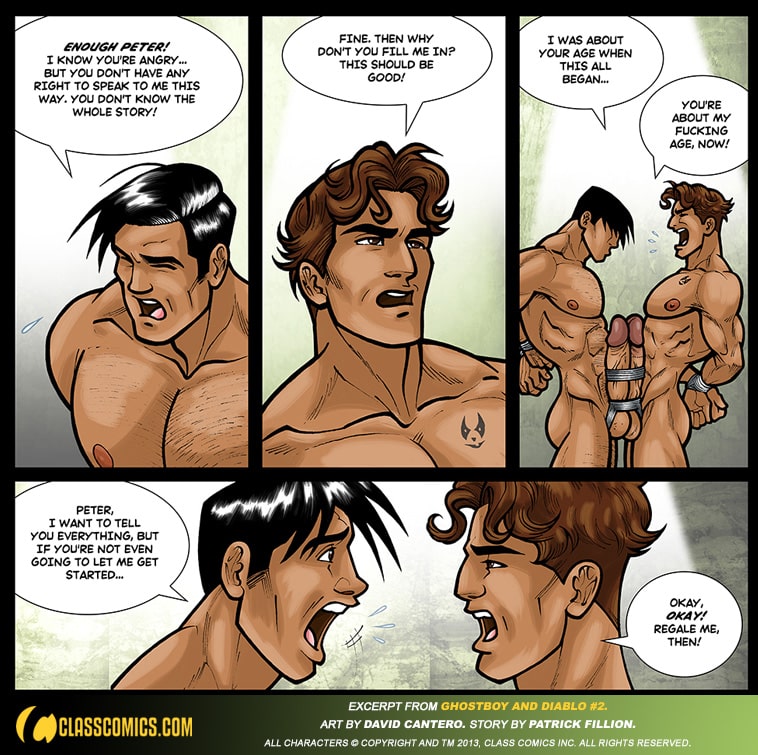 Uncomfortable though this may be for both men, it gives Omar the opportunity to explain his side of the crazy events that led him to abandoning his wife Sylvia and their young son nearly 20 years ago. He desperately hopes that the true story will be enough to calm Peter's wrath and unify their family.
Meanwhile back in Gateway City, Ghostboy's mother has had enough and takes matters into her own hand. Sacrificing a limited edition diorama, she subdues her hunky captor and interrupts Space Cadet and Incubus' heated passions to summon a rescue.
Back on the island Diablo has been outfitted in a stunning new superhero costume and piercings that he would've appreciated more if they hadn't been forced upon him, and through him! An opportunity to turn the tables presents itself and Diablo takes to the sky, until the mysterious wave of pain that has been plaguing him returns with a vengeance, sending him plummeting to the ground and into the claws of a new danger! And while Ghostboy defies Toro to rush to his lover's rescue, an even greater threat presents itself.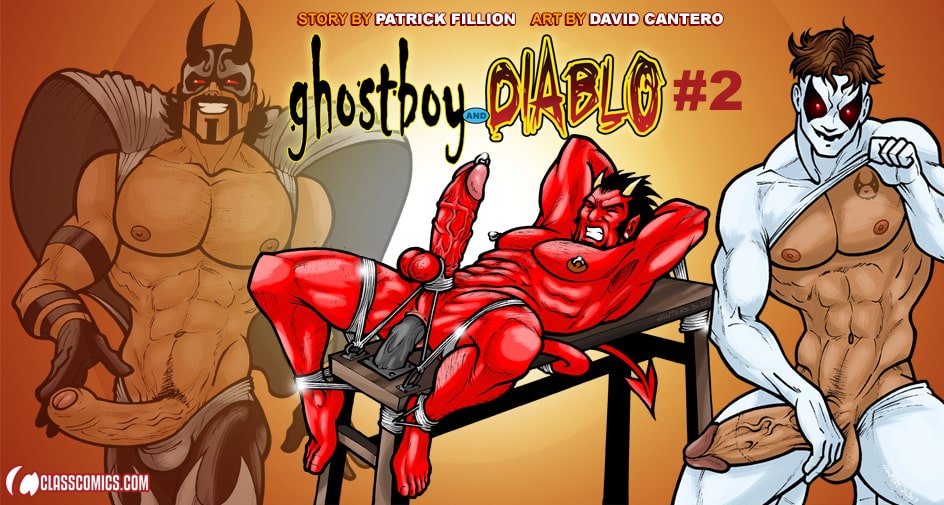 GHOSTBOY & DIABLO #3 is Now Available as a Printed Comic and Digital Comic!
Continuing right where  Ghostboy and Diablo #2 left off, our lads get deeper and deeper into trouble the longer they remain on the mysterious island in the middle of the Bermuda Triangle.
While Ghostboy is at the mercy of his demented Uncle Toro and desperately tries to keep his father Omar safe from a group of angry island natives, Diablo must keep from being eaten by a pack of velociraptors.
Along the way, Diablo befriends a handsome and powerful man named Emmolag who promises to help him get back to Ghostboy in one piece, but this perilous island seems to have other plans in mind. Separated from one another and very much balls-deep in unfamiliar waters, our boys will have to dig very hard if they hope to be reunited and to survive the bizarre prehistoric horrors that the island has in store for them.
Back in Gateway City, Space Cadet, Incubus and their fellow Guardians of the Cube make a startling discovery that may serve to explain Omar's sudden return, but do nothing to shed light on Toro's dastardly motives. If the Guardians hope to help Ghostboy and Diablo escape the island, they will have to act quickly.
GHOSTBOY & DIABLO #3 is written by Patrick Fillion and gorgeously illustrated by the amazing David Cantero.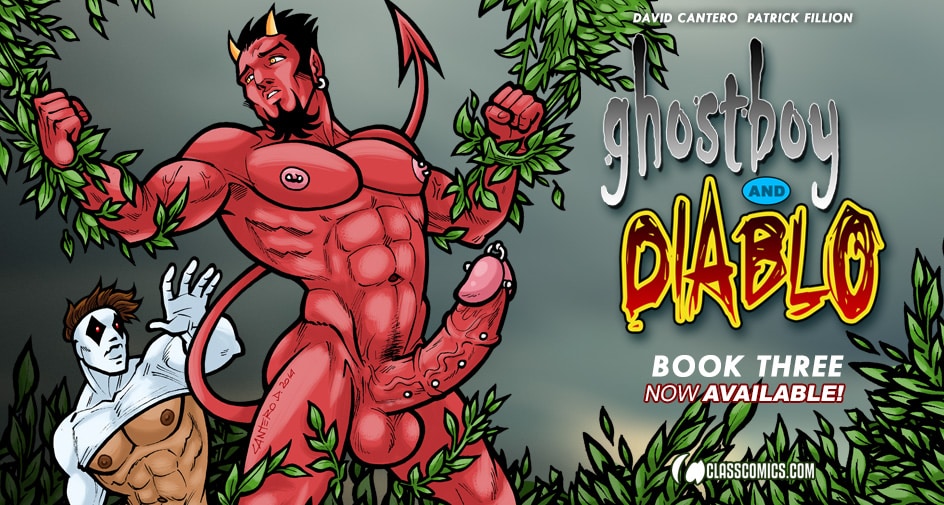 GHOSTBOY & DIABLO #4 is Now Available as a Printed Comic and Digital Comic!
The EPIC conclusion to the GHOSTBOY and DIABLO mini series is here! As we rejoin our titular heroes on the mysterious island in the middle of the Bermuda Triangle, things look pretty grim!
On one hand, they're overrun by angry Islanders, and on the other, Uncle Toro continues to cause serious problems for his nephew and Diablo. To make matters worse, the reason for the strange pain that has been plaguing Diablo for months is finally revealed. The revelation for it will leave you STUNNED!
Our hunky heroes have their hands full trying to stay alive, and Toro seizes the opportunity to finally find the legendary fountain he's been seeking for so many years. Along the way, Toro's life-force sucking powers continue to grow, and the villain turns the island's inhabitants into his own personal all-you-can-drain buffet.
Naturally, our heroes want to put an end to this, but how can they, when the inhabitants are convinced that they are the enemy? To make matters worse, Omar, Ghostboy's Dad remains Toro's captive. Reluctant though he may be, Omar has to go along with Toro or risk losing his life to his twisted Brother-in-law.
Desperate to save his father and the day, Ghostboy invokes an aspect of his powers which he rarely employs due to the risks involved. The young Hero manifests "the Fright" and things go from bad… to WAY WORSE!
You think that's crazy? Throw in THREE MORE STORY TWISTS and REVELATIONS and you'll be left with a spinning head and a throbbing in your pants! GHOSTBOY and DIABLO #4 written by Patrick Fillion and dynamically illustrated by David Cantero. The story is SO BIG and filled with SO MANY incredible things that we had to make it an extra long book, adding four additional boner-popping pages!
Guest-starring the GUARDIANS OF THE CUBE, this incredible series conclusion ends on a final panel that must be seen to be believed!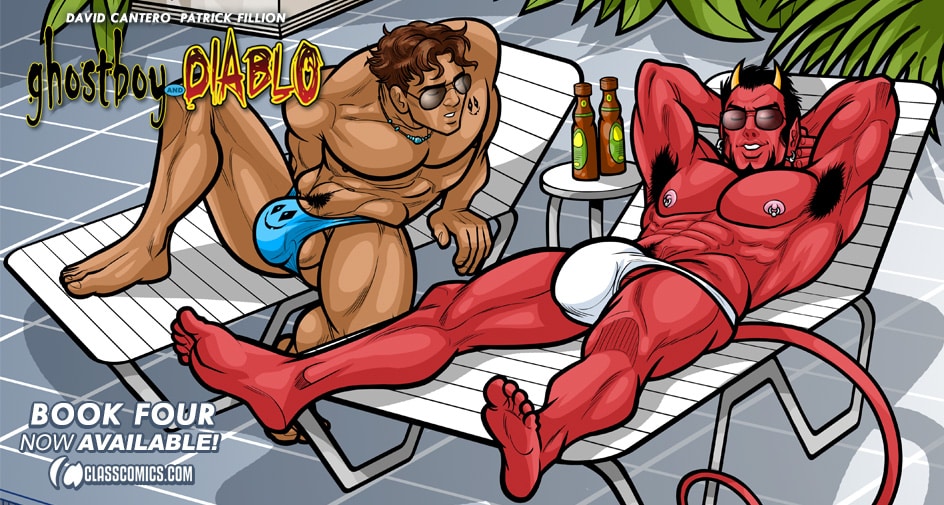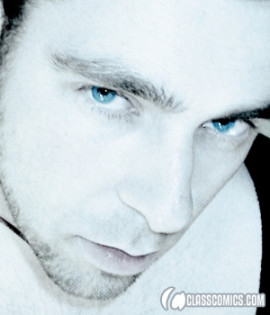 PATRICK FILLION
Many years ago, Patrick Fillion decided he wanted to own a comic book company when he grew up. His dream eventually came true, and today Patrick and his life and business partner, Fraz have formed Class Comics Inc.
The Class Comics universe is populated by characters that Patrick has created over the years. Some of these characters, such as Camili-Cat, were created as long ago as 20 years back.
Patrick's work is highly regarded, and he himself is considered one of the finest artists of Gay erotica of our time. His creations have been deemed as hot as those of Tom of Finland's and his characters, rich and endearing while sensual and arousing, have become a part of Gay pop culture.
Patrick created the characters of Ghostboy and Diablo back in the mid-90's for his erotic super hero comics series "Guardians of the Cube".  The characters quickly became fan favorites and it became obvious to Patrick that both of these sexy Boytoons deserved their own titles. Little did he know at the time that their adventures would lead Ghostboy and Diablo to becoming an item!
For Ghostboy and Diablo the mini series, Patrick teams up once again with artist Jacob Mott to create a super-sexually-charged comic that is sure to thrill fans beyond measure!
For more of Patrick's fantastic works, visit his website and his Blog.
JACOB MOTT (artist on GHOSTBOY & DIABLO #1)

Jacob Mott has been drawing comic book characters since he was first able to hold a crayon. Having been born in Kent, England in 1975 he grew up in the eighties obsessed with all the muscle-bound toys and comics of that decade, all of which influenced him in some way or another. It wasn't until puberty and a sex drive hit that he started drawing naked men however, but he's certainly made up for it since!
Jacob's men can be big and muscular, rough looking or cute, chubby or skinny, but the one constant are those big watches! Jacob has no idea where his fetish came from, just that it's been there for as long as he can remember, but he does love the big watches.
Jacob has been a regular contributor to various magazines, including Freshmen, as well as illustrating "Naked Justice: Beginnings" for Class Comics. He is currently working on his creator-owned properties, "The Adventures of Lawsuit and T-Boy" and an as yet unnamed gothic erotic-comedy-horror in the style of Classic Monster movies.
Recently, publisher Bruno Gmunder released a fantastic 64-page hard cover book called "Watch Us". The book is a collection of some of Jacob's sexiest illustrations.
Jacob's superb art can also be seen in Mako Finn #1, and our STRIPSHOW free monthly comic.
For more information on Jacob and his body of work, visit his website and Blog.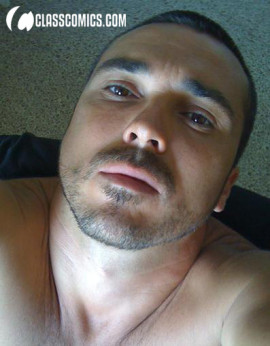 DAVID CANTERO (artist on GHOSTBOY & DIABLO #2 and the continuing series)
David Cantero Berenguer was born 12/29/1972, in Cartagena, Spain. A man of many talents, he is in parts author, illustrator, cartoonist, cartoon animator and video game designer.
David has a Bachelor of Fine Arts, specializing in comics and illustration from the Royal Academy of Fine Arts in Liège, Belgium, which he received in 1996.
He has enjoyed a varied career, ranging from cartoon to advertising illustration, through editing comic books and art, designs clothes and games. His experience in creating characters, backgrounds and animation for the animated series, have allowed him to enter the world of video games.
As an illustrator, he has worked a number of clients such as Matinée Group, Renault, Zara, ES Collection, XTG and Lenita. His work has also appeared in magazines such as ZERO, NOIS, Instinct Magazine, Nuevo Vale, Pronto, Spirou magazine, Männer aktuell.
Collections of his work have been published by Bruno Gmünder, La Cùpula, NOWevolution and Cantero editorial, and now David Cantero's universe of sexy characters and stories has come to Class Comics starting with the first issue of his hit series, "KEYS". Now David has taken over as the official artist on the GHOSTBOY and DIABLO series, debuting with issue #2. David's gorgeous, sexy art is a perfect for for Class Comics' favorite Power Couple.
For more information on David and to see more of his beautiful art, visit the official David Cantero website.

Are you passionate about Class Comics? Do you own and operate a Blog or website? Do you write for a cool publication? Would you like to spread the word about this and other Class Comics titles?
For TONS of cool web ready and print ready artwork and information on this and all of our other titles, check out our Press Section. You'll find a HUGE collection of sexy artwork you can use with your posts or articles.
And hey, if you don't have a Blog, Website or magazine to write for, that's okay. We appreciate you spreading the word about us in any way you can. Tell your friends about us. Share your love of our comics. We have a vast selection of titles and we pride ourselves on having something for everyone.
We invite you, the fan to check out our Press Section as well and to help yourself to all the wicked artwork stored there. Thanks for helping Class Comics to continue to bring you the very best adult gay comics in the world!