It's with a sense of TREMENDOUS PRIDE that we welcome the fantastic DAVID CANTERO and his super-sexy series KEYS to the Class Comics Universe.
Once upon a time, there were three very different boys who grew up to become three very different hunks. Each possessing his own interests and special skills, they could not have been more different. But there are three things they all have in common. They're HUNG, always HORNY and they all work for the "KEYS" Agency.
GARY was a sporty New York City cop until his side gig as a male stripper got him booted from the force.
GREG was a highly paid airline pilot until his obsession with fucking while flying landed him in some major trouble.
GAGE was a New York City firefighter until his strange pyro-nymphomania led to his getting, uhm… well, fired!
Each recruited by the abrasive and authoritative MS. HOUSEKEEPER, Gary, Greg and Gage were hired to become "Keys" – agents charged with busting closeted gay men out of the closet. It's a tough job but these three uncut studs are more than up to the task, and their missions always land them in the hottest, most hilariously lurid situations.
While the KEYS Agency is owned by CARLOS, a mysterious and reclusive millionaire who only ever communicates with his agents via a padlock-shaped radio, it's Ms. Housekeeper who makes sure that Gary, Greg and Gage follow their orders and set their raging hard cocks to the task. The short-tempered woman has her hands full with these three randy rascals who can barely look at one another without sprouting wood… it's not easy keeping these "Keys" from lubing up when they're not supposed to.
Created by the fantastic and imaginitive DAVID CANTERO, Class Comics couldn't be more proud to add the ultra sexy and hilariously raunch KEYS series to it's expanded digital universe of titles. Cantero's men are always sublime – the perfect male specimens – and his writing is witty, fanciful and completely nut-bustingly HAWT!
KEYS #1 introduces the reader to the three Keys, Gary, Greg and Gage and shows how Ms. Housekeeper recruits each one for the agency. Prepare for an astonishing ride, brimming with unbelievably hot men, hilarity and  smuttiness.
KEYS #2 launches us into one of the very first assignments that the lads had to tackle together as a team! It's not every day that you have to face a goon squad hired by one of the worlds top pop stars! Never the less, with the KEYS organisation, you KNOW that an orgasm or two is in order!
KEYS #3 finds Gary, Greg and Gage getting  involved in high-powered industrial espionage, but the tables are turned when their mark is more appreciative of their work than he's supposed to be!
KEYS #4 pits Gary, Greg and Gage clash against the Catholic Church while masquerading as both an Angel and a Devil, with the plumbers union of America for impersonating a way too sexy plumber,  and against a multitude of wives and Mother-in-laws all at once!
KEYS #5 is the conclusion to the series and brings our lads cheek to cheek with their most challenging problem yet! Carlos, their mysterious boss is being held captive on an island with a force field that won't let any fabric through! It's a rescue mission in the buff with a conclusion that brings and end to KEYS Agency, and a brand new life for Gary, Greg and Gage!
Available exclusively as Class Access Easy PDF DRM-FREE digital comics, KEYS can be easily downloaded and enjoyed on your computer, laptop, tablet or phone. Beautifully vibrant and crisp, our Digital Comics are hassle-free and immediately available upon download. Start your KEYS collection today, and stay tooned for more David Cantero titles, coming soon to the Class Comics Universe.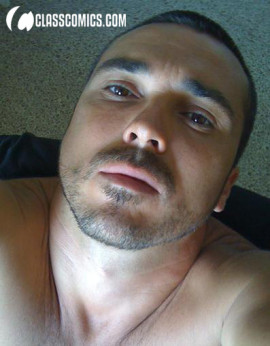 David Cantero Berenguer was born 12/29/1972, in Cartagena, Spain. A man of many talents, he is in parts author, illustrator, cartoonist, cartoon animator and video game designer.
David has a Bachelor of Fine Arts, specializing in comics and illustration from the Royal Academy of Fine Arts in Liège, Belgium, which he received in 1996.
He has enjoyed a varied career, ranging from cartoon to advertising illustration, through editing comic books and art, designs clothes and games. His experience in creating characters, backgrounds and animation for the animated series, have allowed him to enter the world of video games.
As an illustrator, he has worked a number of clients such as Matinée Group, Renault, Zara, ES Collection, XTG and Lenita. His work has also appeared in magazines such as ZERO, NOIS, Instinct Magazine, Nuevo Vale, Pronto, Spirou magazine, Männer aktuell.
Collections of his work have been published by Bruno Gmünder, La Cùpula, NOWevolution and Cantero editorial, and now David Cantero's universe of sexy characters and stories has come to Class Comics starting with the first issue of his hit series, "KEYS". Many other titles will follow and planned for release throughout 2013.
For more information on David and to see more of his beautiful art, visit the official David Cantero website.

Are you passionate about Class Comics? Do you own and operate a Blog or website? Do you write for a cool publication? Would you like to spread the word about this and other Class Comics titles?
For TONS of cool web ready and print ready artwork and information on this and all of our other titles, check out our Press Section. You'll find a HUGE collection of sexy artwork you can use with your posts or articles.
And hey, if you don't have a Blog, Website or magazine to write for, that's okay. We appreciate you spreading the word about us in any way you can. Tell your friends about us. Share your love of our comics. We have a vast selection of titles and we pride ourselves on having something for everyone.
We invite you, the fan to check out our Press Section as well and to help yourself to all the wicked artwork stored there. Thanks for helping Class Comics to continue to bring you the very best adult gay comics in the world!