It's been a long time coming, but at last, the lean, green sex machine gets his very own title! Both LOCUS #1 in print, and LOCUS #1 as a digital edition, hit the shelves with a bang. Taking place almost immediately after the events that occur in Felinoids #3, Locus #1 finds our handsome green protagonist on the run from the Sektan Authorities and in hiding on the planet Suktamimus.  Using his physical assets as a means to earn a living, Locus gets by peddling his wares to the horny inhabitants of this remote and bizarre little planet.
Along the way he runs into trouble when he encounters three aliens who are interested in capturing Locus and enslaving him as their own personal sex toy.  But before they can see this plan to fruition, the Sektan authorities intervene.  Yes indeed!  They have found Locus and are intent on taking him back to Sekta Prime where he will be punished for defying Sektan law.
What follows is possibly the most amazingly creative sex Patrick has ever illustrated, coupled with a powerful and very current narrative that will resonate in almost every reader.
In a scene that has never before been depicted, Locus #1 also shows us how Locus and Camili-Cat originally met several years ago on the streets of the planet Darria.  This is an intimate and explicit look at both Locus and Cam and the years they spent trying to survive on the dangerous streets of Darria.
Fans have been clamoring for this title for years, and Patrick Fillion delivers the goods with absolute panache and relish. It's clear that he loves Locus and completely threw himself into this title to make it the most amazing book it could be.
What ultimately sets Locus apart from the other stallions in the Class Comics stable is his big… personality.  The boy is very high on himself.  He's gorgeous and scorching hot… and he knows it!  Although he's arrogant and self assured, he's not self-centered.
In fact, Locus' actions are almost always taken with the well beings of his friends firmly in mind.  In Locus #1, Locus will embark on a path that will forever alter his destiny.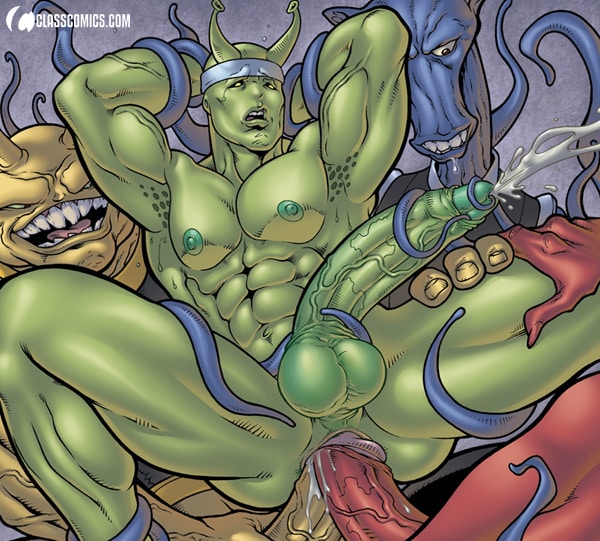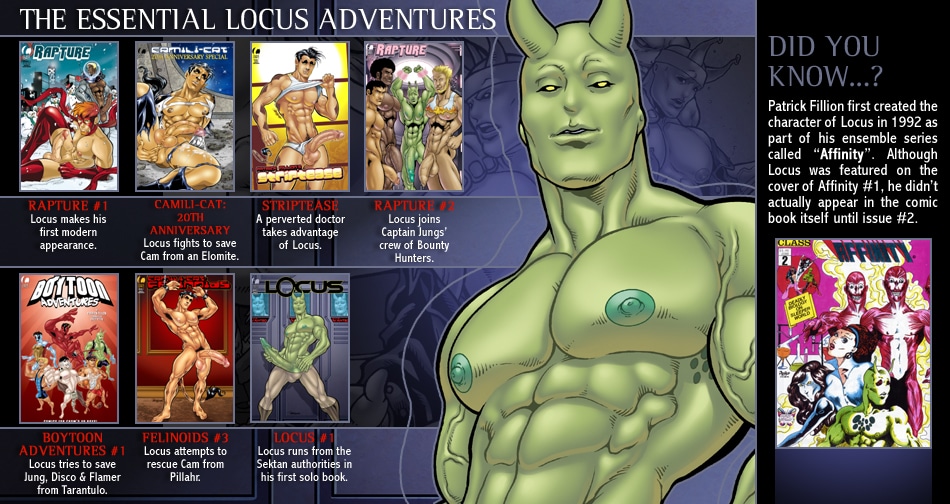 Many years ago, Patrick Fillion decided he wanted to own a comic book company when he grew up. His dream eventually came true, and today Patrick and his life and business partner, Fraz have formed Class Comics Inc.
The Class Comics universe is populated by characters that Patrick has created over the years. Some of these characters, such as Camili-Cat, were created as long ago as 20 years back.
Patrick's work is highly regarded, and he himself is considered one of the finest artists of Gay erotica of our time. His creations have been deemed as hot as those of Tom of Finland's and his characters, rich and endearing while sensual and arousing, have become a part of Gay pop culture.
When Patrick created Locus almost 20 years ago, he couldn't have imagined how popular the character would eventually become with Class Comics fans. The release of Locus #1 marks a brand new beginning for a character that is perhaps unconventional in appearance and yet undeniably appealing. Check out this interview with Patrick as he discusses his thoughts on the creation of Locus #1.
For more of Patrick's fantastic works, visit his website and his Blog.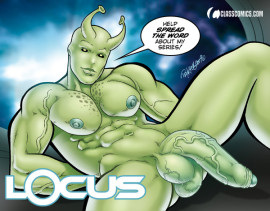 Are you passionate about Class Comics? Do you own and operate a Blog or website? Do you write for a cool publication? Would you like to spread the word about this and other Class Comics titles?
For TONS of cool web ready and print ready artwork and information on this and all of our other titles, check out our Press Section. You'll find a HUGE collection of sexy artwork you can use with your posts or articles.
And hey, if you don't have a Blog, Website or magazine to write for, that's okay. We appreciate you spreading the word about us in any way you can. Tell your friends about us. Share your love of our comics. We have a vast selection of titles and we pride ourselves on having something for everyone.
We invite you, the fan to check out our Press Section as well and to help yourself to all the wicked artwork stored there. Thanks for helping Class Comics to continue to bring you the very best adult gay comics in the world!