The 2010 original Spanish-language edition was the winner of the Best Comic Prize at the 2nd annual NarrativaGay Awards. Now Class Comics is proud to present the English-language version of LOST KINGDOM, a fantastic new series filled with rich mythology, action, magic and of course, sexy naked Boytoons. Available  in both a Print Edition and Easy PDF Digital Edition.
Written by Javi Cuho (author of Fallen Angels) and illustrated by Silvano Cernunno (artist for Sworn), LOST KINGDOM is a visually rich and intense series that is also incredibly addictive from a narrative point of view.
This epic tale is an action-packed mystery bursting with eroticism and scorching mansex. It centers around the battle between the mighty Kingdoms of Piros and Paggos.
These proud peoples have maintained a senseless feud for countless years and now it's hoped that a royal marriage will bring an end to the fighting.
And so the marriage of their two royal sons, the passionate Prince Allen and the enigmatic Princess Naiah, is planned and heralded as a catalyst to peace.
But our handsome princes may not soon live happily ever after. The evil Turgoloth, no longer content with dwelling in the shadows, crashes the wedding determined to bring to light the forgotten history of the two kingdoms.But even he doesn't suspect that more sinister mysteries lurk in the shadows.
To celebrate the Class Comics release of LOST KINGDOM, our very own Patrick Fillion has created an explosive cover for issue #1 in his traditionally crazy-sexy style.
LOST KINGDOM is the perfect title for fans who enjoy stories rich with themes of fantasy, sword and sorcery. Fans of ZAHN may also particularly love this bold new series that plunges its reader into a rich world of mystical sexuality.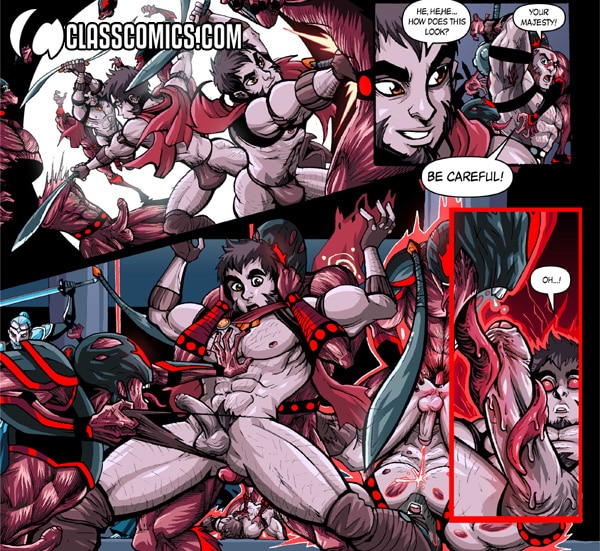 Javi Cuho (Writer) was born on June 2, 1981, in the Mediterranean city of Barcelona (Spain). From a very young age, writing became his passion, and his love for the world of comics led him to create his own. These comics reflected his interest in the human condition, and he soon converted this theme into the cornerstone of all of his creations. In 2005, the comic "Not Expecting U" (No Te Esperaba) debuted, which was soon followed by works such as "Víctor & Álex" and the "Fallen Angels" series.
In 2010, Cuho published the first issue of the "Lost Kingdom" trilogy (winner of the Best Comic Prize at the 2nd annual NarrativaGay Awards) as well as the standalone volume, "Las Horas Perdidas". Additionally, he has just launched his first webcomic entitled "Woof Woof" (Guau Guau), featuring his two dogs Lucas and Max. His work has been published in Spain, Canada, the United States and Italy.
Silvano Cernunno (Artist) is a prolific, creative artist.  His beautiful art has a unique blend of North American, Asian and Spanish flavors making Silvanno a master illustrator.  He expertly merges erotica with action into a fast-paced and powerful visual experience.
Michael Harrison (Translator) did a beautiful job translating LOST KINGDOM from its original Spanish into the English language. Careful to capture every nuance and retain the essence of the narrative, Harrison's translation is a perfectly seamless adaptation and remains completely true to the original text.
Patrick Fillion (Cover Artist) was proud to create a supremely sexy cover for the Class Comics edition of LOST KINGDOM. In an homage to the beautiful characters created by Cuho and Cernunno, Patrick chose the scene of the first issue's final, epic battle between good and evil as the subject of his cover. With brilliant colors by Hernán Cabrera, the cover to LOST KINGDOM #1 is as arousing as it is exciting!

Are you passionate about Class Comics? Do you own and operate a Blog or website? Do you write for a cool publication? Would you like to spread the word about this and other Class Comics titles?
For TONS of cool web ready and print ready artwork and information on all of our other titles, check out our Press Section. You'll find a HUGE collection of sexy artwork you can use with your posts or articles.
And hey, if you don't have a Blog, Website or magazine to write for, that's okay. We appreciate you spreading the word about us in any way you can. Tell your friends about us. Share your love of our comics. We have a vast selection of titles and we pride ourselves on having something for everyone.
We invite you, the fan to check out our Press Section as well and to help yourself to all the wicked artwork stored there. Thanks for helping Class Comics to continue to bring you the very best adult gay comics in the world!