We are so proud to announce that the long-awaited MAKO FINN #1 is now available as a Printed Comic and as a Digital Comic Edition.
MAKO FINN was born of Patrick Fillion's love of the ocean and appreciation of the life that resides beneath the waves – especially Sharks. A sexy hero with an ecological slant, Mako is the champion of the Seas, sworn to protect the ocean at all costs.
Much of his past has yet to be revealed, but in Mako's first appearance in BOYTOON ADVENTURES #1, we learn that Mako's mother gave birth to him as she was drowning. Whatever happened next, we know that this may explain why Mako has the ability to breathe underwater and communicate with Sharks and other marine life. His is a deep bond with these creatures and he regards Sharks as his "brothers and sisters". He is greatly alarmed by the way humanity has been treating them and has vowed to defend them.
Therein lies Mako's motivation. He appears to have considerable wealth, and he's chosen to pour his every cent into establishing the O.R.C.A. (Oceanic Research & Conservation Agency), a remarkable underwater facility from which he and his team of fellow Marine Biologists and specialists operate.
Patrick Fillion teams up with long-time collaborator and fellow Shark lover, Jacob Mott in order to bring the MAKO FINN series to brilliant, breathtaking life!
In MAKO FINN #1, our hero and his team must unravel the mystery behind a number of baffling disappearances at sea. Something is causing entire ships to vanish without a trace. The authorities are not equipped to handle this, and only Mako and his people have the expertise to solve this riddle.
MAKO FINN #1 is also available in SPANISH in digital comic format!
Now, the world-famous Gay Porn Film Director Emmett Bearse, along with porn star Tobey Tubesteak have also vanished – snatched from the waves! But who… or what is responsible for this?
Mako's closest friend Warren Wessel has his suspicions. He believes that the vile Piranhais responsible. An ecological terrorist and mad scientist, the
Piranha was believed long dead, but sources say otherwise… and Mako's sexy pal Akeno Mori turns up with information that could point Mako and the O.R.C.A. crew in the right direction… and unwittingly, into the jaws of deep sea terror.
MAKO FINN #1 is what we like to call "ECO-ROTICA". It's an adult comic book title with a real life, ecological message at it's root. But despite it's grounded underlying themes, MAKO FINN #1 is incredibly hot and sexy, and Jacob Mott's art has never looked better. This is a book brimming with sexy, hung guys and unbelievable sexcapades. MAKO FINN #1 is the perfect Summer Comic Book Event!
In MAKO FINN #2, "The Rising Tides" picks off immediately where our story left off last issue and finds Mako Finn, Warren, Danny and Gretchen face to fin with a massive Carcharodon Megalodon shark. It's impossible! It shouldn't exist! And yet, here it is, and our heroes are ill-prepared for it's awesome power.
As Mako and his friends struggle against the terrifying beast, origins are revealed. Light is shed on the secrets of Mako's past, including the circumstances surrounding his birth, as well as the events that have led to his conflict with the dreaded Piranha.
Speaking of the Piranha, the evil madman gets his clutches on Warren, Mako's sexy bestie! Poor Warren is in for a rough time as the Piranha wants revenge. Warren tried to kill the Piranha two years ago, and now there's HELL to pay! It's a straight boy's worst nightmare as the diabolical villain commands his monstrous sharkmen to teach him a lesson in humility… and power bottoming!
Filled with juicy revelations, twisty plot developments and insanely HOT sex, MAKO FINN #2 is a treasure trove of excitement and fun! Dive into this all-new adventure brilliantly illustrated by JACOB MOTT and raunchily written by PATRICK FILLION.
MAKO FINN #2 is available as a PRINTED COMIC and as a Class Access Easy PDF DIGITAL COMIC. We're also very proud to announce that MAKO FINN #2 the SPANISH EDITION is also available as a digital comic.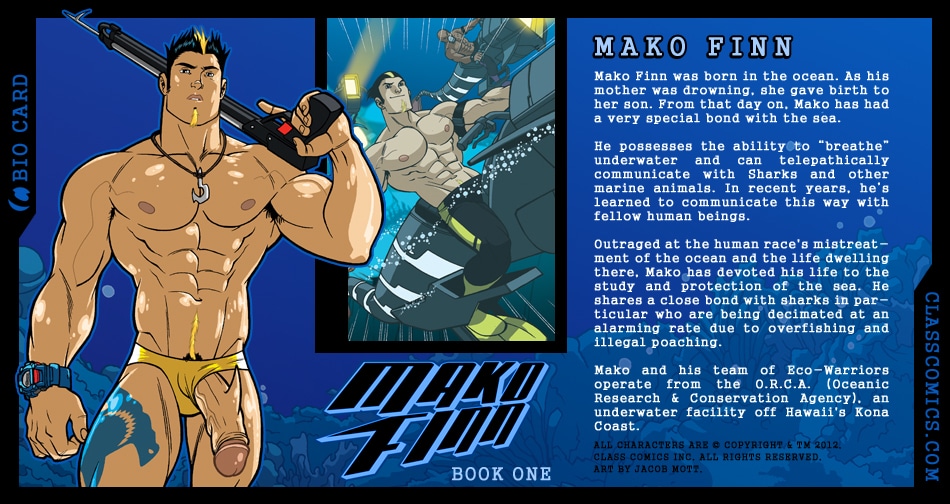 PATRICK FILLION
Many years ago, Patrick Fillion decided he wanted to own a comic book company when he grew up. His dream eventually came true, and today Patrick and his life and business partner, Fraz have formed Class Comics Inc.
The Class Comics universe is populated by characters that Patrick has created over the years. Some of these characters, such as Camili-Cat, were created as long ago as 20 years back.
Patrick's work is highly regarded, and he himself is considered one of the finest artists of Gay erotica of our time. His creations have been deemed as hot as those of Tom of Finland's and his characters, rich and endearing while sensual and arousing, have become a part of Gay pop culture.
As someone who loves Sharks and who is deeply alarmed by the way the human race treats them, Patrick felt the need to do something to help spread awareness.  He created MAKO FINN in the hopes of educating while entertaining and arousing the reader. The result is what could possibly the very first adult comic book featuring what we call "ECO-ROTICA"! Erotica with an ecological twist!
For more of Patrick's fantastic works, visit his website and his Blog.
JACOB MOTT
Jacob Mott has been drawing comic book characters since he was first able to hold a crayon. Having been born in Kent, England in 1975 he grew up in the eighties obsessed with all the muscle-bound toys and comics of that decade, all of which influenced him in some way or another. It wasn't until puberty and a sex drive hit that he started drawing naked men however, but he's certainly made up for it since!
Jacob's men can be big and muscular, rough looking or cute, chubby or skinny, but the one constant are those big watches! Jacob has no idea where his fetish came from, just that it's been there for as long as he can remember, but he does love the big watches.
Jacob has been a regular contributor to various magazines, including Freshmen, as well as illustrating "Naked Justice: Beginnings" for Class Comics. He is currently working on his creator-owned properties, "The Adventures of Lawsuit and T-Boy" and an as yet unnamed gothic erotic-comedy-horror in the style of Classic Monster movies.
Recently, publisher Bruno Gmunder released a fantastic 64-page hard cover book called "Watch Us". The book is a collection of some of Jacob's sexiest illustrations.
Now with the completion of MAKO FINN #1, Jacob begins an exciting new comic book venture in which he can share his love of the ocean, of Sharks AND of hot, hunk naked guys with the reader.
For more information on Jacob and his body of work, visit his website and Blog.


Are you passionate about Class Comics? Do you own and operate a Blog or website? Do you write for a cool publication? Would you like to spread the word about this and other Class Comics titles?
For TONS of cool web ready and print ready artwork and information on this and all of our other titles, check out our Press Section. You'll find a HUGE collection of sexy artwork you can use with your posts or articles.
And hey, if you don't have a Blog, Website or magazine to write for, that's okay. We appreciate you spreading the word about us in any way you can. Tell your friends about us. Share your love of our comics. We have a vast selection of titles and we pride ourselves on having something for everyone.
We invite you, the fan to check out our Press Section as well and to help yourself to all the wicked artwork stored there. Thanks for helping Class Comics to continue to bring you the very best adult gay comics in the world!