NAKED JUSTICE takes a minimalist approach to fashion! His greatest weapon against evil is his mammoth cock! Villains beware!! Naked Justice is the perfect comic for those who have always longed to see what superheroes have neatly tucked beneath their brightly colored spandex tights!
By day, Felix Himner is a mild-mannered banker who attempts to lead a normal life. But at night, the suit comes off, and Naked Justice is ready to fight for all that is just in the world.
Created by Patrick Fillion, Naked Justice's adventures are always a raunchy and raucously funny, filled with action and mayhem. Former Canadian Male Magazine Editor in Chief, Donald MacLean, usually lends his quick wit to NJ and his pals by doctoring Patrick's scripts, and infusing them with his own hilarious brand of humor. Naked Justice will have you in stitches laughing over the brilliant and witty dialogue, while drooling over the various hot male superheroes.
There are currently 2 issues in the classic Naked Justice series, The Incredibly Hung Naked Justice #1 and The Incredibly Hung Naked Justice #2.
You can also find Naked Justice in the pages of our Guardians of the Cube and Rapture series.
REBOOTING NAKED JUSTICE
Every great hero needs an origin story, and Naked Justice is no exception. Patrick Fillion has teamed up with British artist Jacob Mott to create a brand new Naked Justice mini series entitled Naked Justice: Beginnings. The story and the incredibly dynamic and sexy art in this series will knock your socks off!
Naked Justice: Beginnings explores our heroes' earliest origins and follow his adventures from the moment he inherited his powers, to present day. With a surprising plot and dazzling artwork, this mini series will thrill fans by giving them exactly what they want: MORE NAKED JUSTICE!
In Naked Justice: Beginnings #1, we meet Felix Himner as he travels through the Egyptian desert in search of the Sphinx of Homotepp. Surprised to find it after weeks of searching, Felix enters the ancient structure to find that the mysterious King Cock-A-Tut has been waiting for him. The ancient Pharaoh bestows unbelievable power upon Felix, leaving the youth to discover the true nature of his new abilities.
But that's easier said than done. Fast forward to London, 1958. Adrift with little direction in life, Felix is burdened by powers which he cannot control. What's worse, he can't have sex with anyone for fear that his powers might cause them harm.
Feeling especially randy one sunny morning, Felix chances relations with Kyle, a dark-haired stranger he meets in an alley on his way to work. He thinks that perhaps this will be his lucky day and that maybe he'll be able to control his powers enough to enjoy a little morning romp.
Nope! Felix's orgasm turns into disaster as his powers manifest themselves. From his erect penis, bolts of mystical lightning erupt, electrocuting Felix's fuck buddy in the process. Stunned, Kyle falls to the ground.
Felix panics, and flees only to stumble onto the scene of absolute chaos. London is under attack by the Skelad, alien forces from outer space. Luckily, Britain's heroic super-team, the Unrivaled Alliance are there to fight off the invaders. With Felix's help, they save the day and the aliens flee with both their tails between their legs.
Trip, the Alliance's leader offers Felix the opportunity of a lifetime and invites him to join the team. With Trip's help, Felix could learn to control his powers and use them to fight the good fight.

Naked Justice: Beginnings #2 finds Felix more relaxed and happier than he's been in a long, long time. With Trip's help, he's learned to master his fantastic powers and has officially come to be known as NAKED JUSTICE. Now all of Britain — indeed the entire world — respects him as a true hero.
Naked Justice makes up for lost time by having sex with every male member of the Unrivaled Alliance he can, as often as he can. All seems to be going extremely well for the handsome red-headed crime fighter, but trouble is brewing.
In another part of London a mysterious new foe sets his vile plans into action. What is the grudge he holds against Naked Justice? One thing is for certain, this twisted villain won't stop until Naked Justice has been crushed under his boot.
NJ's new nemesis dispatches Vandal to kidnap Trip and set a trap for NJ and the other members of the Alliance. Vandal seems… strangely familiar and is matched power for power with Naked Justice. What tie could both men possibly have together?
Poor Trip tries to put up a fight but he is literally caught with his pants down by Vandal, who zaps the hunky leader, and then has his lusty, wild way with him.
While Naked Justice is away for a rather explicit full physical with the Unrivaled Alliance's doctor, Glow Worm, Size King and Horsefly discover that Trip has been kidnapped. They head out to save him, knowing full well that they could be walking into a trap.
All hell breaks loose by the end of this issue as the mysterious villain reveals himself and Naked Justice faces his toughest challenge yet.
NAKED JUSTICE: BEGINNINGS #3 is the final issue of this smash hit "Beginnings" mini-series. This balls to the wall incredible last installment is written by PATRICK FILLION and illustrated by JACOB MOTT.
NAKED JUSTICE is having a really bad day! Has he met his ultimate match in the diabolical DOCTOR SILVERFISH?
After the disappearance of TRIP, the UNRIVALED ALLIANCE's fearless leader, NJ and his friends have fallen prey to Silverfish's evil plot for revenge. With his powers severely on the fritz thanks to his nemesis' scientific prowess, our hung and hunky ginger-haired hero has to rely on HORSEFLY, his miniature teammate for a timely rescue.
While Silverfish prepares to reveal the final twist in his twisted plan, GLOW WORM wakes up in a dark and dingy dungeon where he soon discovers that Trip's powers have been turned against the Unrivaled Alliance. Lost in a lascivious dream of hard, cum-spurting cocks and ripped, muscular hunks intent on keeping him from escaping, Glow Worm too must rely on Horsefly's help if he ever hopes to be free. That's a lot of pressure on poor Horsefly's tiny shoulders.
Naked Justice and his friends struggle against Silverfish but soon come to learn why the villain thirsts for vengeance. Is Silverfish's heart truly evil, or has necessity led him down this gnarled and twisted path?
Regardless, Silverfish is intent on crushing his enemies, and if NJ can't regain the upper hand, he and the Alliance are in for total annihilation.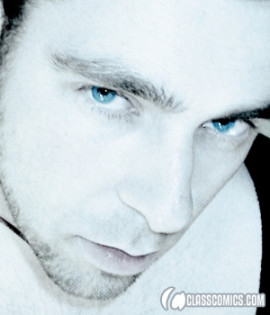 PATRICK FILLION
Many years ago, Patrick Fillion decided he wanted to own a comic book company when he grew up. His dream eventually came true, and today Patrick and his life and business partner, Fraz have formed Class Comics Inc.
The Class Comics universe is populated by characters that Patrick has created over the years. Some of these characters, such as Camili-Cat, were created as long ago as 20 years back.
Patrick's work is highly regarded, and he himself is considered one of the finest artists of Gay erotica of our time. His creations have been deemed as hot as those of Tom of Finland's and his characters, rich and endearing while sensual and arousing, have become a part of Gay pop culture.
In 2000, Patrick set out to create a sexy new super hero character whom he could feature in a series of short comic strips for Montreal's ZIP magazine. That was when The Inchredibly Hung NAKED JUSTICE was born. Since then, Naked Justice has become one of gay pop culture's most recognized crime fighters.
Patrick wrote and drew The Incredibly Hung Naked Justice #1 and #2. He wrote Naked Justice: Beginnings #1 and #2 and will undoubtedly return as the writer for Naked Justice: Beginnings #3.
For more of Patrick's fantastic works, visit his website and his Blog.
Jacob Mott has been drawing comic book characters since he was first able to hold a crayon. Having been born in Kent, England in 1975 he grew up in the eighties obsessed with all the muscle-bound toys and comics of that decade, all of which influenced him in some way or another. It wasn't until puberty and a sex drive hit that he started drawing naked men however, but he's certainly made up for it since!
Jacob's men can be big and muscular, rough looking or cute, chubby or skinny, but the one constant are those big watches! Jacob has no idea where his fetish came from, just that it's been there for as long as he can remember, but he does love the big watches.
Jacob has been a regular contributor to various magazines, including Freshmen, as well as illustrating "Naked Justice: Beginnings" for Class Comics. He is currently working on his creator-owned properties, "The Adventures of Lawsuit and T-Boy" and an as yet unnamed gothic erotic-comedy-horror in the style of Classic Monster movies.
Recently, publisher Bruno Gmunder released a fantastic 64-page hard cover book called "Watch Us". The book is a collection of some of Jacob's sexiest illustrations.
Soon you'll see Jacob's superb art in the up-coming "Ghostboy and Diablo" mini series, and our STRIPSHOW free monthly comic.
For more information on Jacob and his body of work, visit his website and Blog.

Are you passionate about Class Comics? Do you own and operate a Blog or website? Do you write for a cool publication? Would you like to spread the word about this and other Class Comics titles?
For TONS of cool web ready and print ready artwork and information on this and all of our other titles, check out our Press Section. You'll find a HUGE collection of sexy artwork you can use with your posts or articles.
And hey, if you don't have a Blog, Website or magazine to write for, that's okay. We appreciate you spreading the word about us in any way you can. Tell your friends about us. Share your love of our comics. We have a vast selection of titles and we pride ourselves on having something for everyone.
We invite you, the fan to check out our Press Section as well and to help yourself to all the wicked artwork stored there. Thanks for helping Class Comics to continue to bring you the very best adult gay comics in the world!