Class Comics is proud to present RAINBOW COUNTRY, an amazing series created by France-based writer/artist Max' of France. This sex filled, "Satisfaction-Guaranteed" like title comic revolves around the intimate exploits of a group of friends and lovers living in the gay mecca of Rainbow Country!
Millions of gay men make their home in the sprawling metropolis of Rainbow Country. But no Eden is ever perfect! Relationships can get complicated when in every direction stands a hot guy, eager to get it on!
In Rainbow Country #1, we meet Mark, a handsome, hung but naive city hunk. Mark thinks that he has it pretty great! His partner Frank is a doctor with stunning looks and a supposedly kind heart. However when Frank stands him up to play "Doctor" with David, one of the interns, he decides to throw caution to the wind, get drunk and and go clubbing. Unfortunately for Mark, things get very out of hand in the back room of the club!
Meanwhile at the hospital Frank, is not the only one having fun! Alex, a hot male nurse had bet David that his affair with Doctor Frank would never grow beyond a fling. True enough… "what happens in the hospital stays in the hospital", and now it's time to settle up the bet!
The tables get turned on Frank however when a late night bondage session in the desert turns into a hostile negotiation! Follow these escapades and more in this hot and heavy comic!
In Rainbow Country #2, sexy blonde stud David goes from the arms of Frank, Mark's two-timing boyfriend, to those of the gorgeous Wafa, his sexy black co-worker. But David dreams of being more than a man whore and tries to find a way to convince his lover, and himself, that he deserves a little respect.
And this is just the tip of the iceberg. Rainbow Country is populated with tons of steamy hot guys who are always horny and getting wrapped up in the drama of their lives.
Cutting edge, superbly written and Illustrated by Max', Rainbow Country will appeal to fans of "Satisfaction Guaranteed" and to readers who like their men hung and randy and always eager to meet their next trick.It's Grey's Anatomy meets 90210 with crazy-hot mansex thrown in for good measure!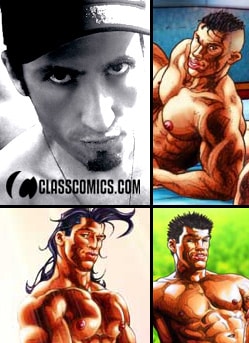 An accomplished artist and writer of gay comics, Max' was born in Germany in 1966. Of French nationality, he studied the fine arts in Marseille, after which he completed military service in Guadeloupe. He later moved to Paris where some of his erotic drawings were published in Gay Foot, Male Insider, Play Gay and HH magazines.
In 1994, his black and white homo-erotic illustrations become the subject of an exhibition at Mr B. Amsterdam. As his graphic style continues to develop, Max ' begins to experiment with color gradually through a series of comic sketches and pin ups published in Gay video magazine.
In 2001, he prepares work for Area 17 Quarterly as well as the French anthology comic entitled Ultimen. Shortly after the last issue of Ultimen is published, H&O Editions releases the first issue of Rainbow Country in it's original French language. Soon after this, Class Comics picks up Rainbow Country, releasing the first two issues of the series to their readers in North America and throughout the world.
Today Max 'draws for himself. While he continues to work on various projects and continues to make comics, he chooses to focus primarily on commissions and on building his private collection of art.
To learn more about Max' and his art, visit his official website, ONE MAX' SHOW.

Are you passionate about Class Comics? Do you own and operate a Blog or website? Do you write for a cool publication? Would you like to spread the word about this and other Class Comics titles?
For TONS of cool web ready and print ready artwork and information on all of our other titles, check out our Press Section. You'll find a HUGE collection of sexy artwork you can use with your posts or articles.
And hey, if you don't have a Blog, Website or magazine to write for, that's okay. We appreciate you spreading the word about us in any way you can. Tell your friends about us. Share your love of our comics. We have a vast selection of titles and we pride ourselves on having something for everyone.
We invite you, the fan to check out our Press Section as well and to help yourself to all the wicked artwork stored there. Thanks for helping Class Comics to continue to bring you the very best adult gay comics in the world!