Is it possible to have one comic include a super horny super agent, an evil mastermind with hung henchmen, multi-function watches, martinis and rocket shooting Aston Martins? Yes it is! And much more too! The story focuses on the main character, British Army Cadet Ridehard, Great Britain's newest (and hottest!) spy, and how he came to be.
You'll be thrilled with the action loaded, spy on spy, thrill-filled comic called RIDEHARD, written and illustrated by ALEXANDER! It's a perfect homage to the James Bond recipe, while still being fresh and creative… and VERY HOT!  Ridehard is available both as a Print Edition and as a Digital Edition!
Meet the Secret Agents of R.I.M. in RIDEHARD #1!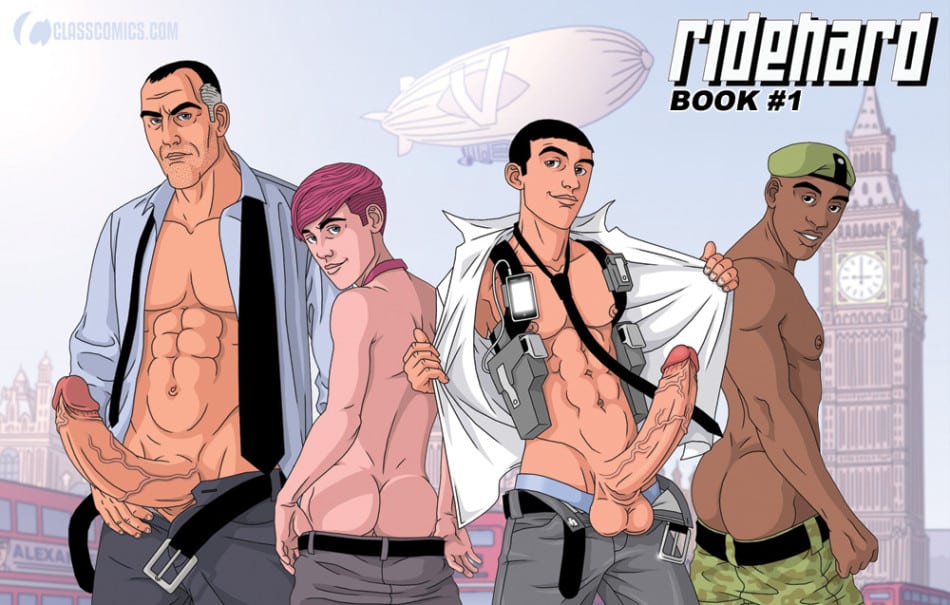 In the sensational first issue, we find our fresh cadet already in a sticky situation – captured and 'orally drugged' with a truth serum, enabling the villains (and the reader) to learn about his journey to becoming a spy.
After a fateful meeting with Mr. Johnson, Director of the Royal Intelligence Ministry (RIM), Alex accepts a once in a lifetime opportunity to join the undercover organisation.
He soon discovers an exciting new world of high-tech gadgets and gizmos – and a horny young office boy with the hots for the hard faced and hard dicked Director.
Armed with tactical combat knowledge and an amazing array of gadgetry, Agent Ridehard prepares himself for his first explosive mission – to save all of Europe from the dastardly Dr. Voyeur, an evil madman with his eye on world domination!
Secret Agent Alex Ridehard returns in RIDEHARD #2!
Series creator Alexander has pulled out all of the stops for Ridehard #2, and very nearly blows up an entire country in the process. Agent Alex Ridehard is back at it, doing what he does best: spying and fucking his way into enemy territory and state secrets. And this time, the stakes are higher than ever before. The countdown to Operation Mad-Dog is on, and agent Ridehard will have to get through the diabolical Frieda Fangbitten if he hopes to put a stop to it… Our hung hero had better succeed, or it's KA-BOOM for Berlin!
And of course this wouldn't be a classic spy story without sex and intrigue, and Ridehard meets his match in agent Felix Gutfuck! But is Felix friend or foe? And meanwhile, the security at R.I.M. headquarters may be seriously compromised as someone has their deadly sights set on Mr. Johnson's man-juice! But why? Honestly, WHY NOT? Oh the humanity!
Alexander's created a superb follow-up to the hugely popular Ridehard #1 and it's not to be missed… well, DUH!
Ridehard #2 is available in both printed and digital comic editions.
The third volume of RIDEHARD is now available as a Printed Edition and as a Class Access Digital Edition!
After a thrilling first issue, and a fantastic second one, the final, senses-shattering, incredible third issue of Alexander's hit series "RIDEHARD" is now available.
ALEX RIDEHARD, spy and agent of R.I.M has his hands full this time around with what could very well be his most challenging assignment yet.
The very future of R.I.M hangs in the balance as the double crossing VALENTINE prepares to complete his ultimate mission and assassinate a high ranking official. Can Agent Ridehard stop sucking dick long enough to put a stop to these dastardly plans? Hopefully. Probably… but who are we kidding? Once his mission is over, he'll be back on his knees in no time.
Gadgets, cocks, car chases, high altitude fucking, secret plans, sixtynining, criminal geniuses and sexual espionage… RIDEHARD #3 has all of this and more… in SPADES! Series creator Alexander brings his AAA+++ game to the table and has created the most spectacularly exciting issue of his hit series yet.
The Ridehard series is packed with originality, fun gadgets & toys, great art, hot sex and plenty of danger! The art is dynamic and extremely sexy, and the story is mind blowingly exciting! Alexander, who you can stay in touch with on his Facebook Page, has created an incredibly rich world where espionage merges man on man action with man on man action.


"He could draw before he could walk…" It was a phrase I always heard whenever anyone would ask my family about my drawing ability.
It's true to say some of my earliest memories are of me laying on the lounge floor with pens and paper in hand, drawing (always from memory) my favourite television and comic book characters.
I'd dream of one day writing and drawing a comic book of my own and spend many hours safe indoors and pencil in hand, creating characters and plotting adventures, ignoring the familiar voices saying "you should be outside playing".
Then as the years passed by and puberty kicked in, I soon discovered another love other than superheroes and action figures….. Men! Cut to the present day and not that much has changed. I still love comic books, action figures, sic-fi and action films, drawing and of course, men.
And I still dream of drawing and writing my own comic books – except now instead of creating stories of daring young spies with fantastic gadgets and dastardly villains, I dream of creating stories of daring young spies with fantastic gadgets and dastardly villains…. who love hot, hardcore, sweaty man-on-man sex!  Though I guess it's no longer a dream now…. – Alexander
Alexander currently resides in Liverpool, England (home of The Beatles!) with his partner of 5 years and a rather large, and much loved, collection of Batman memorabilia.

Are you passionate about Class Comics? Do you own and operate a Blog or website? Do you write for a cool publication? Would you like to spread the word about this and other Class Comics titles?
For TONS of cool web ready and print ready artwork and information on all of our other titles, check out our Press Section. You'll find a HUGE collection of sexy artwork you can use with your posts or articles.
And hey, if you don't have a Blog, Website or magazine to write for, that's okay. We appreciate you spreading the word about us in any way you can. Tell your friends about us. Share your love of our comics. We have a vast selection of titles and we pride ourselves on having something for everyone.
We invite you, the fan to check out our Press Section as well and to help yourself to all the wicked artwork stored there. Thanks for helping Class Comics to continue to bring you the very best adult gay comics in the world!