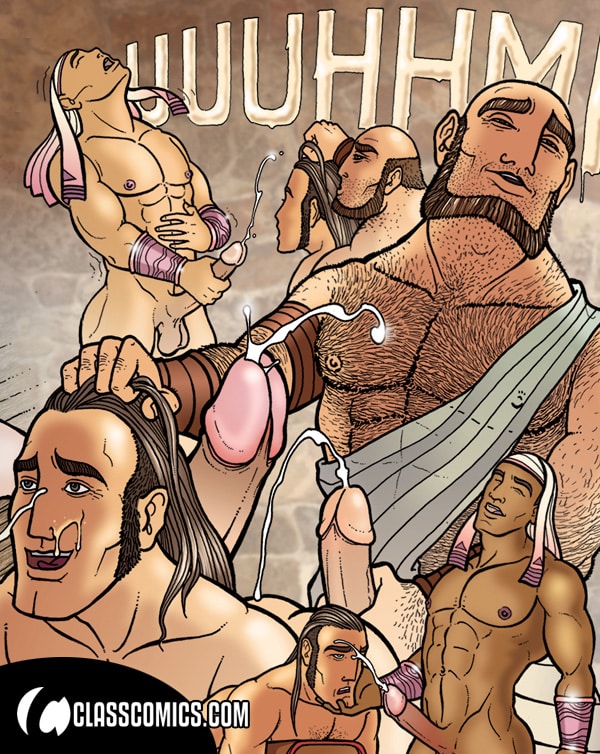 Put yourself in Egypt at the end of the 19th century in the middle of one of the most important archaeological excavations of all time in Sandstorm #1 by Javi Cuho and Angel Alvarez!
Nicholas "Red" Clayton is a 21 year old youth about to depart on an adventure he could have never predicted. When the sacred scepter of Tarbot is uncovered, it releases an ancient curse upon the land.
The curse manifests itself in the form of a massive and dangerous sandstorm which transports both Nicholas and his lustful companion Michael Evans to ancient Egypt to the reign of the sadistic Pharaoh Tarbot.
Tarbot knows of no greater pleasure than that of sexual domination of his slaves. His every day is spent devising and trying new techniques to heighten his sexual experience… The men in his kingdom are his puppets… his playthings. Their cocks and asses are his toys and he uses them as he sees fit. And when he's finished, he discards them without a second thought, condemning them as slaves, or worse.
But the Pharoah grows tired of the men of his land! When he hears of this visitor with fiery red hair who has mysteriously arrived, he must possess him!
Meanwhile, Michael who has been separated from Nicholas, finds himself a captive of Yazir, a cruel slave trader and trainer. Immediately taken by Michael, Yazir wastes no time beginning the new arrival's training. Now it's up to Nicholas to try and rescue his captive friend, but things do not go according to plan, and soon both of them find themselves in the gaze of the sadistic Tarbot.
Sandstorm is written by Javi Cuho, who crafted the incredibly rich story of Lost Kingdom, and illustrated by Angel Alvarez, a newcomer to Class Comics, but not to the fine art of erotic illustration. This is a team-up whose first oeuvre you will not want to miss.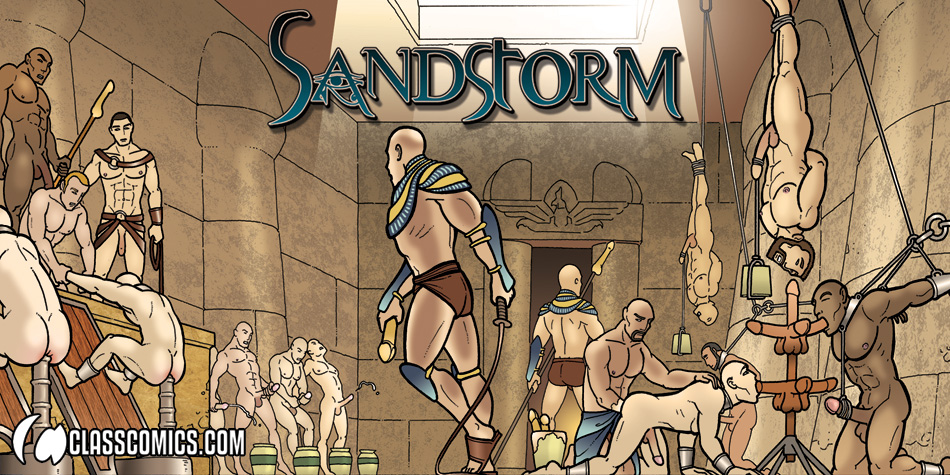 Javi Cuho (Writer) was born on June 2, 1981, in the Mediterranean city of Barcelona (Spain). From a very young age, writing became his passion, and his love for the world of comics led him to create his own. These comics reflected his interest in the human condition, and he soon converted this theme into the cornerstone of all of his creations. In 2005, the comic "Not Expecting U" (No Te Esperaba) debuted, which was soon followed by works such as "Víctor & Álex" and the "Fallen Angels" series.
In 2010, Cuho published the first issue of the "Lost Kingdom" trilogy (winner of the Best Comic Prize at the 2nd annual NarrativaGay Awards) as well as the standalone volume, "Las Horas Perdidas". Additionally, he has just launched his first webcomic entitled "Woof Woof" (Guau Guau), featuring his two dogs Lucas and Max. His work has been published in Spain, Canada, the United States and Italy.
Angel Alvarez (Artist) is a bit of a mysterious fellow! Some believe that he is actually one of the advisors to the Pharaoh Tarbot, but no one is certain!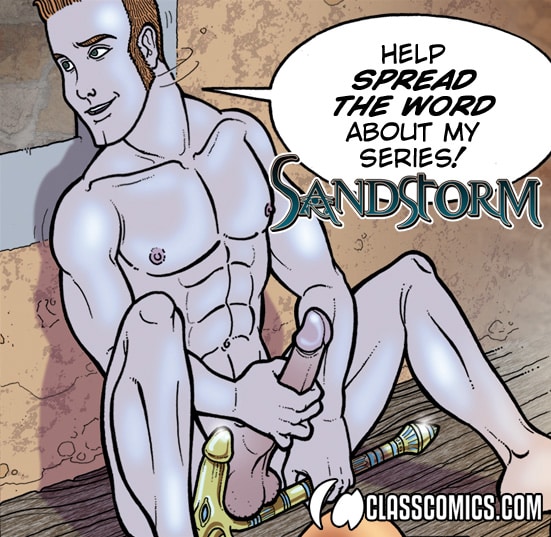 Are you passionate about Class Comics? Do you own and operate a Blog or website? Do you write for a cool publication? Would you like to spread the word about this and other Class Comics titles?
For TONS of cool web ready and print ready artwork and information on all of our other titles, check out our Press Section. You'll find a HUGE collection of sexy artwork you can use with your posts or articles.
And hey, if you don't have a Blog, Website or magazine to write for, that's okay. We appreciate you spreading the word about us in any way you can. Tell your friends about us. Share your love of our comics. We have a vast selection of titles and we pride ourselves on having something for everyone.
We invite you, the fan to check out our Press Section as well and to help yourself to all the wicked artwork stored there. Thanks for helping Class Comics to continue to bring you the very best adult gay comics in the world!