Ever since his first appearance way back in "the Incredibly Hung Naked Justice #2, Space Cadet has been a fan favorite. He's a powerful, handsome hero with a unique look and personality which many readers can identify with.
Byron Durand is the handsome young adventurer known as Space Cadet. In his short career as a superhero, he's become known as one of the most valiant defenders of majestic Gateway City. He's faced countless foes, the likes of Jack the Stripper and Ice Cap, and always come out on top. So impressed with his exploits were they that the legendary Guardians of the Cube even invited him to join their ranks.
Space Cadet has appeared in a number of Class Comics publications such as Rapture, Striptease and Stripshow, and now you can find him in his own mini series.
In Space Cadet #1, our hero is called upon to help liberate the oppressed Ordovican satyrs from the evil Baron Von Phallus. Space Cadet dives into action employing his amazing new super powers to fight the good fight.
Space Cadet #1 picks up after the events in Rapture #3, and plunges Space Cadet deep into the mystical realm of Ordovica. You'll meet sexy new characters, such as Strider, the King of the centaurs and get re-acquainted with familiar faces such as Vallan and Baron Von Phallus.
Space Cadet #1 is written by Patrick Fillion, and lavishly illustrated by Class Comics newcomer, Bob Grey. Patrick created 4 amazing new art pieces for the front, back and inside covers of the book.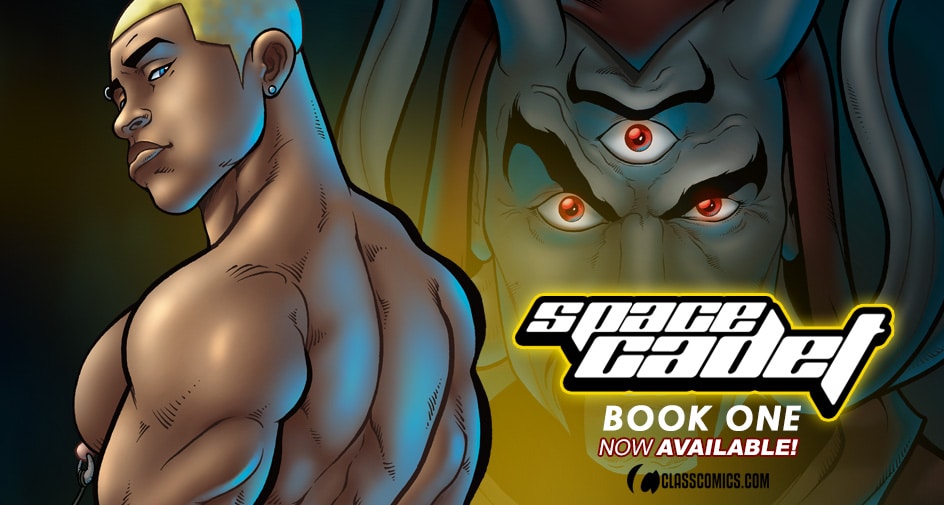 Space Cadet #2, also titled "A Fresh Start" spins the Space Cadet series into a bold new creative direction. The issue finds Byron waking from a strange dream of centaurs and satyrs… but it all feels so real. Could it be more than a dream?
His questions will have to wait, because it's a brand new day and Byron has to jerk off, get up, get showered and get to his new job. He's just been hired as a photographer's assistant at the Horny Devil Underwear company. But the moment Byron shows up for work, he's immediately pulled aside by Pierre Lallonde, (last seen in the pages of Satisfaction Guaranteed #3) photographer extraordinaire. Lallonde has decided that Byron is too beautiful to remain behind the camera. His boss has an unusual first day on the job planned for him.
Later still, Byron heads home to find he's being followed by a pair of shadowy figures. Those figures reveal themselves to be a "big fan" of his, and a past acquaintance from High School. There is a great mystery plaguing the streets of Gateway City. People are vanishing only to turn up dead, and while the Gateway police has no clue as to the source of the problem, Byron vows to help get to the bottom of things.
Soon in costume (but not before a quick fuck with fellow superhero, Golden Boy), Space Cadet and Golden Boy follow a lead that lands them in some seriously hot water. As a sinister villain is revealed, the future looks questionable for our sexy adventurer and his hunky blond sidekick. As cliffhangers go, this one's a doozy.
Existing Space Cadet fans will love this new, closer look at their beloved character, and new fans alike will enjoy getting to know this character intimately from the word "go". Written by Patrick Fillion and beautifully illustrated by David Cantero, Space Cadet #2 proves that sometimes "A fresh start" is exactly what a superhero needs!
As the mini series concludes with Space Cadet #3, SPACE CADET and his new-found friend GOLDEN BOY face impossible odds. What began as an investigation into the disappearance of several hustlers has turned into a veritable nightmare. Now our titular hero must fight tooth and nail for dear life if he hopes to save the hustlers, Golden Boy AND himself from a gruesome death at the hands of BOARIS CHAPELLE and his cruel thugs.
While Space Cadet faces off against Chapelle's right-hand men, DOCTOR WALDORF and MR. GORDY, Golden Boy is all trussed up and primed to be ravaged by the bizarre and perverted MR. BABE. Luckily for our heroes, help appears just in time in the form of BULLET, Gateway City's speedy new adventurer. But can even Bullet's timely arrival tip the balance of these daunting scales?
Meanwhile, the truth behind Space Cadet's dreams of centaurs and satyrs is finally (mostly) revealed and by the end of this issue, BYRON DURAND will NEVER be the same again as he's left changed both emotionally and physically… for life.
Written by PATRICK FILLION and lovingly illustrated by DAVID CANTERO, Space Cadet #3 concludes this mini series in major style and will leave you gasping for more.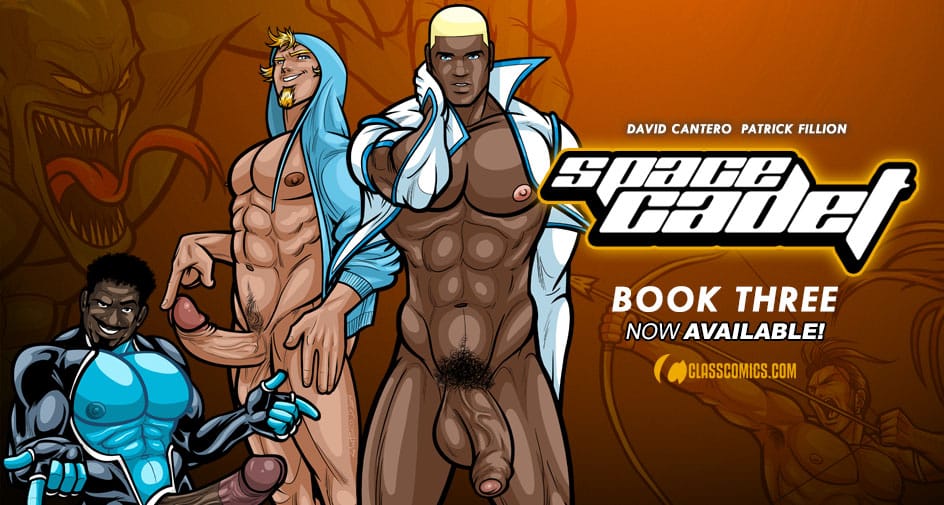 SPACE CADET: VOID is now available from Class Comics as a Class Access Digital Exclusive!
BYRON DURAND, AKA the heroic and hunky SPACE CADET'S been through a lot lately, but he's about to embark on his strangest adventure yet. The very genetic modifications that have granted him his super powers and the ability to manipulate cosmic radiation have made him extremely appealing to the extra-dimensional being known simply as VOID. Void is drawn to Space Cadet's unique energy signature, just as our hero is drawn to Void.
Now Void wants to explore the Earth and broaden it's understanding of our universe, but it can only do that if it can get something very important from Byron. Yes. VOID WANTS SPACE CADET'S SEED… and it will stop at nothing to get it.
Written and lovingly illustrated by PATRICK FILLION (with colors by HERNÁN CABRERA and PATRICK FILLION), this all-new mini comic is a fantastically different and incredibly HOT new SPACE CADET tale that also features everyone's favorite ginger-haired adventurer, NAKED JUSTICE.
The all-new 10-page mini comic is accompanied by a wicked SPACE CADET costume gallery and a fabulous art gallery featuring pieces by FILLION, and nearly a dozen other artists who have given Byron illustrated life over the past few years.
SPACE CADET: VOID is 44 incredible pages of pure Cadet HEAVEN and it's a veritable feast for your senses.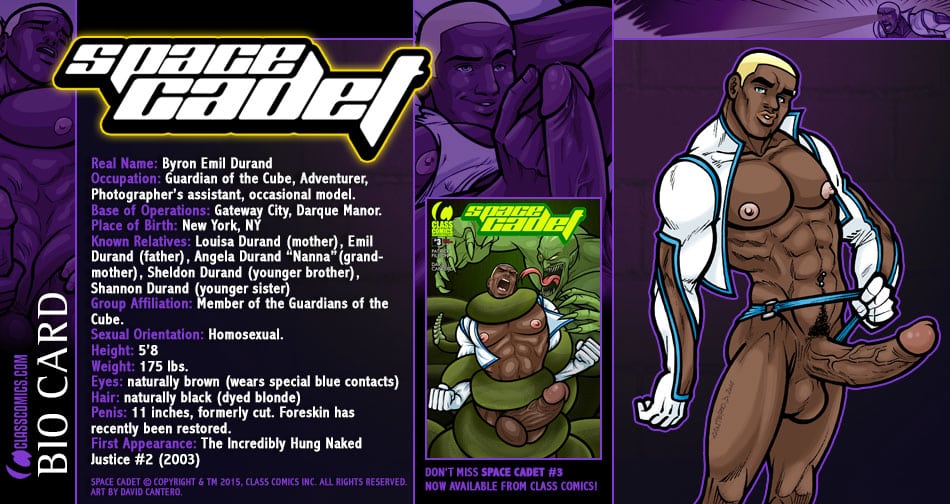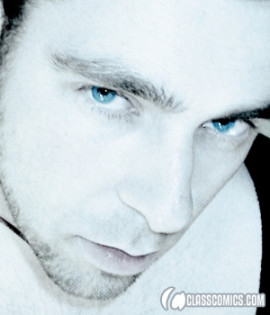 PATRICK FILLION
Many years ago, Patrick Fillion decided he wanted to own a comic book company when he grew up. His dream eventually came true, and today Patrick and his life and business partner, Fraz have formed Class Comics Inc. The Class Comics universe is populated by characters that Patrick has created over the years. Some of these characters, such as Camili-Cat, were created as long ago as 25 years back.
Patrick's work is highly regarded, and he himself is considered one of the finest artists of Gay erotica of our time. His creations have been deemed as hot as those of Tom of Finland's and his characters, rich and endearing while sensual and arousing, have become a part of Gay pop culture.
Patrick created the character of Space Cadet quite by accident. He started out as a stand-alone illustration — a "Black Hunk" of the month, created for the pages of Black Inches Magazine in 2002. Patrick liked the look of the character so much that he spun him into a  major player for the second issue of The Incredibly Hung Naked Justice, back in 2003.
Since then, Space Cadet has had many looks and gone through many changes, both in terms of his powers and abilities, and in terms of his path as a character, but one thing is for sure — he remains a polarizing creation that the fans have a passionate love for.
Now Patrick has teamed up with David Cantero to create a bold new direction for Space Cadet and to continue the Space Cadet mini series.
For more of Patrick's fantastic works, visit his website and his Blog.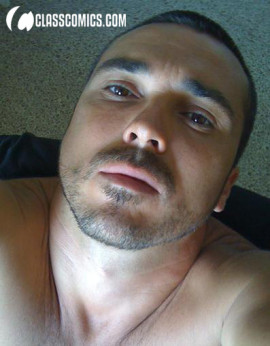 DAVID CANTERO (artist on SPACE CADET #2 and the continuing series)
David Cantero Berenguer was born 12/29/1972, in Cartagena, Spain.
A man of many talents, he is in parts author, illustrator, cartoonist, cartoon animator and video game designer. David has a Bachelor of Fine Arts, specializing in comics and illustration from the Royal Academy of Fine Arts in Liège, Belgium, which he received in 1996. He has enjoyed a varied career, ranging from cartoon to advertising illustration, through editing comic books and art, designs clothes and games.
His experience in creating characters, backgrounds and animation for the animated series, have allowed him to enter the world of video games. As an illustrator, he has worked a number of clients such as Matinée Group, Renault, Zara, ES Collection, XTG and Lenita.
His work has also appeared in magazines such as ZERO, NOIS, Instinct Magazine, Nuevo Vale, Pronto, Spirou magazine, Männer aktuell. Collections of his work have been published by Bruno Gmünder, La Cùpula, NOWevolution and Cantero editorial, and now David Cantero's universe of sexy characters and stories has come to Class Comics starting with the first issue of his hit series, "KEYS".
Now David has taken over as the official artist on the GHOSTBOY and DIABLO series, debuting with issue #2 as well as the Space Cadet series, also debuting with issue #2. David's gorgeous, sexy art is a perfect for Class Comics' gorgeous super-powered adventurer.
For more information on David and to see more of his beautiful art, visit the official David Cantero website.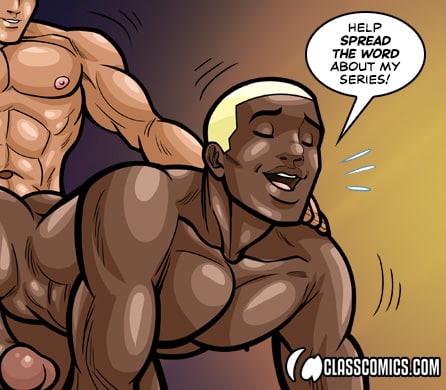 Are you passionate about Class Comics? Do you own and operate a Blog or website? Do you write for a cool publication? Would you like to spread the word about this and other Class Comics titles?
For TONS of cool web ready and print ready artwork and information on this and all of our other titles, check out our Press Section. You'll find a HUGE collection of sexy artwork you can use with your posts or articles. And hey, if you don't have a Blog, Website or magazine to write for, that's okay. We appreciate you spreading the word about us in any way you can. Tell your friends about us. Share your love of our comics.
We have a vast selection of titles and we pride ourselves on having something for everyone. We invite you, the fan to check out our Press Section as well and to help yourself to all the wicked artwork stored there.
Thanks for helping us continue to bring you the very best adult gay comics in the world!