Welcome to Horndale Hills University! The Initiation: Higher Sex Education follows the fun the members of the Zeta Mega Phallus fraternity members have living, playing, fucking and occasionally studying together! The series begins with a young, eager freshman named Alex arriving on campus, completely oblivious to all the naughty fun that he and his roommate Dylan will get into while pledging into the Fraternity. Over the course of three years Alex and Dylan will discover what fellowship really means, and what naughty lengths everyone will go to protect it!
The Initiation: Higher Sex Education Book #1: It's Alex's First Year away from home and it will certainly be a memorable one! The Campus Horndale Hills or "Hung and Horny U" is teeming with sex crazed College hotties, and this makes studying practically impossible. How can you focus on studies while your hot roommate gets it on with the entire football team?
Fortunately Alex is introduced to Bradley, a tutor who is willing to pull all-nighters in exchange for the discovery of carnal knowledge! It also helps that Professor Fenton gives additional credit for extracurricular activities.
Things really heat up however when the final pledge night begins for the fraternity Zeta Mega Phallus. Alex will do anything to come out on top of the fraternity pledge initiation. He's ready to endure any humiliation and perform whatever acts are necessary, even at the expense of his one true friend on campus.
From a locker room orgy to a romp on the teachers desk, from the library stacks to the fraternity paddle! If you've ever fantasized about College guys and these hot situations, The Initiation: Higher Sex Education Book #1 brings all those fantasies to life!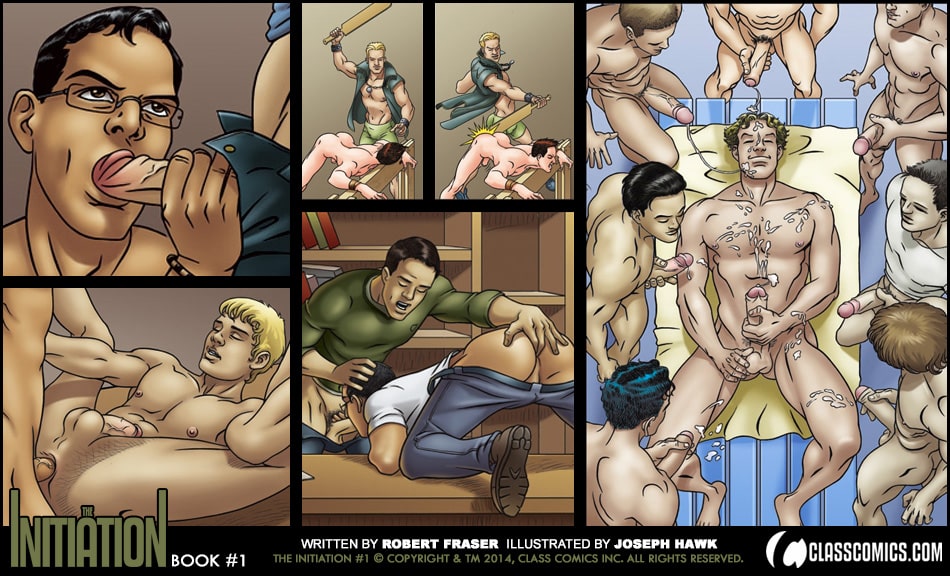 The Initiation: Higher Sex Education Book #2: It's the second year of young, hung and full of cum fraternity fun! Having earned some power and respect at Zeta Mega Phallus, Alex and Dylan have been tasked to come up with a year long series of challenges for the new pledges who are eager to join the fraternity. These eager froshes will be showing their junk all over town, spreading their seed in the most unlikely of places, and making the local news very interesting!
When you're the top dog of a powerful fraternity, you don't need a tutor. Bradley finds it an insult to both his intellectual and seductive skills and doesn't take well to being dumped at all. He hires a local skinhead to restrain Alex, giving Bradley the opportunity to take what's due to him… emotional revenge! His plans take an unexpected turn when a sexy stranger shows up in the middle of it all. This mysterious hunk proves to be both skilled and equipped for anything.
Meanwhile Dylan has joined the swim team for the opportunity examine some lean swimmers' bodies and keep an eye on one of the more promising froshes. It's an added bonus that at "Horndale U", shaving each other's entire body is all part of team spirit!
If you enjoyed The Initiation: Higher Sex Education Book #1, you are going to love this second issue! It's packed with a ton of hot college guys, giant orgies, a swim team shaving, more sexual experimentation, unrequited love & revenge and a stunningly hot conclusion that will leave you begging for a cigarette!
The Initiation: Higher Sex Education Book #3: It should be Alex and Dylan's final year of fun at Horndale Hills, but unfortunately it could be their worst ever. In fact, it could be the final year for the entirety of Zeta Mega Phallus when they discover that the fraternity trust fund has been reduced to nothing through a carefully planned and executed theft.
Alex and Dylan might now be in charge of the fraternity, but are in no way prepared to rescue it's finances all alone. It will take the combined efforts, wacky ideas, and loose morals of each and every fraternity brother to find a way out of this. They'll try anything and everything to raise the funds needed to keep a roof over their head, and over the head of future pledges.
The creative juices begin to flow freely once the brainstorming and nut busting sessions begin, but it won't be enough just to throw naked car washes and erotic bake sales. The guys need to raise some serious funds! But inspiration will come and cash will fly at the biggest Whack-a-Thon ever seen, a supremely hot Stud Auction and other orgasmic events!
Too much of a good thing can lead to problems however and Harris, one of the fraternity pledges finds himself with an embarrassing problem that calls for a visit to the doctor. He's in for a new experience as the examination calls for a deeper inspection of his junk than he ever thought possible and Dr Erikson pulls out a urethral sound.
There isn't a fraternity around that gets by on work alone and there's plenty of time for fun when the guys win an all expenses paid trip to Gaytona Beach for spring break! It's a chance to relax, drink, catch some sun, drink, check out the hot surfers, drink, make out, drink and come up with the BIG idea to get the fraternity back in the green again!
All this and more awaits you in The Initiation: Higher Sex Education Book #3! We haven't even mentioned what happens at graduation, the details of the final fraternity orgy, or the surprise twist at the end that will propel Alex and Dylan into the next stage of their life together.

ROBERT FRASER (writer)
Many Class Comics fans know Robert Fraser from his first comic creation, the award-winning "The Initiation" series about the Zeta Mega Phallus fraternity. For "The Initiation", Fraser teamed up with artist Joseph Hawk, and he set out to voice many of our personal fantasies involving hot College guys. He did so with absolute abandon, making the series a huge smash-hit with fans world-wide.
With "Beautiful Dead", Fraser has spun a completely different and yet supremely hot tale which introduces us to Gage and Hayden. These two sexy young guys who couldn't be more different from one another, but who desperately need each other if they hope to survive the Zombie apocalypse.  For "Beautiful Dead", Fraser has teamed up with artist Butch McLogic, creator of the "Tug Harder" series, to bring this tale of love in a very fucked up world to life.
Robert Fraser wears many hats at Class Comics, and when he's not working writing a new comic project or series, he's busy running the company with his partner Patrick Fillion, which is to say that he helps to ensure that Class always brings you the hottest and most exciting gay erotic comics we possibly can.
Currently, Fraser is working on two new titles. The first is entitled "The Pack", a story that centers around hunky men and Werewolves, and the second is called "The Bromance" which is a series of short stories about guys doing what they do best… other guys! For more information on Robert Fraser and to learn more about his up-coming projects, you can check him out on his official Facebook Page or visit his official website.
JOSEPH HAWK (Illustrator)
Joseph has been working with Class Comics for many years now! After a great collaboration with Robert Fraser on The Initiation series, Joseph decided he would like to make an erotic comic of his own!
Taking inspiration from his surroundings on the Italian sea, Joseph dreamed up his perfect day trip to the beach and rendered it in stunning detail in The Long Road to the Sea! We're not saying that all the details in the book are accurate to his experience, but then again, he hasn't denied it either. Joseph Hawk also crated a gritty urban comic All in a Night which revolves around a night of danger for four skaters and their encounter with the law!