Troubled young Jack spends the night with a mysterious stranger and finds himself branded with THE MARK OF AEACUS, an ancient and powerful weapon of vengeance set loose on Earth by a forgotten demigod.
Imbued with this dark power, Jack struggles to come to grips with the urges for brutal revenge that the Mark is awakening in him. As he tries to understand what he is transforming into, Jack finds himself faced with difficult questions about justice, punishment and revenge.
As the first non sexually explicit Class Comics title, The Mark of Aeacus delves deeply into the underbelly of erotica while delivering a riveting story written by Charles "Zan" Christensen and beautifully painted artwork illustrated by Mark Brill and the Winner of the 2008 Queerie award of "Best Queer Indie Book"!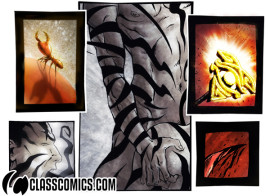 In The Mark of Aeacus #1, available in both PRINT and DIGITAL editions, Jack, a shy, tortured young man, hooks up with a mysterious stranger at a bar and loses himself in an intense and exhilarating night with him in his hotel room, during which he sees visions of bloodshed and ancient gods. In the morning, he discovers he's been branded with a mysterious tattoo—the one his mysterious stranger had—and is now imbued with dark and brutal powers. But will those powers be enough to save him from a vicious gang attack?
In the pages of The Mark of Aeacus #2, also available in both PRINT and DIGITAL editions, another handsome stranger enters Jack's life, one with all the answers to the questions Jack has about the power he's been marked with. But this stranger wants to put a permanent end to the legacy that Jack carries… by putting an end to Jack. Their struggle unearths complex questions: Is redemption possible? When can vengeance serve as justice? Will Jack survive their looming battle? (…and should we even want him to?)
"…a taut, visceral thriller, partly psychological, partly erotic, and completely engrossing." — Joe Palmer, GayLeague.com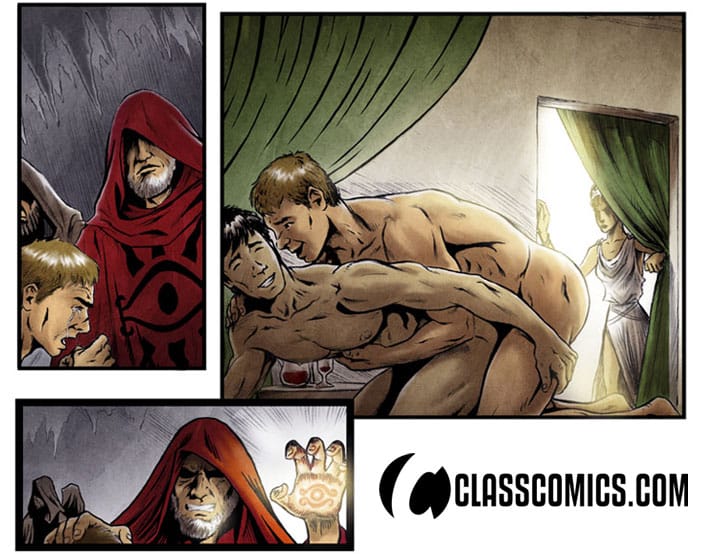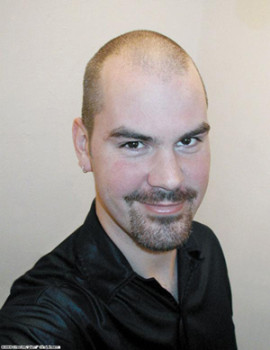 Charles Christensen, better known as "Zan", is best known in comic circles as the founding President of Prism Comics.
In addition to his work with Prism, Zan has been writing comics scripts and occasionally releasing a self-published book or two. His creations include the closeted 1940s super-hero Captain Kinetic and the slice-of-life comedy/drama One Man Guy.
His most recent project is a collaboration with artist Mark Brill called The Mark of Aeacus. The series focuses on a troubled young man who is given an extraordinary power, and explores the overlap between vengeance, punishment and justice.
In addition to his comics writing, Zan been the webmaster of several sites for nerdy queers, such as Heroplay (for superhero roleplaying gamers), AlterWorlds (for gay roleplayers of all kinds) and Comics Utopia (for indie comics creators). All three sites are in various states of upkeep, and overhauls are promised regularly.
Zan has also had a bit of comics journalism ("Ultimate Marvel Cock-Up!") published in an issue of the UK magazine Comics Forum. His fiancé proposed to him on the back cover of Finder #30, and they are currently watching North America closely and waiting for the best place to tie the knot.
Mark Brill, thinks that his only real claim to fame is having done card art for Magic: The Gathering, Harry Potter and the new Hecatomb game for Wizards of the Coast. As well as some inking and cover work for Malibu Comics (including four cover paintings for Star Trek: Deep Space Nine)!
Mark has recently completed the art for The Mark of Aeacus. Aeacus was created in collaboration with well-known Prism Comics personality and eloquent scribe Charles "Zan" Christensen.
Aeacus is a full color, hard-edged supernatural comic with a gay "hero" who is caught up in a web of troubles when he goes to a hotel with a strange man…a night to remember becomes a nightmare he wishes he could forget.
For more info on Mark please visit http://www.markbrill.com

Are you passionate about Class Comics? Do you own and operate a Blog or website? Do you write for a cool publication? Would you like to spread the word about this and other Class Comics titles?
For TONS of cool web ready and print ready artwork and information on this and all of our other titles, check out our Press Section. You'll find a HUGE collection of sexy artwork you can use with your posts or articles.
And hey, if you don't have a Blog, Website or magazine to write for, that's okay. We appreciate you spreading the word about us in any way you can. Tell your friends about us. Share your love of our comics. We have a vast selection of titles and we pride ourselves on having something for everyone.
We invite you, the fan to check out our Press Section as well and to help yourself to all the wicked artwork stored there. Thanks for helping Class Comics to continue to bring you the very best adult gay comics in the world!