Doug Arder AKA Tug Harder is an undercover photojournalist prepared to do whatever it takes to get the hottest unauthorized pictures he can. Of course he doesn't realize how far his story will take him, this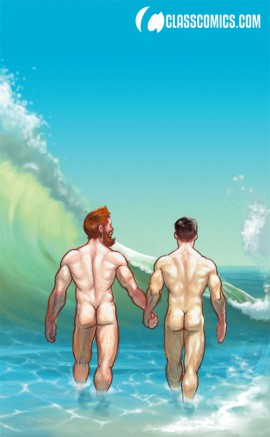 time or the next!It might seem rather unlikely, but the fate of the entire planet Earth may lie in the hands of this rather unscrupulous, but blatantly honest photographer!
In Volume 1 of Tug Harder, Tug weasels his way into employment on a "redneck farm" and is hired by "the Old Man" to shovel pig slop and tend to other various duties. It's grueling work, but Tug uses this as cover to secretly photographs his sexual exploits and the men around him. He screws his way through a farmyard of hard working men; drunks, ex-cons and college dropouts alike. But Hell hath no fury like a redneck scorned!
When the entire farm works out what is really happening the mob decides to take full advantage of what Tug is offering… until something truly unexpected happens. Intervention from beyond the stars?
Volume 2 of Tug Harder picks the story right up immediately after the events that transpire in the first issue of the series! After being abducted by an alien force, Tug photographs his way through the mother ship and discovers a plot so big, that it will impact the entire human race! Tug may seem an unlikely hero or champion to humanity, but quite despite himself, he finds himself in the role of defender of all mankind.
Tug and the farmhands have now bonded over their collective abduction — Tug, Snake (a fellow farm hand) and the Old Man in particular — but their captors experiment with in them in the most unthinkable of manners! There are unexpected, but not unpleasant side effects to these experiments however!  Issue two ends on with a dramatic and exciting cliffhanger that is sure to lead Tug and his redneck companions on their wildest adventure yet. And while Tug leads his cohorts to escape, Snake must face a chilling fate of his very own at the hands of the depraved alien intelligence.
Finally, Tug Harder Volume 3 brings this beautifully crafted and sexually charged series to an explosive and dynamic closure. Tug and his pals find themselves lost in time, in a prehistoric world they do not recognize, where danger lurks around every corner. They make unlikely allies with a band of cave men who are eager to accept them in to their clan. But Tug must try and save poor Snake from the alien intelligence's clutches. Celebrate the bond between men and the deep respect and love that two men can share with one another!
Make sure you also check out Tug Harder #1: The Noir Edition!  It's the original comic as Butch McLogic originallycrafted it.  There were many changes from the first version to the final version, which included colorization,additions, reductions, and also significant character modifications! You'll also  get  described journey through the comic, guided by Butch McLogic himself, in which he points out various elements that were changed, and the reasons for them!
Created by Butch McLogic, Tug Harder Volume 1, Volume 2, Volume 3 and the Noir Edition are a feast for the eyes, drawn with complete attention to detail and written with a perfect blend of humor, sex and erotica.  Tug Harder is a brilliantly written and superbly illustrated three-part series.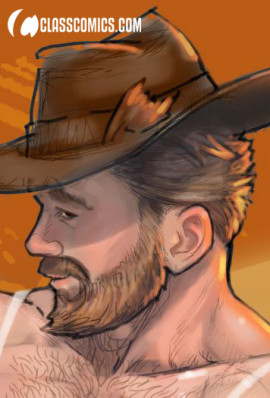 Butch McLogic is the creative mastermind behind Tug Harder. Tug is a comic series about a photographer working for a Gay pin-up magazine, who goes undercover as a farmhand, hoping to snap some candid "real men" shots of his fellow farmers!
Butch may be a new comer to Class Comics and to the field of male erotic art, but one thing is clear; this is an artist who makes a strong impression! With a distinctive illustrative style, a powerful sense of art direction and a gift for storytelling, Butch is certain to make waves.
Very little else is known about Butch McLogic, but we presume that he is as randy and man-hungry as his horny comic creations! We also believe that Tug Harder is his auto-biographical oeuvre.
For more info on Tug Harder the series, visit the official Tug Harder Mini Site.
For more info on Butch and his male erotic art, please visit the official Butch McLogic website. And join Butch on his FACEBOOK page where he regularly updates his fans and readers on his current projects and works.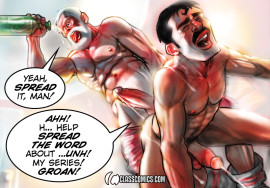 Are you passionate about Class Comics? Do you own and operate a Blog or website? Do you write for a cool publication? Would you like to spread the word about this and other Class Comics titles?
For TONS of cool web ready and print ready artwork and information on all of our other titles, check out our Press Section. You'll find a HUGE collection of sexy artwork you can use with your posts or articles.
And hey, if you don't have a Blog, Website or magazine to write for, that's okay. We appreciate you spreading the word about us in any way you can. Tell your friends about us. Share your love of our comics. We have a vast selection of titles and we pride ourselves on having something for everyone.
We invite you, the fan to check out our Press Section as well and to help yourself to all the wicked artwork stored there. Thanks for helping Class Comics to continue to bring you the very best adult gay comics in the world!